Slain Palestinian toddler's parents fighting for lives
The firebombing of the family's home in the occupied West Bank killed 18-month-old Ali Saad Dawabsheh
The parents and brother of a Palestinian toddler burned to death by suspected Jewish extremists were fighting for their lives on Saturday, as protests over the arson attack entered a second day.

The firebombing of the family's home in the occupied West Bank, which killed 18-month-old Ali Saad Dawabsheh, sparked an international outcry over Israel's failure to get to grips with violence by hardline Jewish settlers.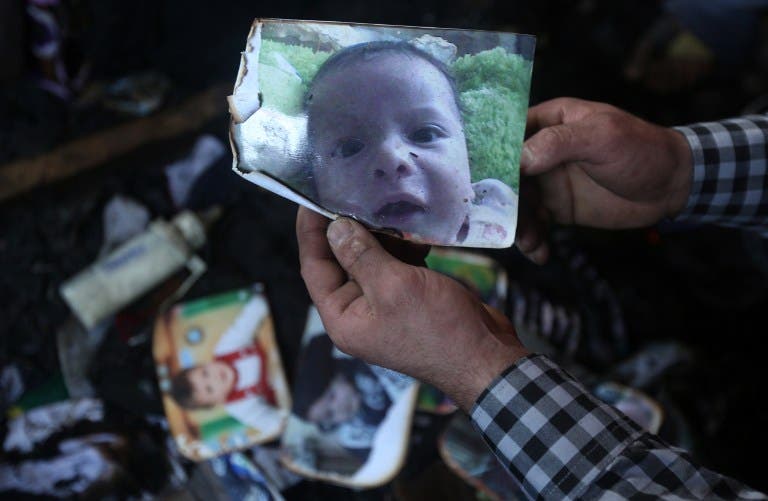 His father Saad was being treated for third-degree burns at the Soroka hospital in southern Israel, where a spokeswoman described his condition as "critical".

Mother Riham and four-year-old brother Ahmed were being treated at Tel Hashomer hospital near Tel Aviv, where a spokeswoman described their condition as life-threatening.

The family's small brick and cement home in the village of Duma was gutted by fire, and a Jewish Star of David spray-painted on a wall along with the words "revenge" and "long live the Messiah".

That was indicative of so-called "price tag" violence -- a euphemism for nationalist-motivated hate crimes by Jewish extremists.

Palestinian protesters took to the streets across the West Bank, including Israeli-annexed east Jerusalem, triggering clashes with the Israeli army.

North of Ramallah, troops shot Laith Khaldi, 17. He was pronounced dead early on Saturday. The army said he had thrown a fire bomb.

On Saturday morning, Palestinians and Jewish settlers clashed near Kusra in the northern West Bank, trading volleys of stones until the Israeli army declared the area a closed military zone.

In east Jerusalem, some 10 Palestinians were wounded in overnight clashes with Israeli police, Palestinian sources said.
A Palestinian teen shot during clashes with the Israeli army in the West Bank died of his wounds early Saturday, Palestinian medical and security sources told Agence France Presse.
The sources said 14-year-old Laith Khaldi of the Jalazon refugee camp was shot in the chest during clashes with Israeli forces near the Atara checkpoint on Friday evening and died hours later in hospital.
A spokeswoman for the Israeli army told AFP that "a Palestinian suspect hurled a Molotov cocktail at an army post in Bir Zeit. In response to the immediate danger, the soldiers fired toward the assailant, identifying a hit".
Earlier on Friday, a Palestinian man was killed and another wounded by Israeli gunfire in the northern Gaza Strip after they approached the border with Israel, a Palestinian medical official told AFP.

On Saturday, two officers were lightly wounded dispersing a riot, police said.

Israeli Prime Minister Benjamin Netanyahu has condemned the attack on the Dawabsheh family as "terrorism in every respect" and vowed to spare no effort in bringing the perpetrators to justice.

But Palestinian president Mahmoud Abbas said he doubted Israel would provide "true justice" and ordered his foreign minister to file a complaint at the International Criminal Court in The Hague.