Are we heading for a world of 11 billion people?
The world population is growing at a slower rate than it was 10 years ago
The world population is growing at a slower rate than it was 10 years ago – from 1.24% a decade ago to 1.18% today – according to the United Nations' latest projections. But that still means we're adding an extra 83 million people annually.
If the projections are accurate, the world population will reach 9.7 billion by 2050, with 50% of that growth expected to come from Africa. Europe's population, on the other hand, will shrink from 738 million today to 646 million by 2050. The report estimates that by 2100, there will be 11.2 billion people on the planet, although it also notes that there is a 23% chance that population growth will stabilize – or even fall – by then.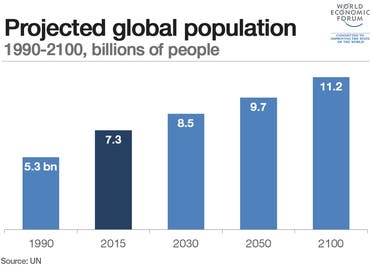 While the world's population looks set to grow, fertility rates are in fact down across almost every part of the world. The growth projections instead reflect the progress made in reducing child mortality rates and increasing life expectancy. Death rates among children under five fell to 50 per 1,000 in 2010-2015, down from 71 per 1,000 in 2000-2005. And life expectancy at birth looks set to increase to 83 years by 2095-2100, up from 70 years today.
Despite these gains, experts have pointed out that big challenges remain. The U.N. report found that a disproportionate amount of the population growth will come from 48 least-developed countries, raising the question of how their governments will manage to deliver poverty-reducing and equality-boosting measures on such a large scale. For Jennifer Blanke, who heads the Forum's Global Challenge Initiative on Economic Growth and Social Inclusion, this was one of the main issues raised by the report: "If these countries are to meet the needs of their rapidly growing populations, they have to be able to deliver both sustainable economic growth and social inclusion. But while almost everyone agrees with that, we're still struggling to establish the best way of achieving it. That's something political, business and civil society leaders will need to work together on, and is indeed the main goal of the initiative I'm leading."
This article was first published in the WEF Agenda Blog on July 30, 2015.
____________
Stéphanie Thomson is an editor at the World Economic Forum.