On Greek island, migrants find hell in paradise
Doctors Without Borders have heavily criticized Greek authorities, voicing deep concerns at the situation
Dozens of people from the Middle East fleeing on boats are flowing into the Greek holiday island of Kos from nearby Turkey, joining thousands of refugees camped under wretched conditions.

Overwhelmed and unprepared for the unprecedented influx, authorities on the eastern Aegean Sea island have been heavily criticized for their treatment of the migrants - mostly refugees from Syria.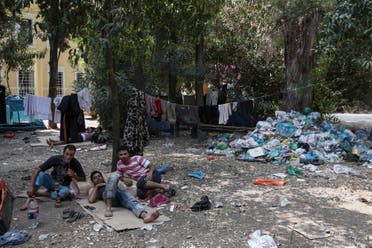 At least two rubber boats made landfall Wednesday, while an Italian coast guard boat participating in a European border watch mission brought in about 50 people rescued at sea.
At least two rubber boats made landfall just before dawn in the Psalidi coastal area, and dozens of men, women and children set off on the four-kilometer (2.5-mile) trudge to the island capital.

Their first question was where they had landed - which provoked strong laughter as Kos has an obscene meaning in Arabic.

"I feel good to be here, but I still miss my family" in Syria, said Omar Mohammad, a 25-year-old English literature graduate from Aleppo.

He said the three-hour crossing from Turkey was his third attempt to reach Greece in four days.

Struggling with its worst postwar financial crisis, Greece has been overwhelmed by the wave of refugees and economic migrants, more than 125,000 of whom have reached the eastern Aegean islands this year - a 750 percent increase over 2014.

The country is Europe's main entry point for boat people, as the alternative route from north Africa to Italy has become increasingly dangerous due to fighting in Libya. From Greece, the migrants move north through the Balkans, hoping to gain asylum, preferably in Germany, the Netherlands or Scandinavia.

The international Doctors Without Borders charity heavily criticized Greek authorities, voicing deep concern at the situation.
Missing migrants
Around 60 migrants are missing in waters off Libya, the International Organization for Migration (IOM) said Wednesday after interviewing survivors who were picked up from their stricken craft.

An Italian corvette, the Fenice, picked up dozens of migrants aboard a sinking rubber dinghy on Tuesday after the vessel was spotted by a naval helicopter.

Fifty-four were brought to the Italian island of Lampedusa, but according to testimony from survivors, the craft had set off with between 117 and 120 people on board, all of them from sub-Saharan Africa, the IOM said.

Over 30 of the passengers were women but there were no children, the agency said.

The U.N. High Commissioner for Refugees (UNHCR) last week said around a quarter of a million migrants had crossed to Europe by sea this year, of which 98,000 had arrived in Italy and 124,000 in Greece.

More than 2,100 had died in their bid to cross, it said.