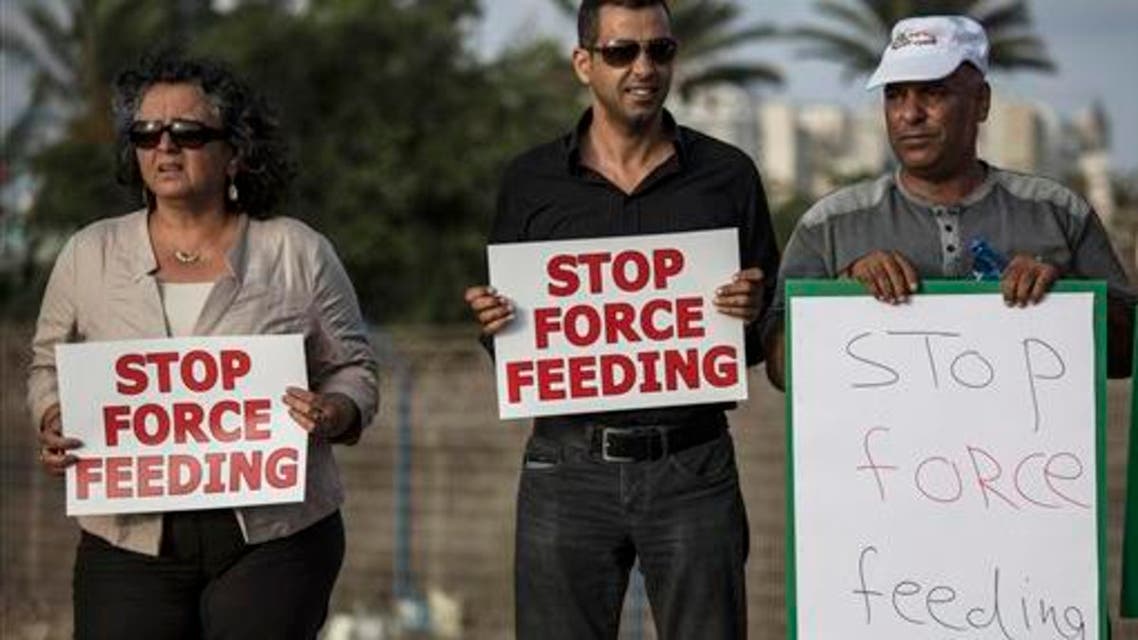 Israeli force-feeding law pits doctors against state
The Israeli Medical Association is opposing contentious law allowing the force feeding of inmates
Hospital-bound and shackled, Palestinian detainee Mohammed Allan was 60 days into his hunger strike, launched in protest of his detention without charge in an Israeli jail, when he slipped into unconsciousness on Friday.

What happens next - whether or not the suspected militant becomes the first Palestinian prisoner force-fed to stay alive under a controversial new Israeli law - is an issue that has caused cleavages between doctors and the state in a clash over medical ethics and Israel's detention policies.

At the heart of the matter is the new, contentious law that allows a judge to sanction force-feeding or administration of medical treatment if there is a threat to an inmate's life, even if the prisoner refuses. Israel fears that a hunger-striking prisoner's death could trigger Palestinian unrest amid widespread disillusionment with stalled peace negotiations.

The law passed by a slim margin in July and elicited harsh criticism. Critics call force-feeding an unethical violation of patient autonomy and akin to torture. The Israeli Medical Association, which has urged physicians not to cooperate, is challenging the law in the Supreme Court.

"There have been clashes between the IMA and the government, but never on such basic ethical issues," said Raphi Walden, a physician and member of the group Physicians for Human Rights-Israel.

Lawmakers argued the legislation is needed to deter Palestinian detainees from hunger striking to pressure Israel for their release or other demands. Supporters also countered that force-feeding is preferable to letting a patient die.

Under the new law, Israel's prison service needs to seek permission from the attorney general to ask a judge to allow the force-feeding of a prisoner. The judge would then weigh a doctor's opinion, the prisoner's position as well as security considerations before ruling in the matter, according to the Israeli physicians' group.

Doctors have not known how serious Allan's situation has been lately because he refused to submit to an examination. Authorities transferred him to two different hospitals over the past week, where at each hospital an ethics committee authorized doctors to perform a forced examination.

But in both instances, doctors criticized the committee's decision and refused. Authorities have not yet approached a court to ask for force-feeding authorization.

The 30-year-old Allan was arrested in November 2014 and detained without charge for two six-month periods, under a measure called administrative detention.

His father, Naser Allan said he slipped into unconsciousness on Friday, and was moved from a ward at Barzilai Hospital in the southern Israeli city of Ashkelon to the facility's intensive care unit.

An Arab-Israeli lawmaker, Osama Saadi, from the Arab List party, was at the hospital in Ashkelon and spoke with doctors there. He said the hospital is providing Allan with liquids administered intravenously but not force-feeding him. It was not clear what the liquids were.

Saadi told The Associated Press that Allan is not in a coma yet and that doctors were doing brain and head scans to determine his condition.

Allan's father also said his son had been imprisoned in the past, from 2006-2009, for alleged affiliation with the Palestinian militant group Islamic Jihad. Allan started the hunger strike after his detention without charge was renewed in May, his family has said.

With the new law in place, there's no precedent for what should happen next as Allan's health continues to deteriorate.

While Israel's new law applies to all prisoners held in Israeli jails, Palestinian prisoners have used hunger strikes as a tool to draw attention to their detention without trial or charges. Scores of Palestinian inmates have held rounds of hunger strikes over recent years and, with many prisoners hospitalized, their failing health has caused tensions to flare among Palestinians.

Israel in the past has acceded to hunger-striking prisoners' demands and has sometimes released prisoners. In June, Israel released Khader Adnan, 36, a senior activist in Islamic Jihad, after he carried out a 55-day hunger strike to protest his detention.

Yoel Hadar, the legal advisor to Israel's Public Security Minister and a drafter of the bill, said the law is meant to save prisoners' lives and protect doctors who carry out the force-feeding from any subsequent legal action.

"The law protects the doctor who tries to save the life of a prisoner," said Hadar. "No country can accept (hunger strikes) as a way to get out of prison."

The United Nations Special Rapporteur on Torture, Juan Mendez, has called force-feeding, even if intended for the patient's benefit, "tantamount to cruel, inhuman and degrading treatment." Several international conventions prohibit the practice, but it remains legal in certain cases in many countries. The United States has admitted to force-feeding detainees in Guantanamo Bay. In several high profile cases over the last century, England force-fed some Irish Republican Army prisoners on hunger strikes.

The new law cannot force a doctor to perform any forced feeding or medical examination, Hadar said. A doctor who does comply could face sanctioning from the IMA, Walden said but any IMA action would not affect a doctor's medical license, authorized by the Health Ministry.

Doctors and activists point to the law's limited powers to coerce objecting doctors into force-feeding as evidence of its political motivation, rather than medical.

"This force-feeding is trying to be imposed on doctors for security and political reasons, that have nothing to do with medical reasons," Walden said.

For now, doctors at the hospitals involved with Allan's case have remained publicly united against the law and dozens of doctors protested this week against it. But some see keeping the patient alive as their primary ethical duty.

Shimon Glick, a physician and professor of medicine at Ben Gurion University said he "would have no hesitation" complying with a force-feeding order.

"In our (Jewish) culture, I think human life has precedence, and we don't allow people to die," he said.

To force-feed, the doctor must restrain the conscious and shackled prisoner and insert a tube into his or her empty stomach. Force-feeding can cause serious pain as well as damage to the esophagus and lungs, according to Walden. In the most serious cases, two Palestinian prisoners died from complications from force-feeding in the 1980's, after which the practice fell out of use, said Walden.

Since then, Israeli hospitals have been successful in keeping hunger strikers alive without resorting to the practice, according to Walden. This includes offering hunger strikers supplements of glucose, vitamins or electrolytes - all of which Allan has declined.

Amany Daiyf of Physicians for Human Rights-Israel argued that if the law is really meant to save Allan's life, then Israel's only option is to release him.

"The only action that can save his life, and the only option the government can do, would be to release him."