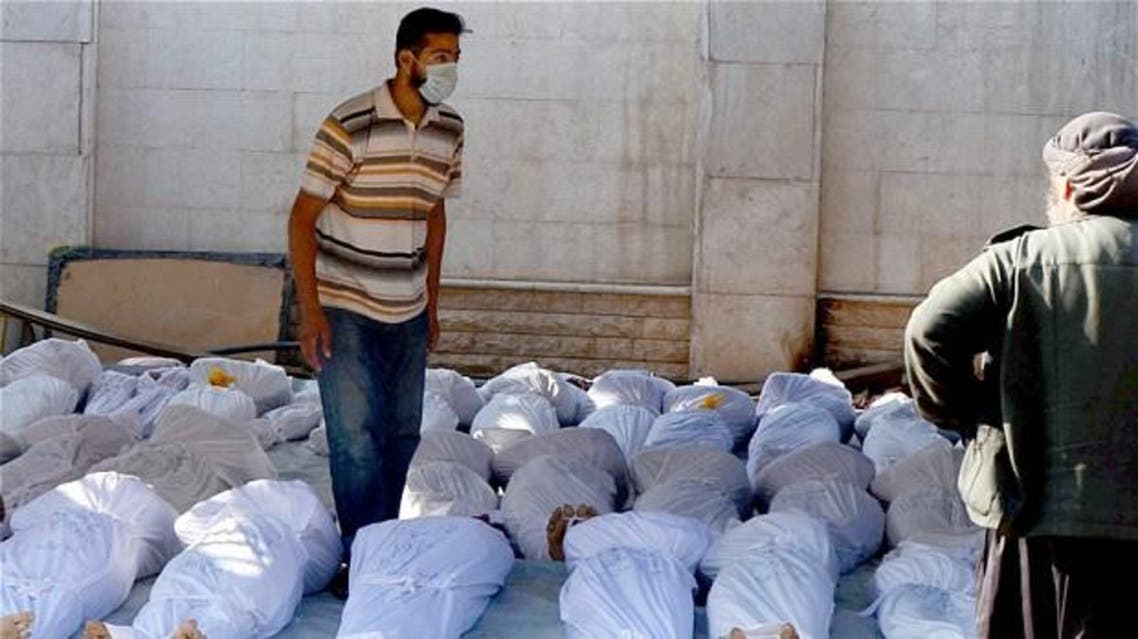 Two years on from Ghouta massacre, Syrians still desperate
Until now, no party has been held to account for the Ghouta attacks, which killed 1,400 civilians
Following the chemical attacks that killed around 1,400 civilians in the rebel-held suburbs of Ghouta, outside of the capital Damascus, many Syrians believed that an international intervention to end the Syrian conflict was on its way.
But two years later, it seems that little has changed in the war-torn country leaving many citizens desperate and losing faith in "the entire world."
"Syrians have lost faith in the international community, the United Nations, the Security Council and the United States," Qusai Zakarya, a Syrian activist and citizen journalist told Al Arabiya News.
"Syrians lost faith in the entire world and are only counting on Allah. Hopefully sooner or later we will take down this dictator."
"Assad has been killing for four years and nobody has done anything to help us. The world is somehow supporting him and let him go away with what he is doing," Zakarya, who is based in New York, added.
On Aug. 21, 2013, rockets containing Sarin gas were fired in Ghouta - located on the outer fringes of the capital. Around 420 children were among the civilians killed.
The poison gas attack became "the most significant confirmed use of chemical weapons against civilians since Saddam Hussein used them in Halabja in 1988," according to U.N. Secretary-General Ban Ki-moon., referring to the former Iraqi dictator's strike which killed 3,000 Kurdish civilians.
Zakarya urged neighboring Arab nations to intervene in Syria.
"I hope that Saudi and Turkey will join forces and take action without considering approval from the international community to have a new Decisive Storm in Syria," Zakarya said, referring to the Saudi-led coalition which since March has been bombing Houthi militias in Yemen.
"Some countries in the region like Saudi Arabia and Turkey must act more inside Syria especially at a time when Iran is trying threatening to form a Persian empire in the region," he said.
"It will take a breath of decisiveness. Assad is very weak and we only need to take down his air force and just leave the rest to the rebels," he added.
Chemical weapons stockpile
The Ghouta attack prompted several rounds of urgent U.N. talks, forcing Syria to dismantle 100 percent of its declared chemical weapons stockpile.
But the Organization for the Prohibition of Chemical Weapons (OPCW) still found that chlorine had been used "systematically and repeatedly" in some Syrian villages after the attacks.
Explaining the Assad regime's use of chemical weapons, Samir Nashar, a member of moderate opposition group the Syrian National Coalition (SNC) said: "He [Assad] probably managed to find secret chemical weapons production facilities in cooperation with Russians. This is a big probability."
"There are other chemical weapons that can be produced easily and don't require big chemical plants," he added.
Nashar said: "The regime doesn't fear the consequences for the use of this weapon, especially that the international community believes the chemical issue has been solved after Syria was forced to hand over its chemical weapons stockpile."
Brought to justice
Despite Assad's violations, some Syrians still seem hopeful, saying that the president will eventually be brought to justice.
"No matter how much time it will take, sooner or later Assad will be brought down to justice and he will face what the kind of justice he deserves which is being executed by Syrians inside Syria," Zakarya said.
"Our main goal in Syria is justice. We want justice. If you don't have justice you won't have peace in Syria," he added.
He said: "He [Assad] kept hurting us and using violence against us increasing the number of civilian casualties, the massacres, the women who got raped and also the men who got torture so I really hope that Bashar will stay until the rebels go to the Republican palace and execute him in front of everybody."
Nashar said that Assad's "dictatorship" is likely to end in capitulation, paving the path for a new Syria.
"Assad will end up surrendering just like other dictators such as [Adolf] Hitler and [Libya's former leader Muammar] Qaddafi. All dictatorships must come to an end… There is no place for dictatorships in our era."
"But the fall of Assad is not the end but the beginning … the beginning of the road to a solution in Syria," he said adding that the war-torn country would need decades to be "back on track" and rebuild its economy to pre-war standards.
A recent report from the United Nations Relief and Works Agency estimates that it will take decades for Syria to recoup the cost of its war.
Until now, no party has been held to account for the Ghouta attacks. The Syrian government and the opposition have accused each other of using chemical weapons, banned under international law, and both have denied it.