On border wait, refugees claim 'fake' Syrians try to get across
Greece is giving priority to Syrians when it comes to providing refugees with registration papers and getting them out of the country
Muddy, cold, hungry and desperate, Syrian refugees camping out on no-man's land between Greece and Macedonia have another worry: migrants pretending to be Syrian.
Among some 2,000 people stranded on the border, hundreds are believed to be from Iraq, Bangladesh, Indonesia and Pakistan.
"There are many liars here, claiming to be from Syria," said Ahmet Mohamet, a 35-year-old Syrian.
"They try to trick the police into letting them cross," he told AFP.
Greece is giving priority to Syrians when it comes to providing refugees with registration papers and getting them out of the country towards their destination of choice.
So far, most say they want to go to Germany, Holland and Sweden.
In contrast, other nationalities such as Afghans and Pakistanis can spend weeks on Aegean islands waiting for permission to sail to the Greek mainland.
Within the border camp there are many Pakistani men who have lived in Greece for years, but with the country's economic crisis and soaring unemployment, they are seeking a way out.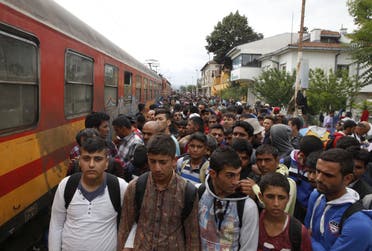 As far as the Syrians are concerned, the presence of the Pakistanis makes things harder for them and their families, which include small children.
"I think we would have an easier time crossing if this problem did not exist," Ahmet said.
Macedonia says it has deployed army troops throughout the forested hills which line the 50-kilometre border with Greece.
The bottleneck worsened on Friday when Skopje declared a state of emergency and sealed off the border for 24 hours.
After at least eight refugees were slightly injured in clashes with police, Skopje decided to allow a limited number of refugees in to continue their journey.
"It was Iraqis who started that incident," said a Syrian man who declined to give his name.
"They were throwing stones at the police," he said, adding that scuffles later broke out between the Iraqis and the Syrians.
On Saturday, as the Syrians once again moved towards the wall of Macedonian police, three men of African origin were among them.
When the Macedonians turned them back, the crowd cheered loudly.
"It would be very simple to solve this issue if the United Nations sent representatives to register us," said 45-year-old Ratim.
Sit-in protest
On Saturday, to make a point, around 1,000 Syrians moved away from the rest of the crowd and staged a sit-down protest.
And when approaching the police, they hold up their passport to show their nationality.
"We are living a tragedy. People sleeping on garbage, hungry children crying and no one knows what tomorrow will bring," said a 30-year-old Syrian man who would not give his name.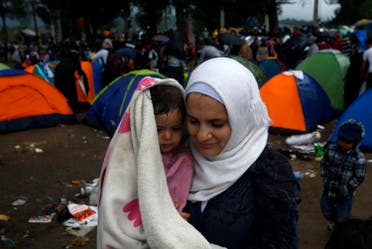 "And there are many seeking to take advantage of the Syrian people's problem, claiming to be Syrian themselves," he said.
The flow of migrants and refugees into Greece shows no signs of slowing down.
On Friday, a ferry chartered by the Greek government - the Eleftherios Venizelos - brought to Athens another 2,000 Syrians from the island of Lesbos.
Another 620 migrants of undisclosed nationalities were rescued in 15 separate incidents just on Friday, the coastguard said.