EU-Turkey summit: Finally a glimmer of hope for refugees?
Time is running short before the approaching spring that could bring a new surge of refugees to Turkish and Western shores
Just one day after the latest migrant boat tragedy in the Aegean Sea off Turkey's west coast claimed 25 lives; Turkey sit down with the 28 EU leaders on March 7 in Brussels as part of the ongoing efforts to curb the illegal migrant flow that is reaching to an unprecedented level and intensity.
However, with about 3 million refugees hosted by Turkey since the start of the civil war in Syria, the Summit ended with decisions delayed until the next EU summit scheduled for March 18.
And time is running short before the approaching spring that could bring a new surge of refugees to Turkish and Western shores.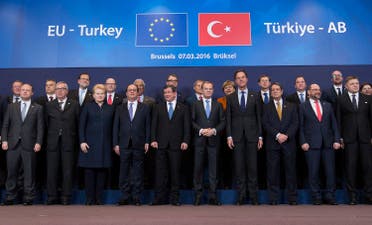 According to the press statement released following the Summit, "the Heads of State or Government agreed that bold moves were needed to close down people smuggling routes, to break the business model of the smugglers, to protect our external borders and to end the migration crisis in Europe."
"We need to break the link between getting in a boat and getting settlement in Europe," the statement reads.
"This is a real game-changer," European Commission President Jean-Claude Juncker said after the Summit. "We will make clear that the only viable way to come to Europe is through legal channels."
'Orderly migration'
The leaders also agreed on working out the details of a Turkish proposal that for each Syrian refugee Greece returns to Turkey from its islands, the EU would resettle another refugee from Turkey's camps, with a view to avoiding the vicious appeal of human traffickers' illegal business and pushing for "orderly migration" according to Angela Merkel, the German chancellor.
In a new report released by the European Commission last week, Ankara is urged to "swiftly negotiate and conclude readmission agreements with the relevant third countries to address this worrying phenomenon of too high inflows", that would require to take back economic migrants.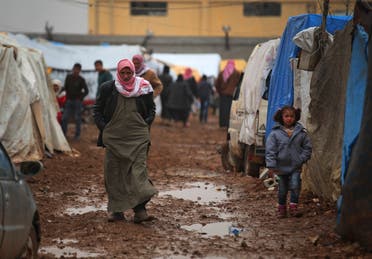 Last year, about 363,000 Syrian asylum-seekers arrived in the European Union, according to the Eurostat data, mostly through Turkey that has become a transit point for them to seek a decent living standard in Europe. Since 1 January 2016, 91% of people crossing by sea from Turkey to Greece were Syrians, Afghans or Iraqis, based on UNHCR data.
And, according to World Economic Forum's 2016 global risks report, if not supported by effective integration policies, such a humanitarian crisis may result in the "radicalisation" of migrants.
In this view, the European Commission has unlocked on March 4 the first tranche of refugee allocation to Turkey (€95 million) as part of a pledged fund of 3 billion Euros ($3.3 billion) to support humanitarian aid and development projects for refugees in Turkey, including regular food aid and education.
However, Ankara's new wishlist during the EU summit covers an extra 3 billion Euros in refugee aid.
Basak Kale, an expert on immigration policies from the Middle East Technical University (METU) in Ankara, said the Summit results show that the EU needs Turkey as well as NATO to cooperate in the refugee crisis.
"The EU by itself alone --even with its specialized agencies such as FRONTEX-- is incapable to provide all the solutions to the challenges it is facing with respect to refugee protection, irregular migration, border controls and combatting human smuggling," Kale told Al Arabiya News.
"These are issues that require international and cross border, transnational solutions," she added.
However, according to Kale, the cooperation solutions should not be only "security-based" but must be "refugee-centred."
In addition, Kale added, the EU should still develop a system that will allow sharing a certain number of refugees that are already in Turkey.
"But it looks like the EU still struggling to set up that system. With this method less people will be inclined to cross the Turkish border through irregular means with human smugglers and risk their lives," she said.
Responsibility-shifting approach
Experts underline that the current system do not bring a burden-sharing but a responsibility-shifting approach.
"And through this burden shifting approach the EU is only postponing its problems," Kale said.
Marietje Schaake, a member of the European Parliament for the Dutch Democratic Party, said the political outline was agreed in a climate of mistrust.
"Yet a lot of uncertainties remain about the legality of proposed measures, and the feasibility in practice. Not all Member States have even signed the conclusions," Schaake told Al Arabiya News.
According to Schaake, the single focus on Turkey to solve the EU's challenge to shelter refugees is unrealistic and dangerous.
"I think it was a capital mistake to outsource the EU's problems to Turkey and to turn a blind eye to rule of law and human rights violations," she added.
The EU needs to get its act together and develop a working, comprehensive plan involving diplomacy, military and humanitarian aspects rather than simple and short-term solutions that would backfire in the long run, Schaake also said.