Are Syria talks rehabilitating Assad five years into the conflict?
The international community is now recognizing the Assad regime as a legitimate entity
A week after the United States and Russia reached a landmark ceasefire agreement over the Syrian conflict, now into entering its sixth year, the fragile truce appeared to be holding despite initial reports that the regime of Bashar al-Assad and his Russian allies had stepped up airstrikes targeting various positions throughout the northern province of Aleppo.
Under the agreement, which was unanimously endorsed by the UN Security Council and accepted by the Assad regime, all parties must refrain from attacks on one another with any kind of weapons, including aerial bombardments, and from gaining new territory, UN envoy for Syria, Staffan de Mistura said while announcing the truce on Friday last week.
Prior to the resumption of peace talks, which are scheduled to resume in Geneva on March 9, de Mistura announced on March 4 that 115,000 Syrians living in the 18 besieged areas had received humanitarian aid over the last 10 days.
While ISIS, which holds onto large swaths of territory in eastern Syria and northern Iraq along with the al-Qaeda affiliated Al-Nusra Front are not party to the truce, the agreement in question nonetheless provides a glimmer of hope that a formal diplomatic process aimed at bringing the war to an end has finally been established.
With over 250,000 people killed and millions more displaced from their homes, the Syrian war has since its eruption transformed itself from a conflict in which peaceful citizens rose up against President Assad's tyrannical regime into a large scale proxy war between regional and global powers.
The conflict has also had a devastating impact on Syria's neighbors as Jordan, Lebanon and Turkey are hosting millions of refugees while millions of others continue to cross the treacherous waters of the Aegean Sea on primitive reefs and shacks as part of a desperate attempt to seek a better life for themselves and their families in Europe.
The Assad regime – a legitimate entity?
While many believe the man responsible for this massive humanitarian tragedy is President Assad, who has turned a domestic conflict into a geopolitical battleground between regional and global powers as part of a strategy to preserve his regime, the unfolding truce has accomplished one major milestone: the international community's de-facto recognition of the Assad regime as a legitimate entity that can help bring the war to an end.
This development is new as Washington has up until recently insisted that Assad cannot have place within a future Syrian government.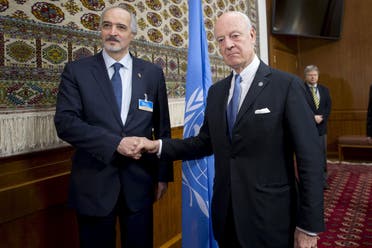 Underscoring this apparent change in policy, de Mistura said in a television interview with France 24 on March 4 that it would be up to the Syrian people and not "foreigners" to decide the fate of their president. "Can't we leave the Syrians to actually decide on that? Why should we be saying in advance what the Syrians should say, as long as they have the freedom and the opportunity of saying so?," adding: "We say that it is supposed to be a solution Syrian-led, Syrian-owned."
While Turkey and Saudi Arabia remain firmly committed to the removal of Assad from power as they insist that he has long ago lost legitimacy, Washington appears for all practical purposes to have relinquished this position in order to find the necessary common ground with Moscow required for the establishment of a UN supported peace process.
Previous failures
The change in policy is particularly apparent as both of de Mistura's predecessors, former UN secretary general Kofi Annan and former Algerian foreign minister Lakhdar Brahimi, had insisted that for peace talks to succeed, Assad had to step aside first. Annan and Brahimi failed miserably at the time as they had come to realize that their positions were no longer tenable after it became clear that Russia and Iran would not end their support for the Assad regime under any circumstances.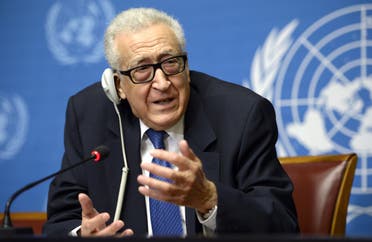 It did not help either that U.S. President Barack Obama ultimately chose not to enforce his own red lines after the Assad regime used chemical weapons against civilians in the Ghouta chemical attack of August 2013.
These factors created a vacuum for ISIS as desperate Syrians had no choice but to rely on extremist groups for their protection against the Assad regime's share brutality against its own people. Contrary to Assad's claims, it was his policies that helped create a space for ISIS and not his fight against Sunni rebel groups who he has conveniently labeled as "terrorists." Once ISIS succeeded in spreading its mayhem through terrorist attacks in Paris and San Bernardino, it became clear that accelerating the Syrian peace process had become even more urgent.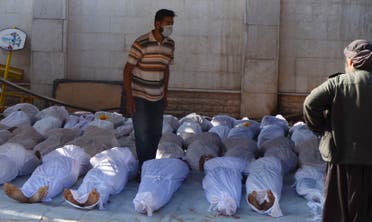 Given these developments, coupled with the Russian intervention in Syria which ultimately changed the balance of power on the ground in favor of the Assad regime, it was not surprising that Washington sought to cut a deal with Moscow to help establish the framework for a peace process that primarily seems to focus on defeating ISIS and not removing Assad from the equation.
Whether or not peace talks will ultimately succeed is of course unclear, but what is certain is that the UN framework that Washington and Moscow is supporting has helped rehabilitate Bashar al-Assad in the process. Any calls for his removal therefore seem to be merely rhetorical, at least for now. While the facts on the ground could of course change once again, it remains to be seen whether the UN peace process will serve a conduit to help Assad with achieving his only goal: regime survival.
_________
Sigurd Neubauer is a Non-Resident Fellow at The Arab Gulf States Institute in Washington. Follow him on Twitter @SigiMideast.