Flesh-eating tropical bug in ISIS-held Syria 'spreads across Mideast'
Cutaneous leishmaniasis, which can lead to severe scarring on the face, is a parasitic disease spread by bites from infected sand flies
A disfiguring tropical disease that had been previously been contained in Syria is now reportedly spreading across the Middle East as millions are displaced, the Daily Mail reported on Saturday.
Cutaneous leishmaniasis, which can lead to severe scarring on the face, is a parasitic disease spread by bites from infected sand flies.
The disease regularly goes undiagnosed and untreated.
The disease had been contained in Syria, particularly to regions under ISIS control such as Raqqa, Deir al-Zour and Hasakah.
The ongoing Syrian civil war has devastated the country's medical facilities and along with the chronic lack of clean water, the situation has created a breeding ground for sand flies the carry the disease.
In September 2012, the disease's outbreak began among Syrian refugees in Lebanon, according to the Centre for Disease Control and Prevention.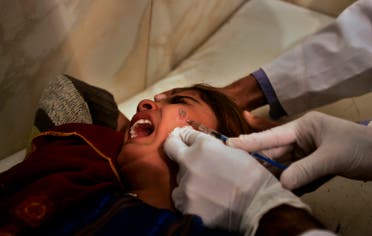 It had previously been claimed by the Kurdish Red Crescent that the spread of the disease had also been caused by ISIS dumping rotting corpses on the streets. This has been refuted by the scientists at the School of Tropical Medicines, according to the Daily Mail report.
As more than four million Syrians have fled the region, the disease has now moved into its neighboring countries of Turkey, Lebanon, and Jordan.
"It's a very bad situation. The disease has spread dramatically in Syria, but also into countries like Iraq, Lebanon, Turkey and even into southern Europe with refugees coming in," Dr. Waleed Al-Salem, one of researchers on the disease, told the Daily Mail.