Syrian refugees' performances break Lebanese hearts
"The Caravan" highlights the plight of refugees in a country where their basic rights are not catered for
A project dubbed "The Caravan" held its first performance last week in northern Lebanon, highlighting the plight of refugees in a country where their basic rights are not catered for.
"The Caravan" has garnered much national attention. Recording stories of Syrian refugees from camps in the Beqaa valley, from the heart-breaking to the hilarious, the campaign plays the recordings while refugee performers act them out.
"I've been working with Syrian refugees for five years now, and last year I was like 'maybe it's time to do something more'," artistic director Sabine Choucair told Al Arabiya English.
Voice to the voiceless
"Instead of collecting stories and go tell them, how about I let them tell their stories? That's how the whole idea of them recounting their own stories, with their own voices in their own way came about."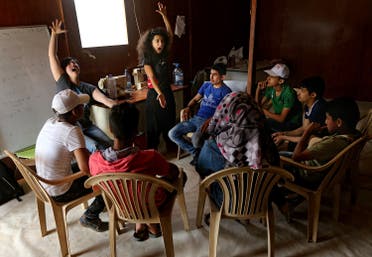 Using two platforms, social media and street performance, "The Caravan" aims to give refugees a voice in a world where they are seen solely as numbers and application forms.
"Our aim is… to humanize the refugees, to stop seeing them as refugees and start seeing them as human beings who have the same feelings and problems we do," Choucair said. "We need to be connected on a human level."
Starting out as a workshop in a refugee camp with some 300 people six months ago, Choucair and her team began collecting stories from refugees who want their stories to be known.
Most of the stories are similar, Choucair says, so she chose one from each theme of love, death, discrimination, humiliation and happy memories.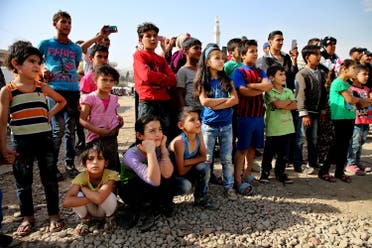 Out of 20 stories recorded, eight have been chosen to be acted out by a team of Syrian refugee actors from the Beqaa valley camps, who rigorously trained for a month and a half in theater acting.
Dialogue
"The Caravan," an EU-funded project, promotes open discourse regarding the hardships these refugees suffer.
"We got people talking about this, which is really good, to open the discussion in a safe space and create a less or non-judgmental atmosphere."
Among the stories told is one of a mother who carried her dying daughter to several Lebanese hospitals, but none would take her in, leading to the child dying in her arms.
Lebanese, however, say they too lack government support, and are also victims of corruption and lack of proper funding or allocation of resources.
Lebanon, a country of 4 million, has up to 1.5 million refugees, more than a quarter of its population.