Prime Minister Daghr says 'Yemen needs to maintain its unity'
Says the issue of the country's unification is complex, but stressed the need to resume talks
Yemen's Prime Minister Ahmed Obeid bin Daghr stressed the need for the country to maintain its unity amid separatist protests in the south and the failure for reaching a breakthrough between its two warring sides.
Daghr stated that the issue of Yemen's unification as "complex" and one that will take time to tackle, and revealed that it was an issue that was addressed during the national dialogue conference.
"The political forces that attended the national dialogue agreed that Yemen needs to maintain its unity, though restructuring it is a necessity," Daghr said in an interview with Egypt's state-owned news site Ahram Online.
The Yemeni premier's comments come amid demonstrations in the countries' south calling for a secession from the Houthi-controlled north.
The Southern Mobility Movement, more commonly known as al-Hirak – 'the movement' in Arabic – advocates for a return of the independence of south Yemen. From 1967 to 1990, South Yemen existed as an independent state, with the port-city of Aden as its capital. To the northwest was the Yemen Arab Republic, or North Yemen, with its capital in Sanaa.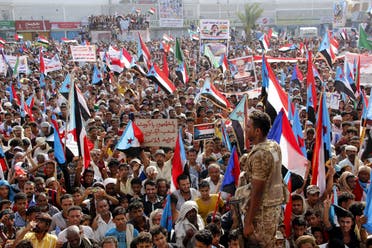 However, in 1990, North and South Yemen united to create the modern day Republic of Yemen, with Sanaa as the capital. As part of the new unity government, it was agreed that North Yemen's president, Ali Abdullah Saleh, would become president of the new republic.
Amid the escalated tension, Daghr admitted that the 1990 unification agreement is no longer in place and stated that the problems of the southern areas should be solved and that restructuring the country is necessary.
"In the coming days, a federal state that is composed of six regions will be put in place, which is consistent with the conclusions of the national dialogue," he said.
Six-region federation
Transforming Yemen into a six-region federation was previously discussed in 2014 during a presidential panel headed by President Abd-Rabbu Mansour Hadi, including representatives of Yemen's main parties.
Yemen's national dialogue was stipulated by a UN-backed roadmap that ended a year of protests against former president Ali Abdullah Saleh, who stepped down in 2012 after 33 years in power. However, the panel was unsuccessful and led to the Iranian-backed Houthi takeover of Sanaa in September 2014.
"The Houthis are against the republican system, and they certainly don't accept the unity of Yemen. The unity of the Yemeni regions happens only when a republican system is in place," Daghr said.
Although admitting that Houthi militias are the ones currently in control in the capital Sanaa, the prime minister emphasized the "real willingness" by his government to resume talks, especially on issues related to the "peace and stability" of Yemen.
"There will be a new diplomatic path to some extent," he said, explaining that Ismail Ould Cheikh Ahmed—the UN special envoy for Yemen— is continuing his efforts in helping Yemen reach a diplomatic solution.