Female-run mosque in Denmark 'part of global trend,' says founder
How one women-run mosque in Denmark is challenging patriarchy and Islamophobia
Scandinavia's first women-led mosque, which prohibits polygamy and is home to female imams, officially opened its doors in Denmark in March, but the place of worship is not odd or unique, says its founder Sherin Khankan.
"I believe Mariam mosque is part of a much larger global movement [based on] Islamic feminism established in the 1970s, which exploded in the 1990s," Khankan, a mother of four and one of the two imamas at the mosque, told Al Arabiya English.
In Arabic, imam is the male noun denoting the Muslim minister who leads worshipers during prayers while imama is used for a female preacher.
"There are all these female imams and scholars around the world who are trying to interpret the Quran according to our times and our society, with specific focus on women's rights," Khankan, said, adding that this focus on women's rights distinguishes the Mariam mosque from others in Denmark.
On its first day in March, Mariam mosque hosted a marriage ceremony for an interreligious Swedish couple who were looking in earnest for a progressive female imam to bless their union.
"Until now, we have done about five Islamic marriages. We have four more coming up in September and October, so it's nine in total," she said. "In our Islamic marriage contract, it is stated clearly that the woman has a right to divorce and that polygamy is not an option. [The contract also states that ] if physical violence occurs, the marriage is annulled."
Also in case of an unfortunate divorce, "the women have rights regarding the children's custody, along with the man."
Khankan, whose mother is Finnish and father is of Syrian origin, does not wear the Islamic veil to cover her long locks as her interpretation of modesty is different.
"When people wonder why I am not wearing the hijab, I tell them I do," she said. "I just have a different interpretation of the meaning of hijab. To me, the hijab is about sincerity. It's about being close to Allah."
In September, the mosque will introduce 17 seminars as part of its own "Islamic academy" to teach on topics ranging from Islamic philosophy, Islamic feminism, Arabic language, Islamic jurisprudence to Sufism and Islamic spiritual care with the "money going to the mosque."
"We're also going to teach women how to lead a Friday prayer," she added. "We're trying to serve our community the best way we can through Islamic ceremonies and through Islamic spiritual care."
On Aug. 26, the mosque held its first Friday prayers with a female voice calling for the prayer, known as the azan in Arabic.
Khankan delivered the call for prayer and made an opening speech while the other imama, Saliha Marie Fetteh, delivered the Friday sermon, or khutba, which discussed "women and Islam in a modern world."
The turnout rate for Mariam mosque's first Friday prayer was "impressive," with 40 Muslim attendees and 30 non-Muslims coming forward.
"There was a sister solidarity in the room," she said, depicting "the special sense of solidarity" with our "Jewish or Christian sisters" praying side by side as "beautiful.
"Allah has created a world of multiplicity, so we can understand his unity and the idea of unity," she said.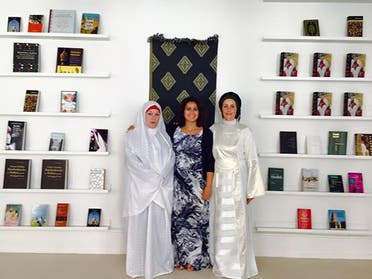 Fighting Islamophobia, patriarchal structure
The idea that women should take the lead is important to Khankan who believes that it will spark a ripple effect in society and will ultimately lead to an egalitarian future.
"When a woman leads the prayer and she gives the khutba, she is challenging the patriarchal structures within the religious institutions and then she becomes more powerful because she is changing the structure," she said.
She further noted that it is not only Islamic religious institutions but also Christian and Jewish institutions that are "male-dominated."
"This is what we want to change," she said. "We want to change not only patriarchal interpretations of the Quran but we also wish to go to the source and to challenge the structures within religious institutions."
She dubbed the concept of having an imama as "not controversial.
"This is allowed in three out of four of Islam's [Sunni] schools of thoughts," she said, citing how leading female Islamic figures such as Prophet Mohammad's wife Aisha were said to have led the prayer for women. "The prophet himself appointed Umm Waraqa to lead the prayer for her community because she was the most excellent in reciting and knowledgeable in Islam," she added.
"So theologically, we are on very solid, safe ground," she concluded.
Women leading prayers can also "challenge growing Islamophobia in Denmark and Europe," Khankan argued.
"It is very difficult to hold onto the perception that Muslim women are oppressed when they [Westerners] see Muslim women as female leaders, giving the khutba and acting as spiritual care persons," she said.
For Khankan, she is already feeling the change when her five-year-old daughter described an imama as a "woman who is doing very important things.
"So you see how a concept can change in a five-year old's mind," she said, expressing hope that such equality would soon "go beyond the mosque."