Egypt at the UN: Can Sisi restore security, economic faith?
Analysts say much has to be done for Sisi to make good on his promises
When President Abdel Fattah al-Sisi first took to the UN General Assembly (UNGA) two years ago, he promised to "build a new Egypt," one that "respects rights and freedoms, honors its duties, ensures the co-existence of its citizens without exclusion or discrimination, [and] is determined to achieve growth, prosperity, and a promising future that meets the aspirations of its people."
Two years on, two plane crashes have badly affected its tourism industry, a faltering economy has drowned the country in debt, and an ongoing tit-for-tat with Rome over police brutality – linked to the murder of an Italian researcher – has threatened Egypt's international standing.
Analysts say much has to be done for Sisi to make good on his promises. His "image as the tough man who could get things done has been negatively impacted by Egypt's economic deterioration. His popularity will likely be shaken further with unpopular austerity measures being introduced," Amr Adly, visiting scholar at the Carnegie Middle East Center in Beirut, told Al Arabiya English.
In a bid to prepare public opinion for a series of measures that will include subsidy cuts, tax reforms and privatization of state-owned companies, Sisi told Egyptians last month that the government needed their support to weather the storm.
"Egyptians love their country and are able to face hardship, but they are too busy with their daily lives, and thus must be afforded the correct information regarding the measures," Sisi said.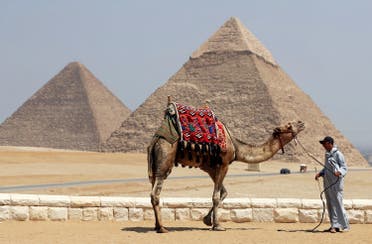 While the government has promised to build on that transparency, analysts say they have yet to achieve enough to gain Egyptians' trust.
"The most important thing right now is to build transparency and coherence around the economic planning of the country," said Timothy Kaldas, non-resident fellow at the Tahrir Institute for Middle East Policy.
"The government needs to articulate what it plans to do, and give much more advance notice on what kind of measures consumers and investors can expect with capital controls, bank regulations and taxes."
Harsh measures vs necessary reforms
In order to improve the flagging economy, Egypt has depended heavily on foreign aid from its Gulf supporters over the years. However, a global economic slump and plunge in oil prices has dampened how much that support can be counted on.
Import-dependent Egypt has also been struggling with a worsening shortage of foreign currency, with many Egyptians trading in the black market, where the dollar is being sold for 12.65 - 12.75 Egyptian pounds, according to traders, far more than the official rate of 8.78.
The latest frustrations from global partners manifested when KLM Royal Dutch Airlines said it would suspend flights to Cairo beginning in January because it was difficult to repatriate its earnings and transfer money abroad. To fix all that, Egypt has turned to the International Monetary Fund (IMF) for a loan of $12 billion over the next three years.
The loan is tied to what some Egyptians see as harsh, but by others as much-needed, reforms, subsidy cuts, the introduction of value-added tax (VAT), and a more flexible exchange-rate regime. Sisi's administration plans to end fuel subsidies within three years, and increase fuel prices to 65 percent of their actual cost during the 2016/17 fiscal year.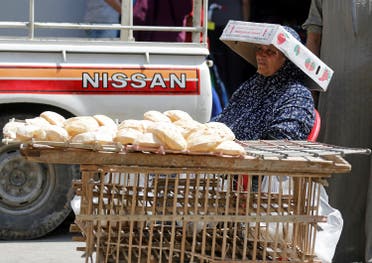 Analysts observing the subsidy policies say so long as the subsidies to wheat and grain remain largely untouched, Egypt will likely not see the kind of uproar witnessed in 2011.
"While there is an increasing problem because of the inflation of food prices, there are no current signs of Egypt having problems with making payments for grain imports right now," Christian Henderson, researcher on the impact of Gulf investment and the food regime in Egypt, told Al Arabiya English.
"But [flour] will be the basic need that will only be abandoned if there is a serious crisis. That kind of food subsidy will continue for a long time, regardless of other factors."
Global standing
Analysts that Al Arabiya English spoke to were cautious about predicting another round of anger and protests against the Sisi government ahead of austerity measures being imposed, most of them citing public fatigue and a lack of an alternative to the man himself.
"The Egyptian population - after having two uprisings, overthrowing two governments, and seeing their situation get worse - are not necessarily rushing to do it again. There are a lot of concerns that it will not benefit them," Kaldas said.
Dr. H A Hellyer, senior non-resident fellow at the Atlantic Council in Washington DC, said: "Sisi's credibility when it comes to the economy is severely compromised. Largescale reforms to the economy are needed, buttressed by a social security net to protect the most vulnerable parts of Egyptian society."
Hellyer, author of the upcoming book "A Revolution Undone: Egypt's Road Beyond Revolt," added: "As yet, there does not seem to have been political will to engage in that fashion. Time will tell if the IMF deal changes that."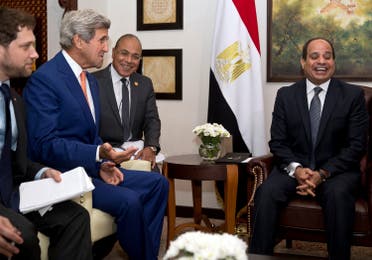 World leaders are anticipating Sisi's appearance in the upcoming UNGA. Two such persons are US presidential nominees Hillary Clinton and Donald Trump, whose campaigns confirmed that a sideline meeting with the Egyptian leader are in the books this week.
"Sisi remains important for the stability of Egypt and the region, and most probably that is why the Clinton campaign is offering to organize a meeting," said Adly.
The Egyptian delegation are pulling out all the stops to ensure that Sisi's visit to New York for the UN General Assembly is a diplomatic success despite growing criticism of the country's human rights record under his rule.
On Sunday, Sisi flew to New York along with some two dozen loyal lawmakers and media figures who will seek to improve the country's image during the four-day visit.
"I think the UNGA appearance is another instance where the Egyptian leadership can prove [itself], especially given the ambitious financing plan that depends on international creditors and investors."
However, while observers say it is still too early to see how Sisi will fare in what is left of his first term as president, they say at least on the global stage, Sisi's standing will remain unchanged.
"No one in the US government is ready to turn their back on Egypt, at least compared to other failed states they are dealing with right now, like Libya, Yemen and Syria. Despite their frustrations, they are ready to deal with a military government in Egypt," said Kaldas.