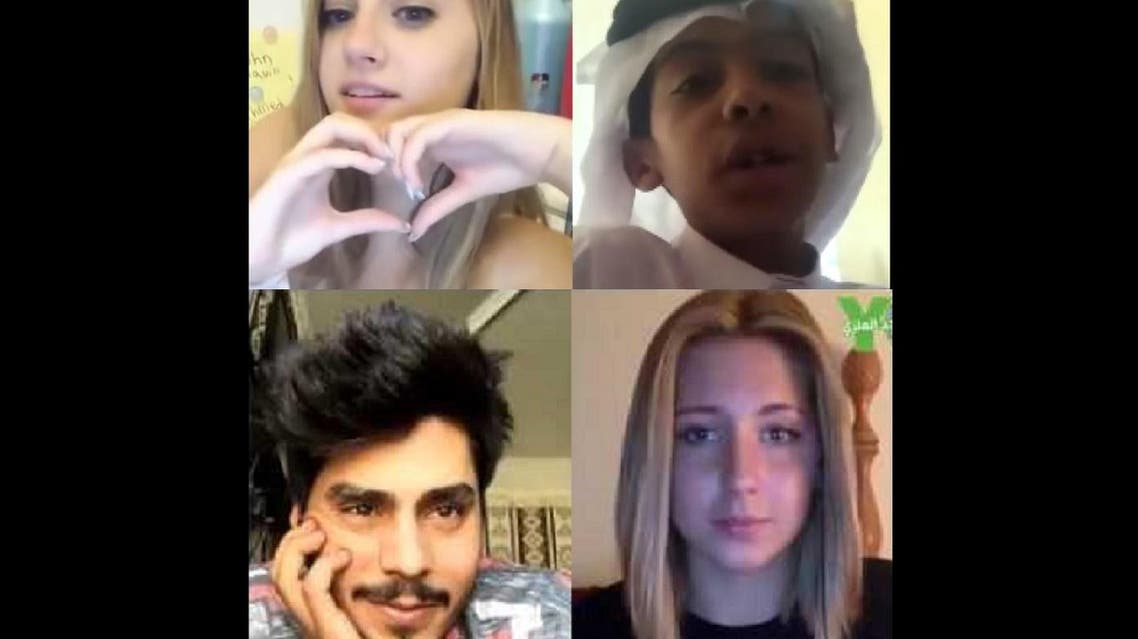 Getting to the bottom of the 'Abu Sin' phenomenon in Saudi Arabia
The recent arrest of Abu Sin and Majed al-Anizi have sparked debate about the role of young boys in Saudi society
Sitting in a café in Dubai, miles away from their home cities of Riyadh and Jeddah, a group of young Saudi men were intensely debating the hot topic of the day – and it wasn't the war in neighboring Yemen.
They went back and forth about the recent arrest of a young Saudi from Riyadh nicknamed Abu Sin (one with the croocked tooth) for chatting up an American girl from California online.
He was released on bail on Thursday after a weeklong detention by authorities on charges of "unethical behavior violating decency and religious values," Lieutenant Fawaz al-Miman told Al Arabiya.net.
The conversations between Abu Sin and Christina Crockett – the American girl in question - were first broadcast on YouNow before being reposted dozens of times on YouTube. They quickly grew in popularity, garnering hundreds of thousands of views.
They also made for comedic viewing since both did not speak the other's language; he barely spoke English, while she was oblivious to the Arabic language.
His arrest – along with the earlier arrest of YouNow broadcaster Majed al-Anizi – were justified by some in Saudi society for their alleged misrepresentation of Saudi youth at a time when the global media's spotlight on the kingdom could not have been shining any brighter.
Abu Sin was released earlier on Thursday and said that he "repented and no longer will pursue the fun chats" he had with Crockett.
Redefining role of young Saudi men
"I didn't see a real big problem with either Abu Sin or Majed to be honest. But their timing was so bad at a time when the whole world is paying attention to everything we do in Saudi Arabia," said Hussain Mohammed while sipping on his tea and smoking his sheesha pipe.
"Especially with the roadmap toward Saudi Vision 2030, a lot is being expected of our youth. And for us to be seen as goofing [around] and comedic is simply not going to cut it right now," he added.
No social issue has divided the kingdom as such since the issue of women's driving came back to the fore a few years ago. But while some like Mohammed say that Abu Sin's case is the minor distraction of the week, Saudi writers are saying that wider related issues must be addressed head on.
"The issue of compounding the Saudi youth, especially the boys, and telling them what not to do is dangerous. That's probably why you're seeing many young boys going on YouNow and talking to American girls. Because they don't feel they have the space to express themselves in the physical sense so they head on over to the virtual world," Saudi columnist and writer Hassan al-Mustafa– who is also a member of the Al Arabiya team – said.
In a column published in al-Riyadh, liberal Saudi journalist and novelist Abdullah bin Bakheet wrote that as the country's morality police started withdrawing and societal expectations started relaxing, Saudi youth finally began breathe a little without really knowing where the red lines were drawn.
"The young Saud man can now decide to put on his thobe (a traditional robe worn by Saudi and GCC men) and headdress and decide how long or short he may want it to be tailored. Even the salafist can decide whether to shave or keep his beard without much notice from anyone," he wrote.
Opening up of the physical space
While from the outside, Saudi Arabia might not be seen as shedding much of its conservative ways, from the inside things are already changing at rapid pace.
On the same day Abu Sin was released, hundreds of men and women, side-by-side, cheered their appreciation and clapped to the beat as New York-based theatrical group iLuminate took to the stage in Riyadh on Thursday evening.
Some are calling this an "entertainment revolution" with one senior Saudi telling Al Arabiya English that the opening of cinemas in Saudi Arabia is not a question of when, but if. Cinemas in Saudi Arabia have been banned for nearly 30 years following disagreements over gender segregation and appropriate content shown in public.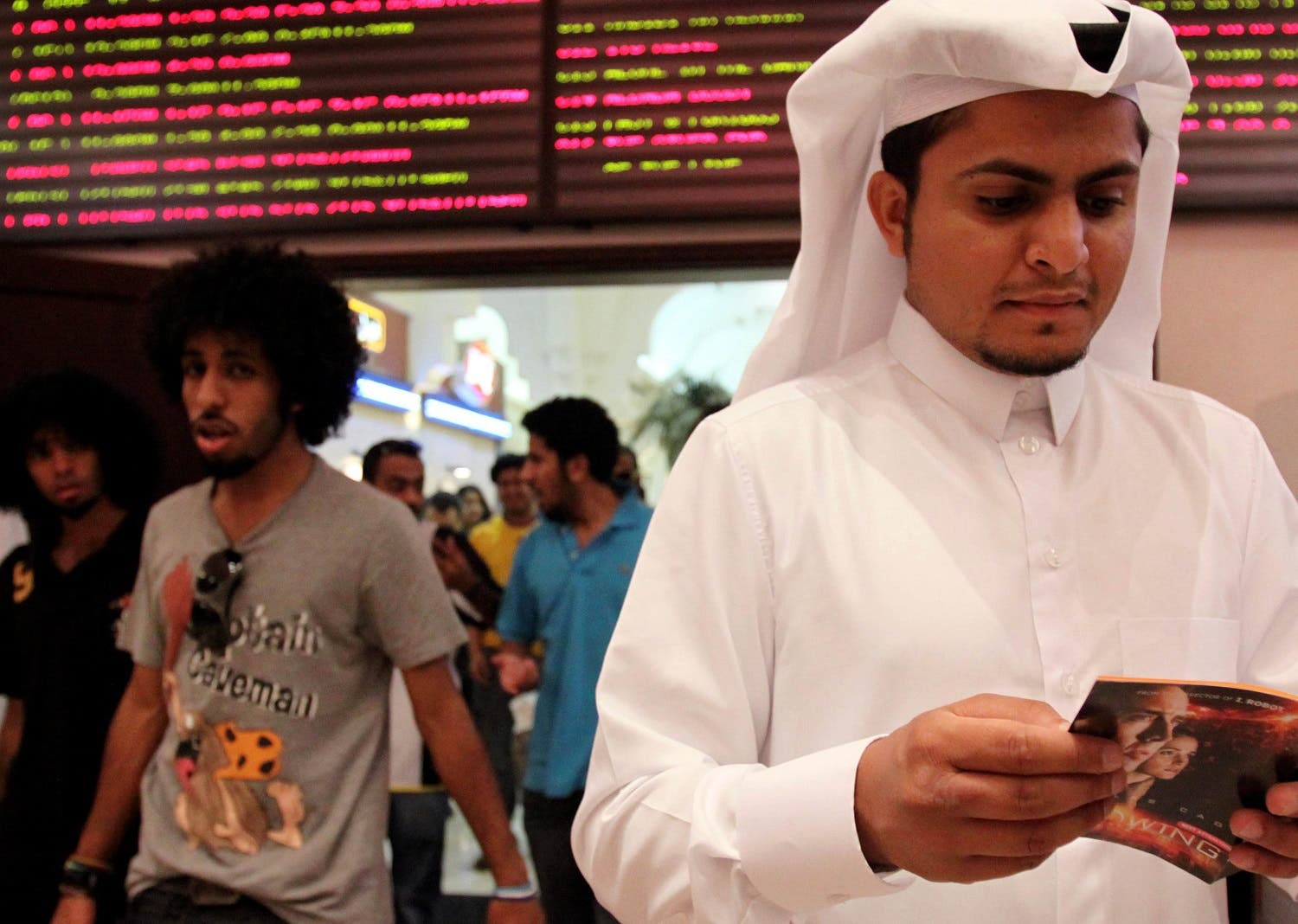 Most young Saudi men therefore throng cinema theatres in Bahrain over the weekends, where it is only a few hours' drive and wait at the borders.
But it's all part of the roadmap Vision 2030 plan ushered in by Saudi Deputy Crown Prince Mohammed bin Salman, who has emphasized the need for entertainment in Saudi Arabia. Among its wide-ranging goals is the development of the tourism and entertainment sector.
"We are well aware that the cultural and entertainment opportunities currently available do not reflect the rising aspirations of our citizens and residents," Vision 2030 acknowledges.
"In the past, Saudi boys were not able to meet up in malls and restaurants were segregated. The minimum they'd need [would be] to travel to either here in Dubai or Bahrain to get some sense of space," Ali, another Saudi man in Dubai but preferred only to be identified by his first name, told Al Arabiya English.
Fame worth the pay?
Another issue that needs addressing is the phenomenon of young Saudi men making a career out of internet broadcasting. Saudi Arabia has one of the highest internet penetration rates per population at 60.4 percent. Many have found success by launching YouTube channels and addressing the core social, cultural and religious issues of the day through comedy.
"In general, it is faster to get famous if you are doing something controversial. However, it is something specific for governmental agencies that no negative behaviors take place," Omar Hussain, one of Saudi Arabia's most famous YouTubers and social media content creators, told Al Arabiya English.
But Hussain wants to make one thing clear: he, along with other content creators, are not necessarily looking for authorities to censor them. Rather, they are looking for more cooperation to foster a much more robust online presence in Saudi Arabia.
"In the bigger picture, a lot of people are creating good and entertaining content. There are specific cases which we don't want to make a judgment on because of the lack of details (referring to Abu Sin). But we hope that governmental agencies spend adequate time on connecting with content creators and helping them understand what is dangerous especially if it's something that is health or security related... No one wants to mess with that when talking to the Saudi population," Hussain said.
"Unemployment still remains an issue for many young Saudi men. Abu Sin probably saw a chance to build enough followers with his silliness and get advertisers to sponsor his content along the way. It is a both a path to fame and a job for many young disenfranchised Saudi men," Saudi writer al-Mustafa said.
Saudi phycologist Dr. Fahad al-Yahya told Al Arabiya English that it is a cause for concern in the long-run. "It's bad to jumble up the actions of one individual and attach him to a whole society. Long gone are the days when nationalist Saudi Arabia was defined by just one identity or core set of values," al-Yahya said.
"It's good that he has been released. He doesn't deserve to be charged [on the basis of these] serious allegations, [it is] more than enough that he's promised to right his wrongs through a pledge or something similar," he said.
Whether Abu Sin or al-Anizi's comedic flirting with American girls online posed real harm to Saudi society is still up for debate - as seen by the highly-esteemed Saudi writers and thinkers taking up extreme positions on either end of the conservative-liberal spectrum on the issue.
But one thing remains clear: Saudi youth and their role in society is a core issue. Back at the café in Dubai, the talk lingers on.
"No one wants to see another Saudi, especially someone our age, get arrested. Fine if he was arrested for drugs or more serious crimes. But until our role in society is discussed, I fear there will be more Abu Sins and Majed [al-Anizis] from time to time," said Mohammed as he took a final sip of his tea.