The movie "Tadmor" (Palmyra) will be aired for the first time on an Arab channel and exclusively on Al-Arabiya on Friday and Saturday, February 17 and 18 at 8pm GMT. The movie recalls the survival of detainees through the rebuilding of the prison where they were detained for bitter years, marked by severe torture.
The two directors, Lokman Slim and Monika Borgmann documented in the movie "Tadmor" the terrifying events that took place in the famous notorious Palmyra prison. A group of former Lebanese detainees decided to break the silence and speak about what they have endured inside the prison.
The replica of the prison where the detainees were tortured for years without mercy, was built inside an abandoned school in Beirut. This is what gave the movie its dramatic character.
The movie starts with the process of re-building the prison inside the school, showing how the decor was actually transformed into a real prison. Then a former prisoner starts to recall the day he was summoned to Mezzeh prison at dawn. He thought that he was going to be executed but they told him he was going to be transferred to another prison.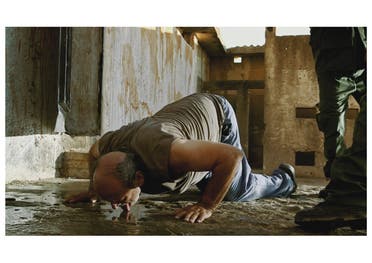 When he got into the vehicle that was also transporting other prisoners, he asked the man sitting next to him about their destination. The man told him that if they passed by a deserted road, it meant they were going to the Tadmor prison, if not, their destiny might be death. The prisoner wished that they had not passed by the deserted road, as anything would have been easier than the Tadmor prison.
Those who appeared in the movie have spent between nine and 14 years in prison. Their testimonies depict the cruelty and humiliation that they were not able to forget.
Abu Ali tells how he was forced to eat insects and swallow a bird that was still alive. Other detainees spoke about how they were subjected to several methods of torture.
At the beginning of the movie, the two directors explain how Tadmor prison was the worst place for oppression and tyranny carried out at the hands of the Assad regime. It is no coincidence that the film production overlapped with the Syrian revolution, as the Lebanese know well the tyranny of both the Assad father and son.
The movie was screened in many international festivals and has won several important awards in the Swiss town of Nyon and Hamburg in Germany.