There is no doubt that what is known as "presidential election" in Iran is held in a very oppressive atmosphere. It is fake and totally different from democratic elections held around the world.
In this fake show, only two candidates out of a total of six, are approved by Guardian Council (which is a council consisting of members selected by Khamenei).
The two main selected candidates are given full media attention and coverage and political analysts turn them into election highlights. This is to divert the people's attention away from the regime's internal tussle for power.
It is also to cover up the regime's continuing torture, oppression, executions and total mismanagement of social, political and economic issues that are effecting the people on a daily basis.
The objective of holding this type of "election show" - under the absolute dictatorship is to create an interior balance in the ruling system and achieve an international legitimacy in order to justify trades with western powers and politicians who are willing to shake the hands of delegates of illegitimate Iranian regime.
Closing their eyes on the regime's past records of human rights, terrorism and the main factor of the Middle East instability. However, few questions remain unanswered. Did Khamenei fail to manipulate this election by selecting Ebrahim Raisi as his favorite president?
Both sides are sharing news of widespread fraud in this election. Several clashes have led to the death of three persons while another 50 have been injured in Khorasan province. As many as 300 have been arrested in relation to election frauds. Nevertheless, two different views exist.
Bringing Raisi who was known as one of the notorious judges of the 1988 massacre, whose decision to execute of thousands of innocent people did not take more than a few minutes in each hearing .Who had also no political experience in running the country political, social and economic issues.
Was this a reason to frighten the people to participate in the sham election against him by choosing the other candidate? This view is not true because it could mean an obvious defeat for Khamenei.
Another view is that Khamenei had two options of minimum and maximum choices. Through the maximum option, he was aiming to close the interior political gaps of his regime and create a seamless system, also resolve the challenge of introducing his successor by selecting Ebrahim Raisi.
The minimum option pertained to selecting Hassan Rouhani due to the potential that exists among Iranian public and his fear of another massive uprising even wider and deeper than what happened in 2009. Additionally; his isolation in the region and worldwide and possible future sanctions, which are seriously dangerous nightmares for his regime.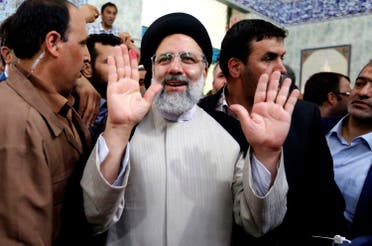 Khamenei's defeat?
Rouhani's victory highlights the defeat of Khamenei and Revolutionary Guard in controlling the result of the sham election in the way it was initially designed for. Khamenei gambled by playing the Raisi card. He could not bring his agent to power to deal with crises that have surrounded his regime.
This is a serious defeat for him. It will weaken his position more than before and deepen the regime's internal conflicts, especially at the Khamenei side.
Khamenei, in his message after the final results, did not congratulate Hasan Rouhani, which shows his serious shame and defeat.
In an interview with Radio Farda Mohammad Mohaddessin, Chairman of the Foreign Affairs Committee of the National Council of Resistance of Iran, said: "Presidential elections in Iran are not same as elections in the US or Europe. In Iranian regime, everything is controlled by the Supreme Leader and president should obey supreme leader and his constitution with no authority by himself".
Mohamad Mohadesin in an article in Forbes magazine wrote: "Since its foundation, the clerical regime ruling Iran has used false elections to paint a democratic picture of its tyrannical rule across the world. Unfortunately, for different motives, some western politicians and governments acknowledge this and try to invest in the power-jockeying between the so-called "moderate" and "hardliner" factions in the Iranian regime, a competition they deem authentic".
"If not stemming from economic interests and political considerations, this logic is rooted in a flawed assessment of the structure governing the religious dictatorship ruling Iran. This erroneous line of thinking and the decisions it has resulted in have come at a huge cost to peace and stability in the region and across the globe".
CNN reporter Lisa Daftari said that if you talk to the critics of the regime whether they are expelled or inside the country they would tell you this is entirely a sham election, a fake election, a fake system, because all of the candidates have to be approved by the council, all of the candidates come from within the system.
"So, whether Rouhani is a bit more reformist, it is all within the same system. They are going to be made up within the same cult which is the cult of the Islamic Republic of that government. I have been hearing a lot and trying to pull out these interviews with Iranians who still are talking about regime change or pushing and finding the ways of exposing the regime for real problems within the society and again the crack down on the journalists, on dancers, on writers, on bloggers …people are going to prison for a Facebook post."
'The Arab Spring'
The CNN reporter added: "The change was started with Arab Spring, and while Iran is not an Arab nation Iran actually was prospector to the Arab Spring in 2009 when the young people of Iran came out on to the street they wanted to tell the world we overcome government and we want something different."
Rouhani in February of 2015, confessed that his government mullahs had used their presence in Syria and Iraq as a bargaining tool during the nuclear deal. He said: "If our forces were not been in Baghdad, Samera, Folujeh, and Ramady, and if they had not supported Assad regime, they could not have security to make a good nuclear deal".
He also confessed during the election debates that the ruling system in past 38 years "only was busy for executions and imprisonments". But when Khamenei came to the public and threatened Rouhani that "he will be slapped", he quickly changed his direction and said that "he can kiss the hands of supreme leader ten times"!
Despite the scientific and technological progress, the human being has not discovered an instrument to measure lies and bawdiness yet. However, it seems completely impossible that we can invent an equipment to find out the degree of lies and bawdiness of ruling mullahs in Iran!
They are masters that are teaching evil. Iranian people have made a joke that once Khomeini came to the power, evil has lost his job and now is looking for employment! Actually, evil cannot work as satanic as mullahs any more!
Hasan Rouhani while accused his rivals for executions and imprisonments in past 38 years, had been the first person that requested the execution of opponent people in the public.
Moreover, he was the first person that banned the entrance of thousands of women in offices without Hijab, and forced them to stay at home.
_________________________
Mahmoudi is a kurdish-Iranian social media journalist. He is a human rights and political activist. Mahmoudi took part in revolution against Shah in 1979 and he was among students who were opposing the new regime. Mahmoudi was arrested and tortured during 1980's for his political and human right activities.