A woman in India who reduced her weight to 70 kg from 132 kg in two years without crash dieting, exercise, medication or surgery has become a media darling flooded with requests to share her secret formula for shedding extra kilos.
"Even doctors suffering from obesity are knocking at my door for help", a beaming Papiya Sen Bhattacharya, 50, told Al Arabiya. Papiya, a teacher by profession, lives in Kolkata, capital of India's West Bengal state, with her husband and 26-year-old daughter. Her miraculous story was broken by Anand Bazar Patrika, a Bengali daily.
The newsmaker attributes her success to sheer will power. "If you are over-weight, there is no need to spend hours in a gym. Diet control holds the key – it's a game of calories and carbohydrates! Soup, vegetables and salad deliver results slowly but surely", she revealed.
"You have to persist. You can't give up. And slowly the sun will emerge from behind the dark clouds. You have to wait for that dawn."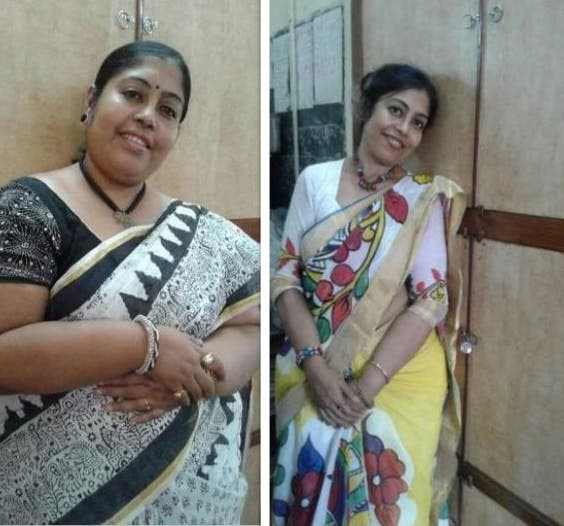 Married at 18
Papiya, who grew up in Murshidabad, weighed 80 kg when she was a student of class six. She got married at the age of 18. When she gave birth to her daughter in 1991, she weighed 100 kg. Inevitably, she consulted dieticians and trainers but the problem persisted.
Matters came to a head in 2014 when she realized in the middle of a school function she had put on so much weight that she was unable to stand on her own feet. In those days, she weighed as much as 132 kg. Doctors she consulted prescribed knee replacement surgery. But they also issued a warning that the surgery would serve no purpose if she didn't reduce her weight drastically.
"Bariatric surgery seemed to be the only solution available. But those who undergo weight-loss surgery are bound by a lot of restrictions which were not acceptable to me", she recalled. In mid-2015, she met several dieticians and started mining the internet for success stories from around the world. Then she began experimenting with the tips and tricks she had picked up.
"I always had a wonderful zest for living. I wanted to look good even when I was horribly fat. I dressed well and used make-up to enhance my appeal. I never felt like a loser. I was sure that one day I would come out on top." Today she weighs less than what she weighed when she was 14- an incredible achievement very few men or women can boast of.