The regime in Tehran continues to be in a state of shock after the passage of unprecedented United States Senate sanctions on Thursday targeting Iran's ballistic missile program, support for terrorism in the Middle East and flagrant human rights violations.
Many of the new measures imposed on Iran are far more complex than any sanctions even prior to the Iran nuclear deal. There is no need for the Trump administration to tear up the Joint Comprehensive Plan of Action (JCPOA), as these new sanctions provide the US President vast authority for further punitive action. This new initiative also contains a classified amendment believed to describe Iran as an extremely dangerous state.
The threats
Saudi Foreign Minister Adel al-Jubeir highlighted the importance of this threat after a recent meeting with his British counterpart in London.
"If Iran seeks respect it must bring an end to supporting terrorism, bombing embassies and spreading sectarianism… Iran also supports terrorism, meddles in others' affairs, fuels sectarianism, and dispatches the Revolutionary Guards in Iraq, Syria and Yemen," he said.
Further signs of the mullahs' devious intentions are seen as Iran is reported to provide cruise missiles to Yemen's Houthis and resulting in a grave threat to the strategic Bab el-Mandeb waterway, according to the US.
As Iran also continues its destructive support for Shiite groups in Iraq, Vice President Ayad Allawi voiced concerns over Tehran of fomenting sectarian rifts across the country prior to next year's parliamentary election.
And Iran will also continue its efforts in Syria, as many parties are seeking land grabs to ensure their interests in the post-ISIS era. Knowing this, Tehran is seeking leverages in the region to have negotiating ammunition, especially considering the sweeping actions exerted through the new US Senate resolution.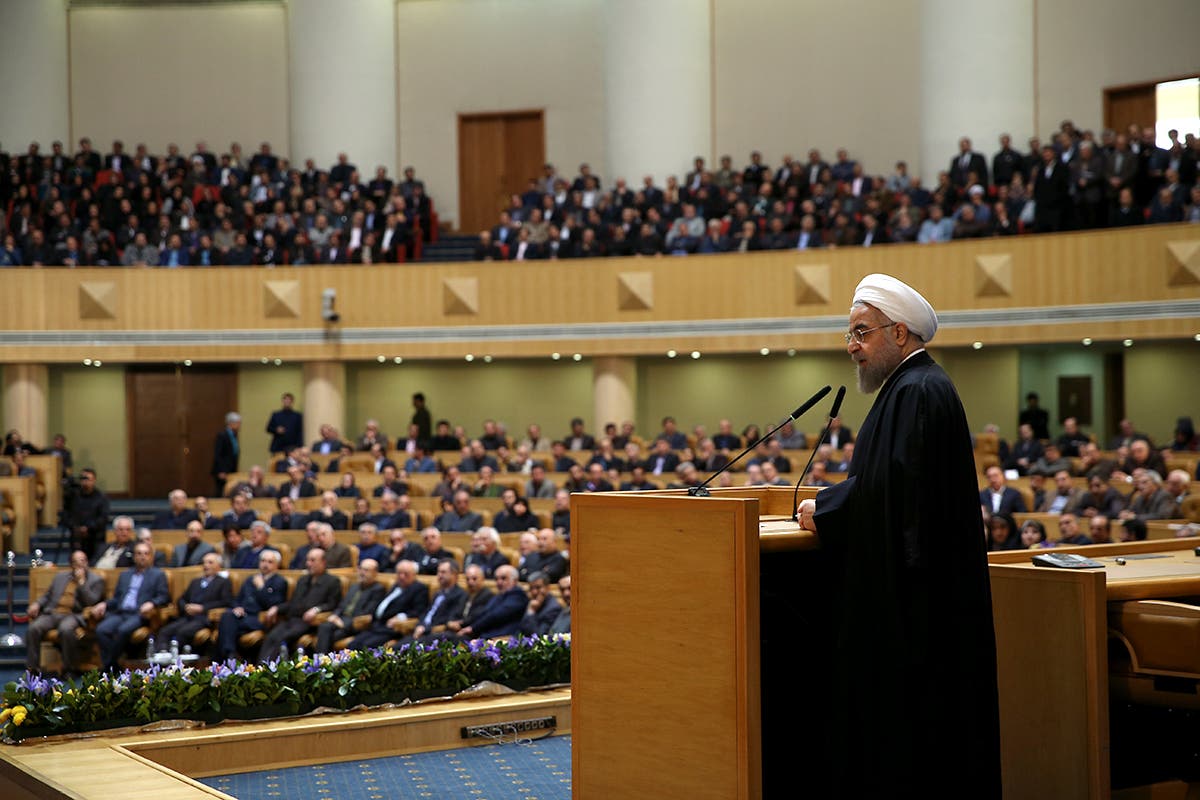 'JCPOA 2, 3 and 4'
Section 5 of this bill enforces sanctions on the Revolutionary Guards (IRGC). Any individual providing services to an entity identified in this executive order will result in that individual being placed in the US sanctions list. There is no longer any temporary measures and the individual or entity will be permanently sanctioned.
All government and non-government branches having any cooperation with the IRGC bear the potential of being blacklisted. Prior to the JCPOA around 600 individuals and entities were blacklisted and the JCPOA delisted around 400. However, with the approval and implementation of this new bill we can forecast a few thousand individuals and entities being blacklisted as a result.
One sign of Iran's shock is seen in the fact that the regime's parliament has postponed its response to the Senate bill after a two-week recess. This is no ordinary sanctions bill against Iran and can be considered a mother initiative paving the path for far reaching sanctions against Tehran that bear no need for legal legislation, as they will become operational through executive orders.
In the regime's circles these new sanctions have been described as the end of the JCPOA and the beginning of enormous challenges. Demands by the international community will be increasing and there may be even calls for measures dubbed in Iran as "JCPOA 2, 3 and 4," covering Iran's ballistic missile program, meddling and support of terrorism in the region, and their human rights violations dossier.
Iranian state media outlets have gone as far as describing the new sanctions as "black holes" and the "mother of all sanctions." The future of Iran's ballistic missiles are currently considered very dark as these sanctions target all IRGC activities.
New revelations
The Iranian opposition National Council of Resistance (NCRI) US Office released a statement announcing their upcoming Tuesday press conference "to reveal information on key centers for production, testing and launching ballistic missiles by the Islamic Revolutionary Guards Corps (IRGC)" and "details (including satellite imagery) on four of the most important missile centers, including one closely linked to Tehran's nuclear program. In addition, a dozen of hitherto-unknown centers involved in various aspects of production, testing and launching of ballistic missiles will be made public. Information on the role of North Korean experts involved in the construction of these centers will also be discussed."
These new sanctions have the IRGC in its crosshairs and seek an end to Iran's support for the Guards' regional action and ballistic missiles program. However, the comprehensive nature of this new bill will slowly but surely expand to all organs of the regime in Iran.
This can be considered the unofficial end of the JCPOA, without the US ever needing to officially tear the accord apart. All previous sanctions are returning, with additions, and yet there is no violation of the Iran nuclear deal whatsoever. The main question here is how will Tehran react?
The sanctions are returning for one reason and one reason only. The US has come to realize the regime in Iran is in no position to provide any response whatsoever to the new sanctions. To this end, the time has come to in fact levy far more pressure and sanction all branches of the Iranian regime.
The road ahead
In the mullahs' dictionary such setbacks are described as "drinking from the chalice of poison" and Supreme Leader Ali Khamenei, along with all senior Iranian officials, very well know they must prepare their entire apparatus, ranks and files, for such chalices in the not so distant future.
These sanctions couldn't have come at a worse time for Tehran considering the fact that the NCRI is currently preparing for its annual convention scheduled for July 1st in Paris. As Saudi statesman and diplomat Prince Turki bin Faisal Al Saud stood alongside over 100,000 Iranians from all over the globe in last year's event, this year's rally will be joined by hundreds of prominent political dignitaries from the US, Europe and the Middle East.
This will send a strong message to the international community] that Iran enjoys a major alternative seen in a powerfully organized opposition led by NCRI President Maryam Rajavi and her 10-point-plan envisioning a bright future for a free, liberal and tolerant Iran of tomorrow.
Disclaimer - This author is writing under a pseudonym to protect his identity.