ANALYSIS: As 'Shanghai Spirit' sweeps Central Asia, is the Middle East noticing?
Addressing the 17th Shanghai Cooperation Organization (SCO) Summit in Astana earlier this month, Chinese President Xi Jinping said something that goes into the core of the organization's stated objectives.
"Firmly committed to the Shanghai Spirit, SCO member states are making solid progress on the road of building a community of shared future, thus establishing a fine example of the new type of international relations featuring win-win cooperation", he said.
Considering what has been going on with the NATOs, EU and the GCCs of this world, this "new type of international relations" looks destined for greater accomplishments.
Jinping also made a much-anticipated announcement during the summit. "Today we are going to admit India and Pakistan as new member states of the SCO," he said. This inclusion means that the SCO now encompasses nearly half of the world population and a combined GDP that, according to one estimate, is over 25 percent of global GDP.
In other words, the SCO is set to become a regional organization covering the widest land area with the biggest population in the world.
What started in 1996 as the "Shanghai Five" regional confidence-building forum – comprising China, Kazakhstan, Kyrgyzstan, Russia and Tajikistan – seems to have developed into a full-fledged multilateral regional cooperation body, ready to enter into new territories.
Strategic imperatives
What it means for the rest of the world, especially countries in the Middle East, is important. Is it time for the Gulf and wider Middle East region to sit up and take notice?
Dr. Harry G. Broadman, member of the faculty at Johns Hopkins University and CEO and Managing Partner of Proa Global Partners, says the Astana SCO summit suggests the thrust of the organization is evolving.
According to him, the SCO is going beyond its initial aim of enhancing security – often mistakenly ascribed to offset NATO – to fostering greater regional political and social cooperation.
Broadman's words suggest that the security objective behind the SCO may be taking a backseat and the formal entry of both India and Pakistan into the SCO lends credence to this point.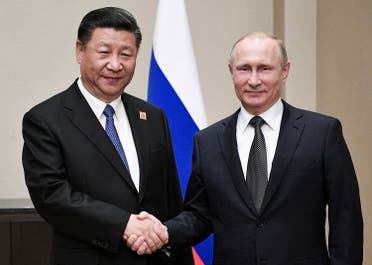 From a Gulf perspective, there is another spanner in the works; the consistent discussions of Iran's potential membership, which continued in Astana. "It seems there is a good chance that the Organization may open up a seat for Teheran in due course," Broadman told Al Arabiya English.
This leaves analysts grappling with more questions than answers. Broadman chooses to focus on the larger picture though. "Perhaps more critically, the Astana summit also made clear that, at least at this juncture, the SCO is steering clear of expanding its objectives to include trade and investment cooperation," he says.
The wisdom that the SCO experience brings to the table is that when strategic imperatives clash, it makes sense to focus on trade and investment. That may mean breaking bread with the "Frenemies" due to an emerging situation that one cannot wish away.
Anti-Western?
Yet, views vary on the real threat behind the SCO's emergence. Unlike Broadman, there are those like Orkhan Gafarli, Eurasian Political Risk Analyst at Ankara Policy Center, who call the SCO an "anti-western regional security organization".
"I think that for the GCC, the SCO is more like an economic partner … The GCC mainly depends on the Western bank system and US military cooperation but also has good economic relations with China, India and Pakistan," says Gafarli.
According to Gafarli, on the other hand, Iran is very important actor and partner for China and Russia in the Middle East. In his opinion, global positioning is very important for deep cooperation with the SCO, which suggests that where you stand in international politics will define these alignments.
SCO's imperatives
One must remember that the SCO is also a work in progress and will need to evolve with time. Talmiz Ahmad, the former Indian ambassador to several Gulf countries, believes that in order to play a more credible role in regional security affairs, the SCO needs to put into effect some changes in its organization, functioning and the range of its engagements.
According to Ahmad, West Asian issues have been discussed at the SCO for several years. "All the members are concerned about the three evils of 'terrorism, extremism and separatism' since transnational extremist groups such as al-Qaeda and ISIS, anchored in West Asia, get several recruits from SCO members and in turn threaten them with radicalization and violence," he wrote in his Al Arabiya column.
Despite varying views, it is obvious the SCO has made organic progress and looks more inclusive than organizations such as NATO and European Union. It has managed to cobble up partnerships while keeping thorny bilateral issues at bay. This is not only a refreshing approach but also serves as a good example for conflict-ridden Middle East.
With Brexit redefining the future of European Union, Turkey's EU ambitions virtually at a dead-end and the NATO budget under Trump scrutiny, the future of regional groupings don't look that bright in today's precarious economic conditions.
In this atmosphere, the SCO may indeed bring a breath of fresh air that has the potential to blow through the sands of Arabia.