After years of economic and social depression, EU starts to see the light in the end of the tunnel.
"There is a renewed hope in the European project which positively impacts on our economy. This confidence translates into strong growth, more consumption, more investments and above all more jobs", European Council President Donald Tusk said.
Economic growth is confirmed. Employment creation is rising and public opinion is more and more supporting EU integration process. "This is the first time in many years that we have heard such good news", Tusk concluded at the June 22-23 EU Summit. 232 million of Europeans are in employment, which is the highest employment rate EU ever had. Economic growth is confirmed around 1.9 percent of GDP in 2017 and 2018.
The fiscal deficit is decreasing. In 2011, EU had 24 countries in excessive deficit procedure. "We are now left with 4 countries. This is a tremendous achievement," EU Commission President Jean-Claude Juncker concluded.
Rise of 'Euro-optimism'
The relative optimism is reflected in the public opinion mood and more relevant in the successive failures of populist parties in general elections. The leader of the French right wing party Front National Marine Le Pen failed in the Presidential election and her party got only 8 seats in the general elections in June 2017. Her counterpart in the Netherlands Geert Wilders failed to be in the first position in last March election.
"In many of our countries, the political parties that have built their strength on anti-EU sentiment are beginning to diminish. We are witnessing the return of the EU rather as a solution, not a problem." Donald Tusk assessed.
French President Emmanuel Macron was the newcomer in the EU Summit. He was considered as the visible human face of European renewed hope. He is the first French leader who used a pro-European speech in his electoral campaign.
Security and Defense: concrete steps forward
French President Macron and German Chancellor Angela Merkel coordinated the EU security and defense agenda. The fight against terrorism is in the heart of EU concerns. Leaders tasked the Home Affairs ministers to finalize "the new border information sharing systems this year."
EU external borders authorities will monitor the movements of passengers leaving EU territory as well as the entry movements. Some of the suicide bombers of Paris and Brussels attack in 2015 and 2016 came from Syria through the Balkan migration roads.
"The control at the external borders is one step forward that will lead in the coming weeks to modify the Schengen code in order to further control the entry/exit system, which is an essential element of security."
President Macron said. Security services are tracing the spread of radicalization online. The European Council expects industry to establish an Industry Forum and to develop new technology and tools to improve the automatic detection and removal of content that incites to terrorist acts. Incitement speeches reach 50 percent of its audience in 2 hours, Chancellor Merkel said.
Some internet providers are not fully cooperating with the law enforcement authorities. "We know that some commitments have been taken by the main internet actors but it's done within deadlines and conditions that are not satisfying," President Macron pointed out.
EU is taking concrete steps to enhance its defense common tools. The European Council welcomed the Commission's communication on a European Defense Fund, composed of research window and capability window. The Fund will finance research and development projects related to defense matters. It will contribute in the financing of common military capabilities and external operations. The Fund amount will raise from 1.5 bn next year to 5.5 bn euro in 2020.
EU leaders agreed on the principle of Permanent Structured Cooperation (PESCO), which will allow a group of member states to conduct in common peacekeeping and training operations. EU senior officials explained the new tool is legally based on Lisbon Treaty.
It will permit the EU to finance European military operations abroad like the training missions in Niger and Mali, Atalanta counter-piracy operation in Somali territorial waters. Chancellor Merkel described the defense and security decisions taken by the EU Council "real qualitative progress".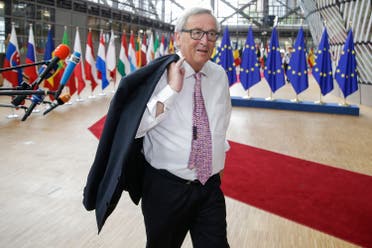 Migration management: Lack of solidarity
The optimism shown during the defense and security debates was diminished by the lack of solidarity between member states in the migration management. Since September 2015 15,000 asylum-seekers only out of 160,000 have been relocated from Greece and Italy to some EU member states.
More, countries like Hungary, Czech Republic and Poland refused to implement the EU commitments. The EU Commission launched infringement procedure against the three countries. European Court of Justice is the legal authority and could impose fines against the country, which refuses to implement the EU legislations.
While migrant flows are drastically reduced by 90 percent from Turkey to Greece because of the EU-Turkey Agreement, the flows continue from Libya to Italy. The number of illegal arrivals of primarily economic migrants to Italy has increased by 26 percent compared to last year; around 1,900 people have lost their lives at sea, and the smuggling business is taking on a new dimension.
The lack of solidarity with Italy and Greece is an obvious European failure. Chancellor Merkel pointed she has "to put herself in the Greek or Italian PM's chair looking everyday to the arrivals of migrants and refugees on their shores".
She added: "I can't be happy to be int he middle of Europe and to not have this problem of receiving refugees and migrants." In his press conference with Chancellor Merkel, French President said: "I can't glorify that France was not attractive to migrants".
"I tell you why: the unemployment rate in my country is 10 percent. Yes, there is a lack of solidarity and we have to deal with it."
Maltese Prime Minister Joseph Muscat expressed many Member Sates disappointments. "Definitely there is a degree of disappointment to the fact that not all the member states are living up to the expectations, living up to the pledges."
In May 2015, EU launched a military operation known as European Union Naval Force Mediterranean (EUNAVFOR Med), also known as Operation Sophia, with the aim of neutralizing established refugee smuggling routes in the Mediterranean, mainly in the Central Mediterranean.
Maltese PM Muscat underlined "We have so far as EU trained 135 Libyan coastguards under Operation Sophia, and we are waiting the names of 291 officers which will be trained in Italy and Spain. Four vessels which were previously held by Italy have now been handed over to the Libyan authorities, and another one is expected to be dispatched by the middle of next month."
Under the Maltese Presidency from January to July 2017, conditions were improved in 4 detention centers and the EU in collaboration with the UNHCR and the International Organization for Migration helped 5000 people to travel from Libya to their country of origin, on a voluntary basis.
On migration Jean-Claude Juncker said: "Member states are not delivering at the sufficient degree when it comes on pledges and contributions to the African Trust Fund".
On November 12th during La Valetta Summit in Malta it had been decided that EU member states would pledge and pay 1.8 billion euros in addition of the 1.8 billion euros by the EU Commission.
Member states have pledged so far 200 millions and they have paid 89 millions" said Jean-Claude Juncker. The EU Commission had to increased its pledges to 1.8 to 2.6 billion euros. Norway and Switzerland are pledging more that 3 quarters of the members of the European Union.
Brexit: UK's offer below EU expectations
One year after the Brexit referendum, EU is trying to go ahead with its own agenda. Brexit negotiation is left to the EU team headed by Michel Barnier. Following UK PM Teresa May presentation to the heads of states last Thursday evening, Donald Tusk said: "My first impression is that the UK's offer is below our expectations and that it risks worsening the situation of citizens. But it will be for our negotiating team to analyze the offer line by line, once we receive it on paper."
In her address to the House of Common Teresa May explained: "Any EU citizen in the UK with five years continuous residence - at a specified cut-off-date - will be granted settled status. They will be treated as if they were UL citizens for healthcare, education, benefits and pensions. Wile any EU citizens with less than five years residence - who have arrived before the cut-off-date – all be able to stay until they have the five years residence to apply for UK settled status".
On the table of negotiations another sticking point will be UK refusal the European Court of Justice authority to decide about any EU citizen claim. Officially launched on June 23rd, in Brussels, Brexit negotiations will resume on July 12th.