India is racing against time to turn itself into a nation of electric cars despite countless stumbling blocks. The Narendra Modi government wants as many as six million electric vehicles (EVs) on roads by 2020 and is bent on banning the sale of new diesel and petrol cars from 2030.
But the rushed run to the not-so-far finish line within just 13 years could be a bumpy ride considering the fact that even France and the United Kingdom have set a distant 2040 deadline for dumping fossil fuel-based four-wheelers.
But day in and day out, Indian ministers have been shouting various schemes from rooftops for wooing lovers of green cars to meet the ambitious goals set under the National Electric Mobility Mission Plan 2020.
Low-cost technology
While the government will bear up to 60 percent cost of the research for developing the low-cost electric technology, Power Minister Piyush Goyal revealed plans to offer electric cars on zero down payment and said the buyers could pay from their savings on petroleum products.
What's more, if the manufacturers will be reimbursed 15 percent of the cost of an EV, the authorities will stimulate market demand by ordering 270,000 EVs and making charging stations free for three years.
Besides a better urban design, measures to limit registration of conventional oil burners as well as gas guzzlers and provide standardized, swappable batteries for two- and three-wheelers on a pay-per-use business model will also ensure a higher penetration of power-based automobiles that boast only one-fourth fuel cost.
Tax benefits
Not only this, plans are afoot to exempt EVs from the newly-introduced 12 percent goods and services tax as also the toll tax and road tax to see that half of the vehicles on Indian roads run on electricity by 2030.
Again, the government is contemplating giving cash incentives to buyers—a discount of Rs 22,000 for two-wheelers, Rs 25,000 for three-wheelers and Rs 187,000 for four-wheelers.
Ashok Udeshi, a treehugger of Mumbai, told Al Arabiya that everyone should go for smart EVs as India could save 64 percent of its anticipated passenger road-based mobility-related energy needs and 37 percent of carbon emissions in 2030.
The United Arab Emirates has also announced an incentive program to encourage motorists to buy new zero-carbon-emission electric vehicles through green bank loans, green insurance plans, attractive EV prices and green registration of vehicles.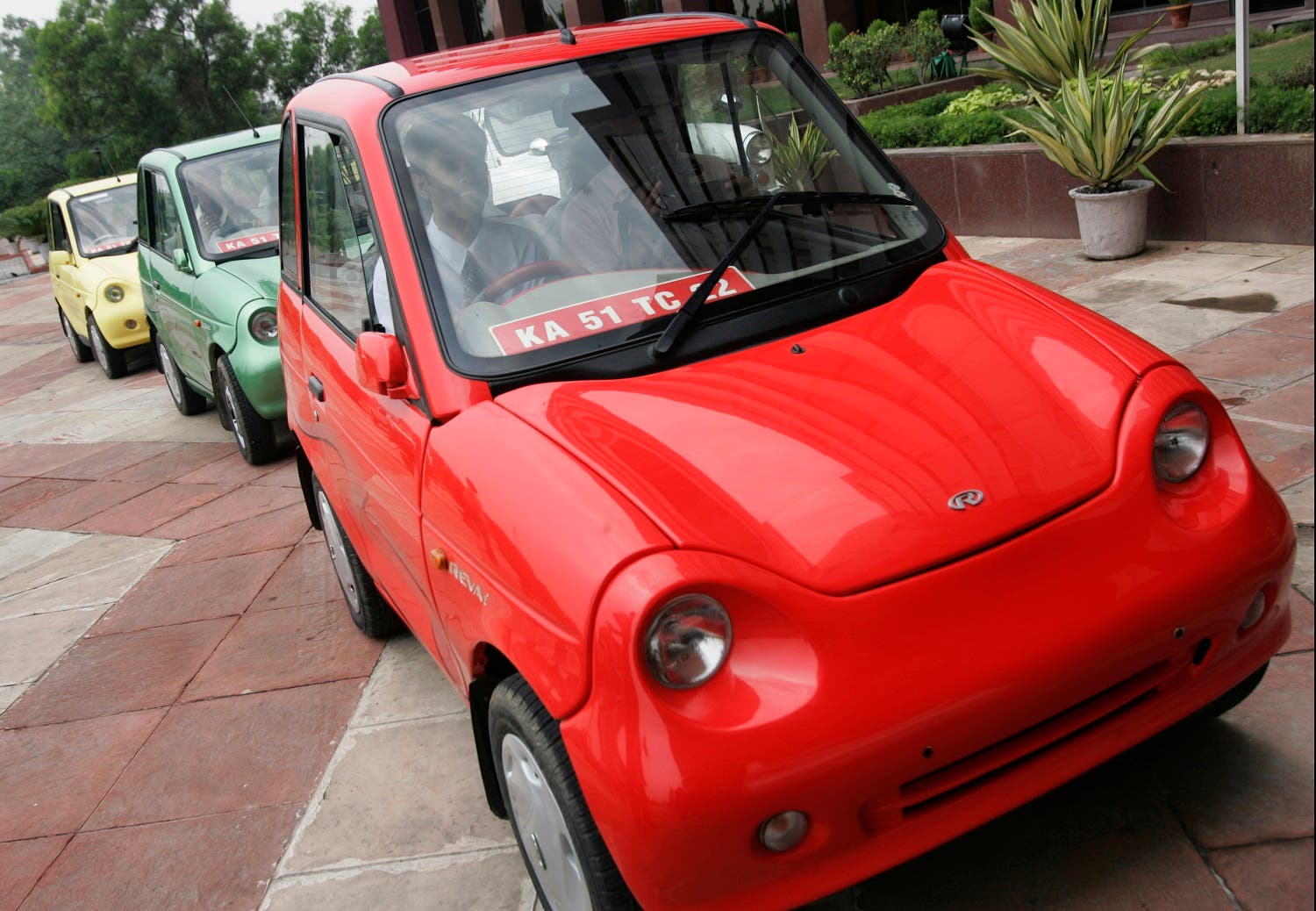 Air pollution
Of course, there are many reasons why India is betting big on EVs. Air in many cities of the country is no longer healthy and, hence, EVs with zero tail-pipe emission will help in tackling vehicular pollution. Delhi, Mumbai and Pune and several other cities top the list of the world's most polluted boom towns.
After all, a record 277,000 passenger vehicles were sold in April in India—up 15 percent from 242,000 vehicles bought in April last year. Passenger cars sales also zoomed by 17.36 percent to 190,000 units in April. Truth to tell, there has been a 3,500 percent growth in the number of vehicles during the past 30 years what with 50,000 new automobiles being registered day after day.
Aside from worsening noise pollution levels in cities, the mounting crude oil import bill –$70 billion in 2016-17 – has also compelled the country to reduce dependency on a fossil fuel-based economy.
No registration
Says Vadodara housewife Jaisha Patel: "I have decided to buy Hero Electric's Optima scooter as it did not require registration, number plate or driving license and has a tolerable top speed of 25 km an hour."
However, India's switch to the EV era will not be a cakewalk. The country boasts only 400,000 electric two-wheelers, 100,000 e-rickshaws and a few thousand electric cars, not to mention the fact that only 1 per cent of passenger vehicles are electric in the world's fifth largest market for such vehicles.
It is mainly the lack of a charging infrastructure that has put the brakes on the progress of the EV market as only 10 cities have places to charge these plug-in vehicles.
According to Darshan Khamar, a well-known restaurateur in Ahmedabad and automobile aficionado, the driving distance is always limited by the charge the battery holds because one cannot charge until returning home, thus causing anxiety.
Cost of batteries
"Anyone will think twice before buying an EV if, while driving, he or she is worried about running out of charge", he reasons, adding that charging an EV also is a time-consuming exercise.
The EVs cost 2.5 times more than petrol-diesel vehicles because of high costs of batteries which have to be changed every few years. Lack of acceleration of compared to fossil-fuel vehicles will also be the main gravamen of the EV owner unless the government incentivizes setting up of lithium ion battery plants.
In sum, as car freak Pune resident Ashok Desai says, though Mahindra's e2o Plus and E-Verito have taken Indians by storm, unless the government takes its pioneering plans seriously, electric vehicles will be able to attract only true-blue greens.