In recent weeks, a potentially dangerous verbal confrontation erupted between US President Donald Trump and North Korean leader Kim Jong-Un, which if not resolved through diplomatic means, could lead to a nuclear showdown.
The context to this acrimonious exchange makes the situation even more alarming, as the war of words was triggered by North Korea's testing of nuclear weapons and the growing row over its development of long-range missiles capable of carrying nuclear warheads.

But what has led to the Washington-Pyongyang face-off almost mirrors a similar dispute taking place between Washington and Tehran, as it relates related to another illicit nuclear program and the testing of nuclear capable missiles. It is highly likely that a similar spat might soon take place between Donald Trump and Iran's Supreme Leader Ali Khamenei.
Iran's nuke program on the sly
As far as the Iranian regime's quest for nuclear weapons is concerned, even though its program has been curtailed by the 'Iran Deal', many experts believe the regime is still seeking them. But nobody except a select few within the Iranian administration know exactly how far advanced its boffins are in the development stage, as such is the secrecy behind its nuclear program that it is being conducted in deep underground bunkers, away from prying eyes.
Throughout its long history of seeking nuclear weapons, the Tehran regime has managed to clandestinely purchase an array of sophisticated ballistic missiles with which to deliver nuclear payload. These missiles are already capable of carrying conventional, chemical and biological warheads known to be in the regime's possession in vast quantities.
As far as missiles are concerned, reliable intelligence has shown how the regime had acquired at least six Raduga KH-55 Granat nuclear capable cruise missiles from corrupt Soviet officials in the Ukraine as far back as 2001, which have a 3,500-kilometre range, and the capacity to carry a 200-kiloton nuclear payload.
Also read: New Rouhani Cabinet: Seedy ministers, dubious goals
Human intelligence reports suggested that these KH-55s were several years past their service life, weren't properly maintained, and were air-launched weapons that could only be launched from Russian Tupolev bombers, which the IRGC does not possess.
At that point in time, the only reason for the acquisition of these missiles, would have been for Iranian boffins to use the weapon as a blueprint, from which to glean enough technology from the design, to enable them to speed up their own missile program.
Then in 2006 – with the Iranians believed to have acquired the technology for nuclear warheads – came reports of Iran's acquisition of 18 ballistic missiles from North Korea, which could carry a nuclear payload. These missiles, dubbed by the North Koreans as BM-25s, have a range of 4000 km, can be transported by road, and are launched from a heavy off-road MAZ-537 transporter-erector-launcher (TEL), which can travel over the most rugged terrain, and with the missile fuelled and ready to launch, it makes it less vulnerable to enemy attack.
Also read: IRGC bypass sanctions through Rouhani's 'smile diplomacy'
As far as nuclear warheads are concerned, in a statement as far back as 18 February 2010, an IAEA report declared that Iran was believed to be working in secret on a miniaturised warhead to fit a missile. It was alleged that with the aid of North Korean scientists, the Iranians were conducting tests at their classified Parchin military facility, developing designs aimed at miniaturising this type of nuclear implosion device, which could be fitted to a Shahab-3 re-entry vehicle.
When it comes to a miniaturised warhead, advanced technology is needed to convert enriched uranium into a metal, to enable it to be shaped into a dense spheroid, creating a warhead small enough to fit into the nosecone of a missile.
It is now believed that Iranian scientists have mastered this technology, with a method of delivery also at hand, as Iran has successfully test-launched its liquid-fuelled Shahab-3 missile, which has a range of 1,280 kilometers, and the Sejil 2, a solid fuel, two stage missile with a range of 2,400 kilometers, with both missiles known to be capable of carrying a nuclear payload.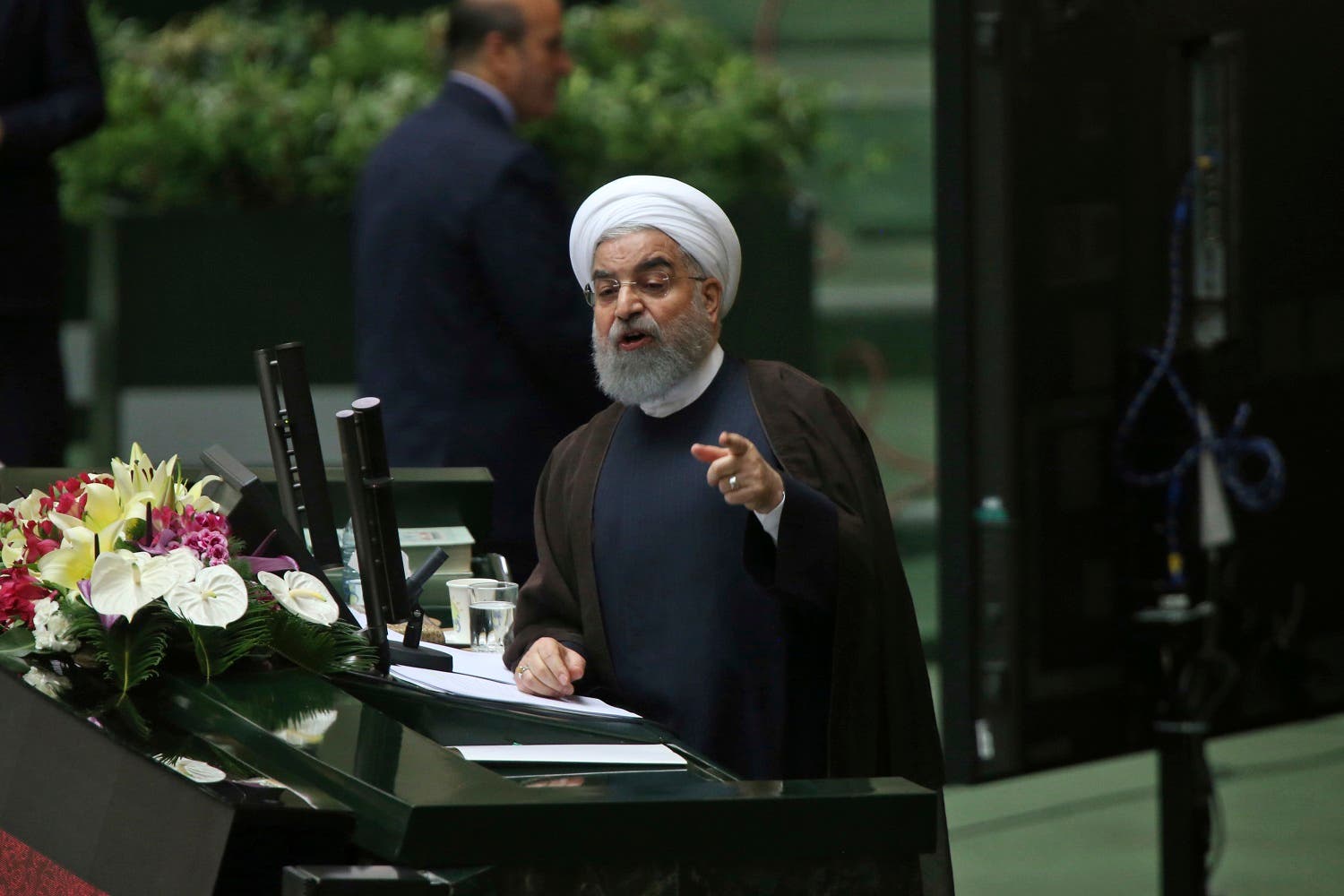 Fillip to weapons' indigenization
In recent years, with Iran's relations with most countries of the world having hit rock bottom, and with the West and Israel having made threats of military action against its nuclear installations, on account of its illicit nuclear program, Tehran has accelerated its attempt to gain self-sufficiency in the production of all its major military equipment and defence systems. Under the presidency of Hassan Rouhani in April 2014, Iran's Defence Ministry announced the delivery of a large quantity of indigenous missiles to the country's armed forces.
According to government reports announced on Press TV, Iran's Aerospace Division of the Islamic Revolutionary Guard Corps - the Khatam Al-Anbiya Air Defence Base - had taken delivery of Qadr (Able), Quam (Uprising), Fateh (Conqueror) 110, Khalij-e-Fars (Persian Gulf) ballistic missiles, as well as a Mersad air defence system.

It was jubilantly announced, how these missiles along with the air defence system had been designed and produced entirely in Iran by the Aerospace Industries Organisation of Iran's Defence Ministry. Therefore, sanctions imposed by the West have done little to thwart the growth of Iran's weapons industry or slow down the constantly increasing activity of its military sites, in fact it has increased it.
Also read: Iran reform leader Mehdi Karroubi on hunger strike over 6-year house arrest
During the handover ceremony, Iranian Defence Minister Brigadier General Hossein Dehqan, made it clear that Iran will continue to boost the deterrence and defence capabilities of its armed forces. He also made it clear, in a message obviously designed for the outside world, that Iran was more than capable of meeting the demands of its military, and that the sanctions imposed by the West, have had no effect whatsoever on curtailing the country's defence sector.
So, for a country that is supposedly reaching out for peaceful coexistence with both its neighbours and the West, its intentions seem to be more war-oriented. This is highlighted by the way its boffins have been hard at work in trying to develop missiles capable of delivering nuclear weapons deep into Europe, and as far afield as the US - nuclear weapons that it denies building.
It was with the aid of Pakistan, Russia, North Korea and China that Iran has reached the position in which it is able to design and manufacture a variety of missiles and weapons systems and advance its nuclear program to the extent that it is close to attaining nuclear weapons.
With countries such as these aiding the Iranian leadership, sanctions have become a useless means for curtailing Iran's nuclear program. Not only will Iran have a nuclear weapon very soon – if it does not have it already – it also has the means to deliver them to most of its "enemies" in the region and further afield, which might soon include the United States.
Having received a cash bonus of billions of dollars for adhering to the nuclear deal put together by the Obama administration, agreed by the six world powers that had brought Iran to the negotiating table, the regime has been able to massively increase its spending on various military programs.
Trump spooks Iran's defence hawks
But with Donald Trump entering the White House on 20 January 2017, his administration became very belligerent toward the Iranian deal, and almost immediately accused Iran of financing military support for "terrorists and militias." A few months later, Secretary of State Rex Tillerson made a statement supporting a "peaceful transition of government in Iran". This statement caused uproar in Tehran, as it was immediately interpreted by the Iranian regime to suggest a Trump administration policy for regime change.
With Iran having ignored US criticism over the testing of missiles under the Obama administration, just months after Trump entered the White House, came the testing of a Simorgh (Phoenix) space launch vehicle, and so the day after the launch – which many believe was to shield Iran's Inter-Continental Ballistic Missile (ICBM) program – the US Senate voted 98-2 on legislation to place additional sanctions on Iran.
It was due to this US action that the Iranian parliament allotted a massive increase in the IRGC budget, as well as the nation's missile defence program. According to sources within the administration, an additional $26m would be allocated to Iran's ballistic missile program, stating that the increases were due to America's aggressive behaviour in the region and its hostile policies towards Iran.
There has already been substantial collaboration on all aspects of both missile development and nuclear technology between Iran and North Korea. With Iranian boffins believed to have been in North Korea to witness the launch of the country's latest intermediate ballistic missile, which has been reported capable of carrying a large-size nuclear warhead, plus the fact that due to past cooperation, the Iranians had received various designs of both missiles, and space launch vehicles from North Korea – which they had redesigned making vast improvements, and then shared the enhanced plans with their North Korean counterparts - it can only be assumed that the attending Iranian experts were there to witness the results of their collaboration.
Then with a North Korean delegation having arrived in Tehran for the August 3 second term presidential inauguration of Hassan Rouhani, the chairman of the Supreme Assembly of North Korea Kim Yong Nam stayed on in Tehran for talks with the Iranian regime, believed to be looking for ways to increase military cooperation, as well as to boost his country's economy.
With the present tension between Donald Trump and Kim Jong Un having reached a crisis point, the visit couldn't have come at a more critical time, as with the US President having now slapped new sanctions on both countries, the meeting between the two rogue regimes can only spell heightened tension.
On June 18, Iran carried out a ballistic missile attack on ISIS, which it claimed was in retaliation for the terror group's twin attacks in Tehran, but the true motive behind the missile strikes was believed to be a bid to expand its influence in the region, to test the capability of its Zolfaghar missiles, which have a range of 2,000 kilometers.
With the missiles having the ability to reach Israel and US bases in the area, their firing may also have been intended to warn both countries as well as Saudi Arabia against their possible interference in its affairs, which could possibly point towards future conflicts.