Houthi militias have drowned the Yemeni capital Sanaa with thousands of sectarian banners and slogans as they prepare to mark Eid al-Ghadeer, a Iranian Shiite tradition. Yemenis are generally not familiar with this festival, which falls on 18 of Dhu al-Hijjah.
Eid al-Ghadeer is the Shiite celebration of what they believe was Ali ibn Ali Talib's appointment as leader by Prophet Mohammed. The Houthis promoted the event and focused on propagating the concept of the "wilaya" and their alleged right to govern.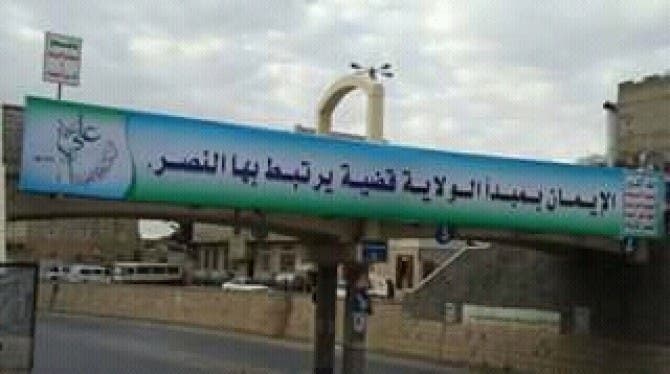 The slogans and banners provoked Yemenis residing in Sanaa as many of them believe Houthis have taken things too far by adopting Iranian Shiite rituals and celebrations thus harming co-existence and tolerance.
Imposing customs
Yemeni activists took to social media to slam the Houthis' approach of exploiting the Shiite sect to impose their presence by force. They said that the Houthis' practices reflect the Iranians' influence in using the Houthis as a destructive tool in the region.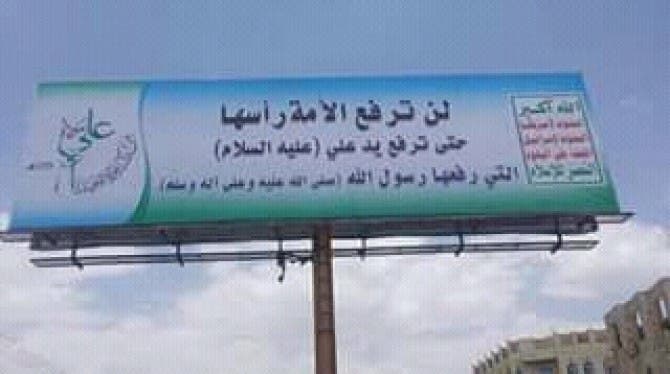 Political analyst Dr Mohammed Jumeih said: "the Iranians' slogans invaded the streets of the Arabs' capital Sanaa," while Member of Parliament Ahmad Hashed said the slogans were as "stupid as those who raised them."
Political analyst Faisal al-Mujaidi said the Houthis' recent move confirms that the movement's approach is entirely linked to the agenda of the party which has funded and planned their seizure of power in Sanaa and other areas.
He added that Iran thinks the Houthis are their most loyal wing in the region as they are offering it free services by raising such slogans and propagating their ideas.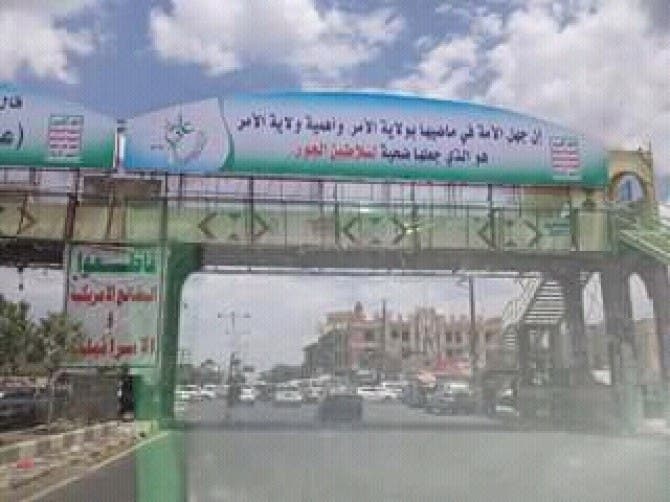 Exacerbating tensions
The Houthis' recent move has exacerbated tensions between them and their major ally Ali Abdullah Saleh as the latter's supporters slammed the Houthis and mocked their intolerance and the ideas they're trying to impose by force.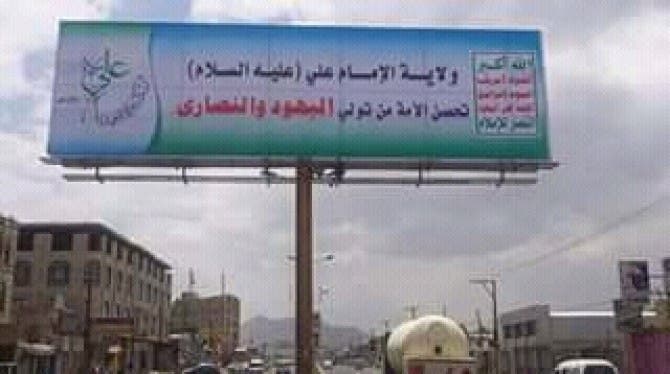 Meanwhile, Republican Yeme, which is run by the politician Ali al-Bakhiti who defected from the Houthis, said there is an Iranian scheme to establish a Shiite region in North Yemen in order to transfer the idea of the Khomeini guardianship of the jurist to Sanaa and its surroundings.
This article is also available in Arabic.