Most Kurds living in the West — even half-Kurds or those married to Arabs — are likely to vote in favor of the independence referendum for Iraqi Kurdistan to be held on September 25.
The vote could potentially pave the way for the formation of an independent country of Kurdistan, breaking away from the federal government of Iraq.
"It has been a dream of every Kurd to have an independent country and I will vote yes in the upcoming referendum," Aram Hassan, a Biritish Kurd, originally from the city of Sulaymaniah in Iraq's Kurdistan told Al-Arabiya English.
Hassan, who is a 31-year-old structural engineer, says the vote "is not about splitting up from Iraq, but it's our basic human right to rule ourselves and decide on our future."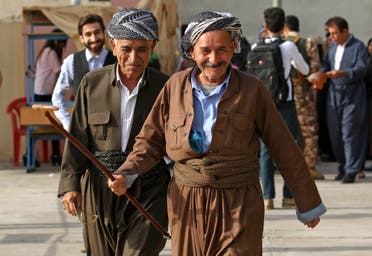 Online voting
For Kurds living abroad, online registration and voting will continue until September 25. The independent High Elections and Referendum Commission (IHERC) said voters have to prove their Iraqi citizenship by providing any one of these four documents: Iraqi identity card, Iraqi passport, Iraqi citizenship form, or Iraqi national card.
Ali Farhad, an Iraqi Kurd born to an Arab mother, says it pains him to see Iraq divided but given the country's dire political and economic conditions he has decided to vote 'Yes'.
"It is not a happy situation to see the country you were born and raised in to be divided, but for me at this moment, it is better to secede," Farhad — who has been living in the United States for almost two years — told Al Arabiya English.
Also read: Barzani: Referendum first step for Kurds to express their will
The 34-year-old Farhad, started his career as a commando in the Iraqi Interior Ministry in 2004 and later worked as a trainer at the Centre for Dignitary Protection until 2010, where he became part of the Federal Police. Despite Farhad's progress, he grew disillusioned with the country he "loves."
Being a Sunni Kurd, Farhad recounts his days in the predominantly Shiite Iraqi ministry, where he worked with about 350 police officers, of whom "only three to four were Sunnis".
Even these Sunni officers, "would go to perform Shiite religious rituals to avoid discrimination," Farhad states, while defending his respect for plurality. "My brother in law is an Arab Shiite," he adds. "Sometimes my friends told me that my name [Ali] is nice but it's too bad I am a Sunni."
He then alludes to the statement of President of the Iraqi Kurdistan Region (KRG) Masoud Barazani on September 12, 2017 at a press conference that Kurds are faced with a "religious, sectarian state (in Iraq)" and all previous attempts at building an Iraqi identity have "failed".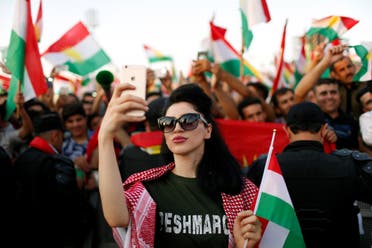 'Yes' vote not enough
Kurdish people are spread across Turkey (where they number 14million), Iran (where their population is estimated at 6.7 million), Iraq (which has 5.3 million Kurds), and Syria (where they total 2 million) and their entire population in the region is estimated at 28 million. The Kurdish diaspora around the world is adds up to around 1.5 million, of which half are in Germany.
In the backdrop of low oil prices, the war with ISIS and the burden of hosting of thousands of refugees, Iraqi Kurdistan's finances have dwindled in recent times. "The KRG's coffers are empty and it's burdened with debts," Ruba Husari, an expert on Iraq's oil industry, recently told AFP.
Exclusive interview: Barzani blames Maliki for Iraq army collapse
A joint statement issued by Turkey, Iran and Iraq on Thursday on devising counter-measures against an independent Kurdistan has also undercut Kurdish aspirations. Even big powers are wary of the timing of the Kurdish referendum and the US, UK along with the United Nations offered an "alternative" to Barzani on Thursday to persuade him to postpone the vote, but to no avail.
Although the Kurdish diaspora is aware that an independent Kurdish state may not come into existence soon, it has not influenced most of them from voting 'yes' in the referendum. "Even if we get a yes, there may be no independence" Hassan laments. "Turkey is the biggest threat."
Still he prefers to be an optimist. "If our politicians are clever, they would be able to deal with this challenge too," he says in a triumphant vein.