The world we live in is shaped by rapid changes of all kinds; technological, economic, political and military. It requires new tools for understanding these changes and deciding on matters related to them. Like it or not, those best equipped to cope effectively with novelty will prosper.
We experience an unprecedented degree of freedom. No power is a true hegemon and everyone can participate with different influences, values and interests.
Another novelty is the presence as international actors of non- state entities, while until very recently national governments had the monopoly over international affairs. The traditional division on fields of activity has become obsolete: be it diplomacy, trade, energy, technology.
Hundreds of millions are emerging from poverty. There is an increasing pressure on scarce resources. Shared expectations are rising across the continents.
The seas we sail
A variety of state-ships pursue their own course and there is not a fleet commander. Every ship must behave in a responsible way, lest collision occurs. Doing so requires a careful reading of the seas on which we sail and the charts of hazards we may encounter.
Here we advocate a "careful reading and smart interpretation" as we have to reconcile a macro view on big issues to local situations with a potential to change the global output.
We perceive the need to go in the direction of inclusiveness and partnership on security affairs, that central area of strategic issues situated among foreign policy, governance and military affairs.
The sense of direction is therefore towards "cooperative security". Its corollary is that nations have to connect with a new sense of responsibility, an increased awareness and respect for each other.
The concepts of security and defense are much larger today than they used to be in the past and this horizon is expanding every year. It is logical that security organizations, born in completely different conditions, need more than just to adapt to the new landscape.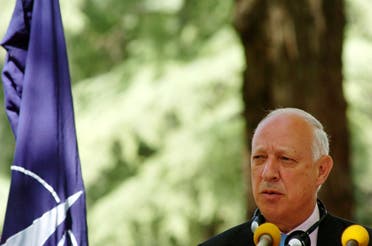 Networks rather than poles
In short we see the emergence of networks rather than poles that influence events and outcomes. We think that the Euro-Atlantic group of nations may still bear a special responsibility for its history and expertise. But It is not easy to put into order the bricks of a possible future security architecture.
Partners are coming to the front as a methodology of great importance. It is essential to share experiences, to study together, to have common areas of work with people coming from different realities and a different history.
The Foundation was founded with such an objective in mind andwe hope to rely on the large network of nations and partnerships that the Atlantic Alliance has established over the years. In the traditional sense, Conflicts and crises are connected with terrorism, money laundering, the spread of weapons of mass destruction, the search for energy and water.
We live in a fragmented multi-layered reality asking for a special effort from us. We need to proceed beyond established practices to face this level of complexity. We feel that we have an obligation to do everything possible to live in peace and prosperity.
Arab destiny
It is undeniable and beyond any doubt that it is for the Arabs to take their destiny into their hands. At the same time it is a duty to extend a friendly hand in good faith to offer support. Why a conference on the Arab Region? What is burning in the hearts and minds of millions and millions of people is too important.
First thing we want to give voice to the people from the region because they can tell us what is in their hearts better than anybody.We wish to stimulate a debate among established as well as new voices. It has to be visible, putting together the best expertise, be it diplomatic, political, academic or other.
The conference taking place in Rome and organized by the Nato Defense College Foundation is already the fourth in a cycle growing every year.
Our intention is to give a modest contribution to a good cause, to give voice to the history and rich humanity of one of the most important civilizations in the world, to accompany the transformation of an arc of crisis into an "arc of opportunities".
________________________
Alessandro Minuto Rizzo is a former President of NATO Defense College Foundation and former Vice Secretary General of NATO.