The Arab world needs a serious investment plan if it wants to avoid more destruction, and the Gulf countries are the only ones that can build it, Samir al-Rifai, former prime minister of Jordan and vice president of its Senate has said.
"The Arab world needs its own Marshall Plan. Everyone should step up because otherwise the region can spiral even further", said al-Rifai in an exclusive interview to Al Arabiya English in Rome.
Also read: Political tolerance as the foundation of a new world order: The UAE model
"If we don't address this, the issues in the countries that have been hurt the most will cascade and invalidate everyone in the future", al-Rifai said. Al-Rifai was talking on the sideline of NATO Defense College Foundation's conference "Arab geopolitics from turmoil toward balances, stability and regional order" held in Rome, Italy.
According to al-Rifai, if the Arab world doesn't come up with a clear plan like the one Europe adopted to rebuild its infrastructure, school system, hospitals after World War II, it will be very difficult for Arabs to come out of destruction.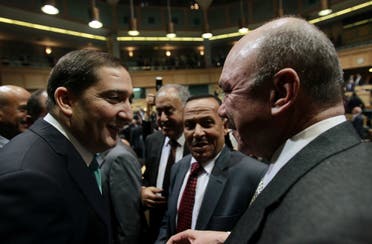 The recovery program
The Marshall Plan, officially the European Recovery Program, was an American initiative consisting in billions of dollars of investments with strong political repercussions. In this case the Arab world could tap its own resources without resorting to international aid.
"I believe the only countries that are able to do so are the ones that have the wealth, so I am suggesting that the Gulf countries, that are the most capable, understand that it is essential that we address this issue", said Al-Rifai, adding that low oil prices and internal disputes in the Gulf shouldn't prevent this initiative.
Cutting military spending could be the first step to take in consideration. "Instead of arming the region and creating more tension, we should all sit down and discuss how we can spend with no political strings", said al-Rifai.
Also read: Jordanian envoy to Saudi Arabia hails Vision 2030 as strongest in region
However, the idea of introducing a Marshall Plan-like model in the Arab world is challenged by some experts. Matteo Bressan, Emerging Challenges Analyst at NATO Defense College Foundation, says it is a valid project only if an investment plan includes all segments and communities of the benefitting countries.
"The risk is to have an investment plan that benefits only a part of the population. Beside this, political repercussions and political participation in the management of the investment should be taken in consideration carefully", Bressan said. He also said that the final goal of a potential so-called Arab Marshall Plan should be to create a more inclusive and prosperous society.