Considering the somewhat tense condition of Muslim-Americans brought on by the Trump administration, a 2017 film about a group of Muslim-American students is inspiring and reminding minorities in New York not to take their privacy for granted.
Watched is a short documentary that came out this past spring by filmmakers Katie Mitchell and Danielle Varga.
In the film, two former students of Brooklyn College recount their personal experience of being spied on by the New York Police Department for over four years, seemingly targeted because of their Muslim heritage and devotion.
While both students remain unnamed, they describe in detail their interactions with another student named Malike Ser, or Mel. Mel claimed to come from a secular Turkish family, and wanted to join the school's Muslim student association and learn more about Islam.
Also read: Why New York's Uzbeks are unnerved by bearded attack suspect
The two students, referred to in the film simply as "M" and "R," describe how Mel seemed overly enthusiastic. For years, Mel aggressively texts and emails members of the Muslim student association, often inserting herself into events and pressing fellow students for strange details and insight into their lives.
Mel participates in almost all the organizations events, and even recites the Shahada to illustrate her supposed devotion. Both M and R describe feeling anxious and suspicious of Mel, but both initially write these feelings off as paranoia.
NYPD operative
Eventually it's revealed that Mel was an NYPD operative, posing undercover as a college student as part of the police department's aggressive and widespread surveillance programs targeting Muslims across the city.
In 2011, while Mel was posing at Brooklyn College, the Associated Press's Pulitzer Prize winning investigation uncovered that the NYPD had even created a special "Demographics Unit," which served to carefully monitor and map out Muslim activity.
VIDEO: New York terror suspect trying to escape
Undercover officers were sent to spy on minority neighborhoods, and monitored everything from mosques to minority-owned business and, of course, student organizations, without any probable cause or indications of criminal activity.
Though short, the film serves as a harsh reminder that surveillance against Muslims in America is still very much alive and well. Sometimes through tears, M and R describe how the experience left them with an unshakeable feeling of fear and distrust in their government.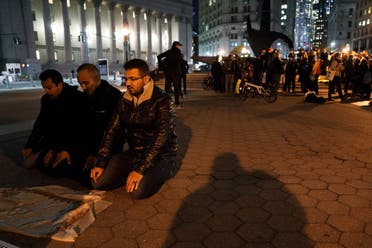 Toxic and damaging
Albert Cahn, who serves as legal director at the Council on American-Islamic Relations in New York, says the NYPD's surveillance programs are not only ongoing, but toxic and damaging to the community.
A 2016 investigation by the Office of the Inspector General of the NYPD determined that not only did NYPD often bend the rules of undercover investigation but "among all cases reviewed, NYPD continued its investigations even after legal authorization expired more than half of the time."
Worse than that, the same report states that more than 95 percent of all the investigation files they reviewed targeted Muslims and individuals "associated with Islam."
Cahn says despite the fact that a large number of US terrorist attacks over the past decade have been committed by right-wing and white supremacist attackers, the persistent pattern of anti-Muslim law enforcement discrimination after 9/11 never stopped.
Much of Cahn's work at CAIR involves providing legal counseling for New York Muslims and minorities who feel they are being unlawfully denied basic rights.
"Muslim Americans are frequently subjected to extensive FBI investigations for simply trying to practice their faith," Cahn says, " We represent large numbers of clients who have been approached by law enforcement or who have been blocked from boarding a plane or even keeping a bank account open."
'Muslim ban'
As multiple iterations of Trump's so-called "Muslim Ban" and restrictions on immigration continue to pop up despite repeated challenges from US courts and lawmakers, advocates around the country are working to help ensure minorities are prepared to be unfairly targeted.
A surge in 'Know Your Rights' workshops hosted by organizations like CAIR, Unlocal, the ACLU and others has occurred in New York City — a sobering reminder to people of color that discrimination under the Trump administration is rampant and here to stay.
"New Yorkers pride ourselves on living in a progressive city, but our domestic spying operation is the largest of any municipality in the country," Cahn claims.
In March of this year, New York's city council introduced a bill that would require more transparency from the NYPD, and curtail the NYPD's ability to conduct secret intelligence operations on such a large scale.
The Post Act
Nicknamed the POST Act (Public Oversight of Surveillance Technology Act), this legislation would require the NYPD to disclose basic information on the acquisition and use of military grade surveillance equipment.
Though the POST Act is currently listed as "laid over" by the New York City Council, meaning that it's unlikely that any kind of legislative action will be taken in the near future, CAIR and several other legal advocates continue to voice support for it.
"Our police department's lack of accountability and oversight poses an increasingly potent threat to democracy and the rule of law," Cahn says adding that they are far from leaders on progressive policing.
"We are the inspiration for President Trump's campaign threat of a Muslim registry."