Yoga and meditation have taken Indian children by storm with experts in these twin relaxation techniques now laughing their way to the bank.
Worried middle-class parents and even those who have money to burn are these days enrolling their little angels into classes and camps teaching ways that will help them cope with the stress of academics and urban lifestyle in future and also keep them fit as a fiddle.
While yoga is the ancient Indian system of physical, mental and spiritual exercises that help one to control and relax both mind and body, meditation is the act of remaining in a silent and calm state for a period of time.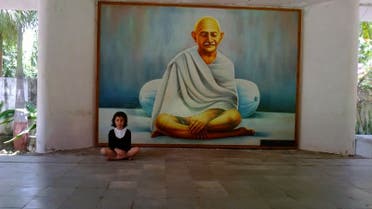 Inspiring music
At Loving Centre for Transformation (LCT) in Ahmedabad in Prime Minster Narendra Modi's home state of Gujarat, this correspondent saw boys and girls in fine feathers lost in a brown study, practising not-so-tough yoga postures, listening to inspiring music, and engaging in painting, dancing or other playful activities, but all the time lending their ears to the soft-spoken instructors.
Says LCT founder Ronak Gandhi: "Our programs are non-religious, 100 per cent scientific, educative yet full of fun and are aimed at unfolding the kids' inner potential. They learn to deal with fear, anger, stress, isolation and frustration to finally achieve their goals".
During the just-ended Diwali vacation, many new-age parents in Indian cities have found that yoga and meditation had proved to be a boon for their pre-teens and teenyboppers who were once holy terrors or were suffering from attention-deficit hyperactivity disorder.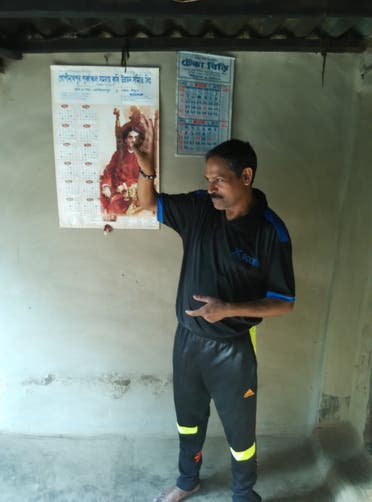 Extracurricular activities
Teens are now giving a wide berth to extracurricular activities like skating, craft, dancing and the like, and have instead taken to yoga and meditation like duck to water. Not surprisingly, in order to cash in on the craze for learning mindfulness, hole-in-the-wall classes and spacious studios offering such surefire courses have mushroomed here, there and everywhere, and worried parents do not mind paying even the Frankenstein fees.
But according to Imran Khan Salat, a final year degree student of India's first government-accredited, full-fledged, self-funded private yoga university, Lakulish, every fly-by-night Tom, Dick and Harry with a little knowledge of yoga or meditation but without any experience has started training innocent sweet sixteens, throwing spirituality to the winds.

Shankar Ramakrishnan (22), who is just out of a yoga teacher's training college, makes anything between Rs 30,000 and Rs 50,000 a month by promising no physiological or psychological harm to the bubblegummers in his yoga workshops with fun props, games and arts.

"The government should crack the whip on fake gurus out to make money hand over fist with their half-baked knowledge," suggests Salat who has also done a special advanced course in Mysore to master many of the 8.4 million yoga poses.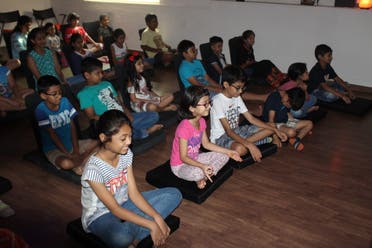 Full of beans
But not all asanas (postures) are suitable for the babes in the woods even if they are full of beans. While the brain is constantly developing as one grows, connections in the prefrontal circuits are created at their fastest rate during childhood, say experts.

If Mumbai-based child psychologist Ayyappan Vazhayill is to be believed, meditative practices can actually change the structure and function of the brain, and they not only change brain patterns but also heighten mental focus that may improve cognitive performance.
"If you actually practice meditation, you will start enjoying your life more, your brain will function better, your body will feel better, you get sick less often," he said.
Easy postures
Lakulish varsity lecturer Poojaba Jadeja Zala told Al Arabiya English that Taadsana, Sarvangasana and Omkar Pranayam are easy postures for the young fry and stressed the need for harnessing meditation and mindfulness from an early age.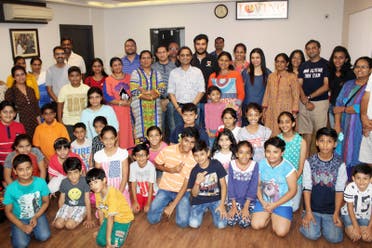 "Any quiet place is good enough for kiddos for silent sitting. Meditation promotes mental well-being through concentration, breathing techniques and self-awareness and can work wonders for schoolers submerged in smartphones and other gizmos by helping them beat tough competition," she said.

Uttar Pradesh was the first state to include yoga in the school curriculum following a nationwide appeal by PM Modi, himself an aficionado of the ancient practice. But now many Indian schools have started dedicating a period for yoga and meditation which, after all, enhance focus, foster self-esteem, relieve stress, support healthy emotional development and triggers empathy.
Better results
Opines Kolkata-based amateur trainer Sujan Bhattacharya: "It was high time school students and young sportsmen stopped wasting time on social media. Instead, three or four weeks of 20-minute daily meditation can result in better results in studies as well as outdoor games."
Bhattacharya, also a martial arts rooter, said that all his students had felt a surge in their mental strength, energy, and confidence levels, a newly-found unshakeable self-belief and development of an overall positive attitude, all of which, he said, had contributed to the dramatic upswing in their performances.