India has been a trading hub and a crossroads of cultures since time immemorial. The country has had commercial and cultural relations with Gulf countries, the Arabian Peninsula in particular and the Arab world in general. As a result, Arab traders turned to India for commercial activities and the people of Najd sent their children to India in the past centuries.
During the influx of traders from the Arabian Gulf, some merchants from Najd and Hejaz settled down in the towns of Surat and Mumbai (erstwhile Bombay) looking to engage in commercial activities. Some of them settled in other Indian cities, leaving behind strong social, cultural and economic presence.
Among the traders of the Arabian Gulf was merchant Hamad bin Ali al-Qadi. He was born in the Qassim region in the 19th century. His uncles sent him to Mumbai where he began working for a relative of the Bassam family in tea business before making his way into textiles and spices.
Merchant Hamad spent part of his life traveling between India, Turkey, Kuwait, Bahrain, and Lebanon practicing his trade. After his marriage to a daughter of the Nisar family – who was fluent in Marathi, Gujarati, Arabic and English – he settled in Pune, about 148 km away from Mumbai. He had nine children including Ibrahim who was born in 1925.
Dance and music
Ibrahim al-Qadi (his name is pronounced as Ibrahim Alkazi in India) learnt Charleston and Chaturthi dances in a house where the patriarch taught the English language, while the religious scholar taught Quranic sciences, and the girls were homeschooled.
He was fond of music, especially the songs of Umm Kulthum and the Barber Seville, and had a passion for Indian songs. He also learned to play the piano from a pundit (Hindu priest) and received Islamic religious education that was also open to non-Islamic surroundings.
Ibrahim al-Qadi is described as the doyen of theatrical tradition and as a director who redefined Indian theater. He became a pioneer in the theatrical production and teachings of drama in India as he became the founder and director of the National School of Drama, as well as the founder of the Al-Qadi Foundation for the Arts in New Delhi.
He received his secondary education at St. Vincent's Pune School and went to college at the St. Xavier College in Mumbai. He traveled to London to pursue higher education and entered the Royal Academy of Dramatic Arts at the age of 21, having borrowed 25,000 Indian rupees. Later on, he joined the British Drama Forum.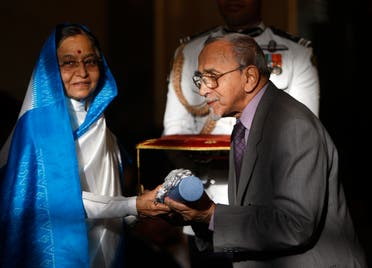 Ibrahim al-Qadi and Nehru
During his stay in London, he studied Greek, Egyptian, Assyrian, Sumerian, modern and fine art and learnt about the lives of the geniuses of the theater world. He also received an offer from the London Theater Company, but he declined the offer and returned to his home in Mumbai in 1954.
"I seriously wanted to work in the field of Indian theater and take a career for India and Indians," he said. He took the decision after meeting Indian leader and India's first prime minister, Pandit Jawaharlal Nehru, who was on an official visit to Britain.
Nehru was impressed by Ibrahim's enthusiasm and perseverance and asked him to return to the capital Delhi after completing his studies in order to establish a theater group. This gave him freedom in his choice of work and gave him access to the people he wished to work with.
The prime minister also promised Ibrahim to be exempt from fees and taxes and to help him establish a theater library following the inauguration of a theater that would be built with the help of advanced technology and would be worthy of the Indian civilization.
Nehru fulfilled his promise. As soon as Ibrahim returned to Delhi, he was warmly welcomed and received an invitation from the Indian Ministry of Education to establish the National Drama College, which later developed to offer certificates and three-year training in various theatrical arts, which attracted students from all around the world, and contributed to a cultural revolution in Delhi.
Nehru, who was interested in culture, was extremely keen to invite different guests to India (ranging from high officials to celebrities of the world) to attend the plays of Ibrahim al-Qadi, which built his reputation.
Managerial skills
The National Theater School was founded in 1959, modeled after the Royal Academy of Dramatic Arts in London. Ibrahim al-Qadi was asked to manage the institution. He initially refused, claiming a lack of management experience, but two years later he changed his mind and took over as its director, a position he occupied for 15 years (from 1962 to 1977).
Ibrahim al-Qadi was often associated with the institution of the Bombay Progressive Artists' Group. He also served as the director of the National Academy of Dramatic Theater, and trained well-known theatre performers such as Om Shipuri, Om Puri, Naseeruddin Shah, Manohar Singh, and many others.
When asked about the establishment of theater in India, Ibrahim al-Qadi said: "My goal is to create a theater group to strengthen the roots of theater in India. I wanted to discover talents which led me to discover people such as Dev Patel, Firoz Cooper, Hamed Siami, Dereck Jeffries, Osha Amine, Jerson Dickon, and Manohar Patel."
The group staged most popular plays in the world such as Corpse Last Tip, Murder in the Cathedral by TS Elliot. "During this time I acquired managerial skills and studied the old Indian instruments to use it in plays such Iyengar yoga and Kathakali," he said.
Ibrahim al-Qadi won distinguished Indian government awards in recognition of his distinguished services including India's second highest civilian award Padam Shri, besides Padma Bushan, Padma Vibushan and the Academy Award by the Dance and Music Academy.
He also received Honorary Doctorate from the Rabindra Bharati University in Kolkata along with the Kalidas Award from the Madhya Pradesh Government, the Living Wealth Award from the Times Forum and Talent in Mumbai, and the Lifetime Achievement Award by the Government of Delhi in 2008.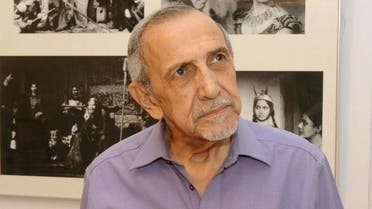 Arab roots
Ibrahim al-Qadi proudly talked about his Arab roots during a famous Indian talk show broadcast by India's RSTV. He underlined: "My roots extend to Saudi Arabia, but the richest years of my life were those I spent in Pune, where I was born and raised. What I learned there from my parents, from the Jesuit school, coupled with the rich life of the region contributed to the development of who I am today".
He said that his father was a self-taught man, and wherever he went, he enriched their libraries which included encyclopedias and books in Arabic and English. "He was also an avid reader of the latest newspapers and magazines in the Arab world. We read about Naguib Mahfouz long before he won the Nobel Prize," he said.
During the program, he also talked about his family and about his longing for his homeland: "In the beginning, my father worked with the Bassam family, which was one of the Arab pioneers in tea business, but he grew up to become an independent businessman and traded in textiles, tea and other goods.
"My father was a strong believer in our Arab cultural roots that go all the way back to Saudi Arabia. At home we only spoke Arabic and my Arabic and Islamic studies teacher was from Saudi Arabia and lived with us as part of our family," he said.
In Pune, where his father arrived in 1905, there were famous Iraqi horse races which attracted Arab traders, his father managed to make friends with Arabs and non-Arabs enabling him to settle and establish a new identity without alienating himself from his original roots.
Ibrahim al-Qadi joined the Sultan Padamase Theater Group in Mumbai, the pioneer of the English theater movement in India. He also participated in the 1930s and 1940s in the anti-British and pro-liberation Indian movement, along with Indians and residents of Pune.
Al-Qadi has held more than 150 exhibitions, published numerous books, supported and encouraged many young talents by publishing their work. He also established the Al-Qadi Foundation for the Arts in New Delhi to preserve more than 90,000 items of India's heritage and he has acquired rare images over the past 30 years to serve researchers and interested people, but also recognized the historical importance of the emerging generations.
The most important plays produced by Ibrahim al-Qadi include A Blind Era, In a Bleak Day, A Rainy Day, Closed and Others. His play A Blind Era has revolutionized Indian theater and caused a stir among intellectuals.
Ibrahim's name has become synonymous with the Indian theater. His is characterized by a mixture of Indian, Arab and Islamic cultures, which he acquired at the hands of his Arabic teacher as well as his father, who provided him with a library full of rare Arabic books in India along with classics of Arab literature.
His cultural openness stemmed from his upbringing in a tolerant and diverse environment that broke the barriers of cultural and ethnic differences, turning him into a charismatic figure, which revolutionized Indian theater including its production, teachings and systematic paradigm.
This article is also available in Arabic.