Resurgent Rahul Gandhi takes charge of Congress Party after taking on Narendra Modi
Rahul Gandhi today took charge of India's 132-year-old Congress Party without an election making him the 16th president of the party, which was in the forefront of the fight for independence and ruled the nation unchallenged for several decades.
In the run-up to his elevation, Gandhi launched several blistering attacks on Prime Minister Narendra Modi, setting the stage for fresh confrontation between a well-entrenched Modi and the new Congress chief.
Organizational elections scheduled for December 11 is now ruled out as only Gandhi, the 47-year-old son of ex prime minister Rajiv Gandhi and Italian-born Congress chief Sonia Gandhi – filed his nomination for the top post. Today was the last date for filing nominations.
"Rahul is the darling of the Congress", former prime minister Manmohan Singh said after proposing Gandhi's name. The other proposer is Sonia Gandhi herself who led the Congress to two to successive victories in 2004 and 2009. Many Congress heavyweights like former President Pranab Mukherjee heaped praise on Gandhi after he filed his nomination papers.
Leadership qualities
Rasheed Kidwai, Sonia Gandhi's biographer and an expert on the Congress party told Al Arabiya that "Gandhi has until 2024 to prove his leadership qualities, particularly the ability to wrest power from the BJP". Kidwai also called the new party President a "consensus candidate" and shrugged off opposition charges of dynastic rule and nepotism.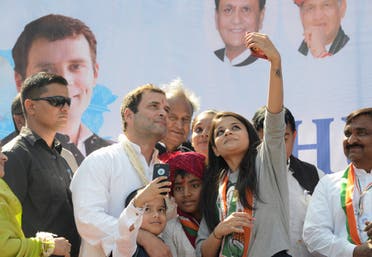 Sudheendra Kulkarni, who worked closely with former BJP Prime Minister, Atal Bihari Vajpayee, has an even more interesting take on Gandhi's elevation. "All this talk of family rule is irrelevant. The BJP has its own family rule. Can anyone outside the Sangh Parivar, or Family of Hindu Right Wing outfits, become the BJP's Prime Minister, President, or chief minister?", he asked.
Significantly, Gandhi has come into his own and is giving as good as he gets bringing a rare smile on the face of grass-root workers of the country's oldest party disillusioned by the crushing defeat at the hands of the BJP three-and-a-half years ago.
Modi is currently a combative Gandhi's favorite punching bag as the two are furiously campaigning in Gujarat – the crucial western province which propelled Modi to the national stage - where elections will be held on December 9 and 14.
A 'better actor'
Judging by social media, two Gandhi taunts which have gone rather well are the would-be Congress chief's description of Modi as a "better actor than even Amitabh Bachchan" and "a professional magician" to boot.
The 47-year-old scion of the Gandhi-Nehru dynasty also got a standing ovation for branding the oppressive Goods and Services Tax, or GTS, the Gabbar Singh Tax after the monstrous villain in the Bollywood blockbuster, Sholay who terrorizes all and sundry.

Ridiculing the PM last week, Gandhi said: "Narendra Modi is a zabardast (terrific) actor, even better than Amitabh Bachchan. Generally, an actor has to put contact lens when he has to weep...His eyes burns and tears roll down. But Narendra Modiji does not need any contact lens for tears to roll down his eyes."

Earlier, Gandhi wondered why the BJP is hiring magicians to entertain crowds at election rallies "when it is led by a professional magician who made 500 and 1000 Rupee currency notes vanish", referring to last year's demonetization which made life hell for many in India.

Gandhi is also publicly making fun of Modi's habit of hugging Presidents and Prime Ministers during his frequent visits overseas. He took to social media to berate the failure of Modi's "huggplomacy" when Pakistan released Hafiz Saeed, the mastermind of the 2008 Mumbai attack, even as the American government delinked its substantive financial aid to Pakistan to progress on fighting terrorism.

"Go hug Donald Trump again. The earlier hugs didn't work", Gandhi exhorted Modi on social media as Washington softened its approach to Pakistan much to New Delhi's dismay.