From day one the regime of Iran has been based on the pillars of domestic crackdown, and exporting terrorism and a reactionary, religious mentality.
As we speak, spreading extremism and Islamic fundamentalism remains a cornerstone policy of Iran's state-run strategy, all hacked into this regime's constitution.
The real image
Earlier this year Amnesty International's 94-page report, "Caught in a web of repression: Iran's human rights defenders under attack," detailed this regime's drastic human rights violations, with a specific focus on its extensive overdose of executions.
As witnessed for years running, Iran is the world's leading executioner per capita, with many hangings continuously and horrendously carried out in public. All the while, secret executions are ongoing in dungeons across the country, including Tehran's infamous Evin Prison.
This is the real image of Iran, cloaked by the ruling regime and their appeasers in the West for years, who continue to portray Iran's President Hassan Rouhani as a moderate worth dealing with.
ANALYSIS: Does the Middle East's stability hinge on Iran's expulsion?
Rouhani heads a corrupt system responsible for executing around 3,500 people, and counting, from 2013 to this day. 350 such counts have been registered this year alone.
Iran lacks anything even remotely comparable to a justice system and the current Justice Minister, Alireza Avaie, has been on numerous terrorist lists since 2011 for human rights violations.
Avaie is also known to have played a leading role in the 1988 massacre of over 30,000 political prisoners, consisting of mostly members and supporters of Iran's main opposition, the People's Mojahedin Organization of Iran (PMOI/MEK).
Nursing home
Iran is the godfather of human rights violations and terrorism, known as the main source of systematic human rights violations and expanding conflicts across the region.
Iran's Revolutionary Guards (IRGC), and the Quds Force, responsible for the IRGC's extraterritorial operations, led by Qassem Suleimani, famed for his ruthlessness, are the main parties responsible for Iran's internal repression, and mainly, aggressively expanding Iran's influence throughout the Middle East.
For decades the IRGC has been responsible for terrorist attacks in this flashpoint corner of the globe, including the countries of Syria, Iraq, Lebanon and Yemen. In this regard, Tehran's continuing practice of being the nursing home of proxy extremist groups is no matter of dispute or questioning.
What Iran has maintained a lid on has been its close collaboration with terror elements. For decades, the world has been deceived – conveniently for and by Iran – into believing that significant differences exist between Sunnis and Shiites, and thus cancelling any possibility of Tehran having links with its Sunni rivals.
Tehran has usurped this window of opportunity to portray itself and claim to be a de facto ally of the West in the fight against extremism, especially recently in the form of ISIS in Iraq and Syria. Discussions in Washington are ongoing over how the US military, short of a direct conflict, can deter and contain Iran's meddling in Middle East countries. The Pentagon has refrained from public comments.
One official familiar with the mentality of US Secretary of Defense James Mattis has hinted to the media that Iran is the focus of much attention in the Pentagon recently.
Last week Secretary of State Rex Tillerson chaired a meeting between the US, UK, France and Germany to blueprint US-European collaboration aimed at countering Iran through the course of diplomatic and economic practices. Other senior Trump administration officials have also resorted to significant remarks.
"What the Iranians have done across the broader Middle East is fuel and accelerate these cycles of violence so that they can take advantage of these chaotic environments, take advantage of weak states, to make them dependent on them for support," US National Security Advisor H.R. McMaster said to a security forum last weekend.
"We have to address what is a growing Iranian capability and an ability to use proxies, militias, terrorist organizations to advance their aim, their hegemonic aims in the region," McMaster added.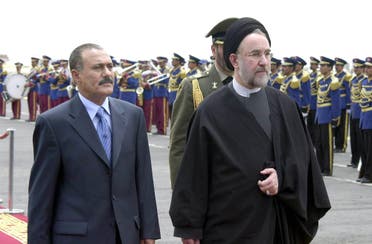 Game-changing revelations
Newly released documents obtained by US special forces in their raid on the residence of the now dead al-Qaeda leader Osama bin Laden in Pakistan prove what many scholars have argued for years.
Iran's regime, known as the beating heart of Islamic fundamentalism, has never considered sectarian differences an obstacle to cooperate with extremists. Tehran seeks to strengthen its resolve in the objective of furthering influence and global support for fundamentalism and terrorism.
These documents prove how the Iranian regime was working closely with al-Qaeda, including bin Laden himself, which could have subsequently led to Tehran's inevitable cooperation with ISIS.
Iran's rulers, and their cohorts spread in various countries, seek the same objective of establishing a ruthless caliphate by deploying global jihad. This practice hinges on unbridled brutality, misogyny and immorality to its utmost extent. No limits in barbarity and viciousness is accepted by these parties in their effort to reach their objectives.
Further reports are emerging detailing the growing amount of ties linking the regime in Iran with extremists groups, such as al-Qaeda and ISIS. New evidence confirms how despite the existence of various factions of extremist groups such as the Taliban, al-Qaeda and ISIS, at the end of the day, they all look at Tehran as the main source fueling this infamous mentality.
Flashpoint Yemen
Iran's support for the Houthis in Yemen has escalated and gained much attention recently. For example, a missile launched by the Houthis on November 4 was strikingly similar to an Iranian-made Qiam-1 short-range ballistic missile, added to its collection by Iran in 2010, and yet never before seen in Yemen's missile arsenal, according to a confidential report prepared by a UN panel of experts missioned to monitor a 2015 arms embargo imposed on Yemen.
One component — a device, known to be an actuator, used to assist in steering the missile — was found among the debris bearing a metal logo of an Iranian company, Shadi Bagheri Industrial Group, known to be the subject of UN, EU, and US sanctions.
The Houthis "obtained access to missile technology more advanced" than what they had prior to the conflict's birth in 2015, according to the panel report.
"The design, characteristics and dimensions of the components inspected by the panel are consistent with those reported for the Iranian manufactured Qiam-1 missile," the text adds.
Serious measures
The dangerous nature of Iran's regime is obvious to all. Parallel to military and terrorist measures throughout the globe, Tehran targets naïve and vulnerable subjects, using them to relay their reactionary mentality. This includes the various Western parliaments and significant international bodies, including UN and EU institutions. Tehran's demonization agendas have shown to be predecessors to violent attacks.
Only serious measures against Iran's regime, and ultimately the collapse of this ruthless entity, will mark the end of Iran's human rights violations, and meddling and support for terrorism being spread deceivingly under the flag of Islam.
ALSO READ: Who is Qais al-Khazaali, godfather of Iranian-backed Shiite militias?
Iran's increasing meddling abroad is not a policy signaling this regime's strength. In fact, facing deep domestic crises, Tehran is attempting to cloak its internal weakness by increasing its influence across the region on the one hand, and resorting to saber-rattling to prevent the international community from adopting a firm policy.
Iran entered negotiations and succumbed to curbing its nuclear program due to fears of uncontrollable uprisings resulting from crippling international sanctions. This is the language Iran understands and more major sanctions are needed against this regime.
Disclaimer - This author is writing under a pseudonym to protect his identity.