A major commander of Islamic Revolutionary Guard Corps (IRGC) announced that special patrols of IRGC's Basij forces have been dispatched to enhance the security across the country.
The decision reminds many Iranians of the brutal crackdown between 1980 and 1988, which eventually led to the massacre of 30,000 political prisoners. Human rights defenders fear that these patrols will, in reality, be used to prevent demonstrations, persecute activists and arrest protesters.
A senior official of the IRGC, General Mohamad Reza Yazdi, recently warned of the growing dissatisfaction in the Iranian society, especially among youth and workers.
"Another earthquake like what occurred in Kermanshah may never struck Iran again but there are other types of earthquake in Tehran", he said referring to the 7.3 magnitude earthquake in Iran's western province last month.
ALSO READ: Iran puts pressure on Houthis to bring back body of their missile expert
Today, the Iranian regime is quelling hundreds of sporadic popular protests across the country. Some activists and experts believe there is a strong potential for these popular civil and economic demands to form the basis of a coherent anti-regime demonstration and likely converge into a nationwide protest movement like the uprising in 2009.
This will put the regime and its repressive security forces, including the IRGC, in a very perilous situation. These voices point to the experience of the 2009 uprising in Iran to justify their claim.
Iran's democratic opposition coalition, the National Council of Resistance of Iran (NCRI), has called on the Iranian people, especially the youth to join these anti-regime protests.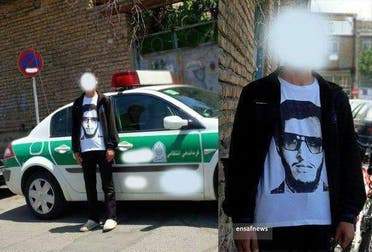 Anti-regime sentiment
The cumulative growth of anti-regime sentiment over the recent months indicates that people are no longer afraid to challenge the regime and its suppression. In fact, thousands of social and economic protests have taken place across the country since the beginning of this year.
Following the US decision to designate the entire IRGC pursuant to the global terrorism Executive Order (E.O.) 13224, more people have dared to rise up against their oppressors. In an anti-regime protest reported by Fox News on 23 October, thousands of Iranians gathered outside Iran's parliament and chanted slogans like "Death to the dictator".
These popular protests worry the theocratic regime in Tehran and its leaders are frighten of losing their grip on power. Historically, the authorities have used patrols to take control of main streets and disperse any protest gathering.
OPINION: Iran's agents: Hezbollah, Houthis and Popular Mobilization
But today as the regime faces an eruptive situation in Iran's society, the IRGC officials have decided to launch especially trained armed patrols from its paramilitary Basij organization to crush every possible protests and arrest participants.
This should alarm the international community as the latest UN resolution on Iran highlights systematic human rights abuses in the country. The international community should act to protect dissidents and activists against this renews crackdown, which was also highlighted by Amnesty last year.
Iranian activists and human rights defenders have urged the international community to refer Iran's egregious human rights dossier to the UN Security Council as a first step to stop repression in Iran.
______________________
Hamid Bahrami is a former political prisoner from Iran. Living in Glasgow, Scotland, he is a human right and political activist and works as a freelance journalist and columnist. Bahrami has contributed to Al Arabiya English, American Thinker, Euractive, Newsblaze and Eureporter as his work cover's Iran's Middle East actions and domestic social crackdown. He tweets at @HaBahrami and blog at analyzecom.