Quebec's labor minister on Wednesday called for a probe into reports that women have been banned from working at public works construction sites near Montreal mosques on Fridays, the Muslim day of prayer.
Dominique Vien asked the province's Construction Commission to open the investigation following statements from officials at two public works companies on the exclusion of three women from a work site near a Montreal mosque.
A spokesman for one of the mosques has denied making any such request and said he learnt of the matter through the media. TVA news reported Tuesday that officials from two mosques asked a manager of one of the companies to halt construction work on Fridays.
When the contractor refused, they reportedly got the Friday female worker ban. The request, if confirmed, is "totally unacceptable," Vien said at a press conference. "Equality between men and women is a fundamental right," Vien said. "The right to work is a right in Quebec and women can work wherever they want."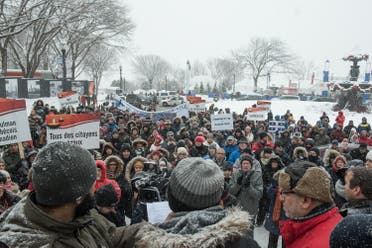 Surprise and astonishment
Moayed Altalibi, speaking for the Ahl-ill Bait mosque - which faces one of the sites - denied making such a request. The mosque "has had good relations with the contractor since the beginning of the project," Altalibi said in a statement, adding that they reacted "with surprise and astonishment" to the TVA report.
Mosque officials have "never asked for anyone to be excluded. This request, if it exists, does not come from our organization." The statements in the TVA report "are not only false, but fuel cynicism and harm the entire communities," the statement read.
In October the Quebec National Assembly approved a law on religious neutrality which bans officials or anyone receiving public services from covering their faces. Critics say the measure effectively marginalize conservative Muslim women by limiting their access to government jobs and services. The law is being challenged in court.
Earlier, in January, six people were killed in the attack at a Quebec mosque during evening prayers. Some 50 people were in the mosque at the time of the attack. Muslims comprise some 1.1 million people out of Canada's total population of 36 million.