As usual, the Iranian regime is in the spotlight for its intolerable behavior in the region. Make no mistake, Iran and its revolutionary guards (the IRGC) think they have it all figured out. After having secured a grip in Iraq and Syria, thanks to Mr. Obama's hands off policy toward Iran, it is now ready to gain its stronghold in Yemen.
Missile after missile is being fired into Saudi Arabia, bearing clear IRGC markings on them. Although, the US and its allies are frustrated with the theocratic regime in Iran, there is still some ground to cover before a consistent policy to resolve the thorny issue threatening the Middle East and beyond is set in motion.
A blatant admission
Following the latest missile attack on the Saudi capital, Iran's Supreme Leader Ali Khamenei's point man in international affairs and Iran's de facto foreign minister Ali Akbar Velayati, confirmed that Iran is involved in Yemen.
But what is more important is that he acknowledged that the Iranian regime has been supplying weapons to Iraq, Syria and Lebanon. This admission is important because throughout the bloody Syrian campaign the IRGC has maintained that it has only played an "advisory" role in Syria.
ANALYSIS: A harsh lesson from Obama's Iran nuclear deal
A year after Obama left office more disturbing news came to light on how he tried to help Iran's proxy — the Lebanese Hezbollah — by stalling a DEA investigation into its drug trafficking activities. It was triggered to uncover Hezbollah's drug dealings to finance part of its operations.
The National Council of Resistance of Iran (NCRI) has for years investigated through its inside sources, IRGC's drug trafficking for financing its terror networks in the region and in places as far as Latin America.
The Trump administration's new security strategy introduced just a few days ago is a stepping stone in dealing with Iran. The policy calls for cooperation with US allies to counter the threat of Iran, which is spreading across the region with the aid of Lebanese Hezbollah and other proxy forces.
From carrot to stick
The 68-page policy document states: "Iran, the world's leading state sponsor of terrorism, has taken advantage of instability to expand its influence through partners and proxies, weapon proliferation, and funding.
"It continues to develop more capable ballistic missiles and intelligence capabilities, and it undertakes malicious cyber activities … Iran continues to perpetuate the cycle of violence in the region, causing grievous harm to civilian populations," the document added. While it is a far better policy layout by a US administration toward Iran in many years, it should have laid stress on an end to free passes for mullahs in Iran.
The US policy of thwarting the "malign" threat posed by the theocratic regime to the world is realistic when it is combined with a strong will to clean up the bits and pieces of the old and obsolete policy of appeasing Iran, which the Obama administration followed till its last days in office.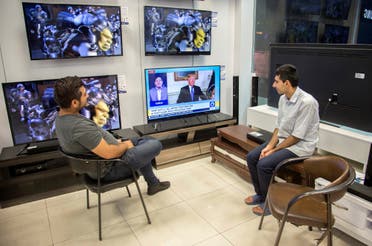 Europe on board
It is good news that after the proliferation of Iran's missile in Yemen, European officials have come on board and realized that there is no way the Iranian regime can be tamed. The five years of Hassan Rouhani has only been a rerun of past presidential terms in Iran characterized by a dreadful human rights record including a surge in hangings, more repression of the youth, greater violation of women's rights and the list goes on.
Three major European powers; Germany, France and UK have condemned the missile attacks on Saudi cities. With ISIS on the run the world can breathe a sigh of relief. Now, EU countries are gradually shifting their focus on Iran's destabilizing role in the volatile region. Iran's missile proliferation is another serious issue on the table.
ALSO READ: Is Iran's IRGC launching special patrols to fend off rebellion?
The Iran nuclear deal, also known as Joint Comprehensive Plan of Action (JCPOA), is now on life support. It was in part designed to persuade Iran into reducing its involvement in regional conflicts.
The last US administration and European countries went out of their way to stick to their end of the bargain. John Kerry, Obama's Secretary of State, brokered the nuclear deal with Iran and tried until his last day in office to encourage Western banks to finance Iran's newly signed interim deals with European companies which were willing to take the risk of possible US sanctions. However, such measures have never worked in case of Iran.
Change in tack
A closer look at the internal situation in Iran over the past year shows that Iranians understand that the appeasement of clerics at all cost is no longer a major priority for the White House. The Iranian Resistance has been monitoring dissent in Iran for years and the numbers are steadily growing over the last year.
The streets of Iran witness daily demonstrations and there are frequent clashes with IRGC's units that usually resort to repressive measures to scare and disperse people.
OPINION: Iran pushing Lebanon to war
President of the National Council of Resistance of Iran's (NCRI) Maryam Rajavi addressed a large rally of Iranian expatriates and distinguished guests from both sides of the Atlantic in Paris last week, by saying "the international community is expected to go beyond making mere political statements. It has not paid any price for its destructive policies in Iran and the region."
She suggested: "Expel the IRGC and its militias from Syria, Iraq, and other countries in the region and prevent their transfer of troops and arms via these countries; expel the operatives of the terrorist Quds Force and the Intelligence Ministry (MOIS) from Europe and the US."
That makes perfect sense considering US National Security Advisor Gen. H.R. Mcmaster's statement last month that 'about 80 percent of Assad's fighters are Iranian proxies.' There is no better time to stop the regime in Tehran than now.
________________________
Reza Shafiee (@shafiee_shafiee) is a member of the Foreign Affairs Committee of the National Council of Resistance of Iran (NCRI)