Iranian-Canadians call for regime change in solidarity with brethren at home
In an emotionally-charged rally attended by a slew of Conservative and Liberal Canadian politicians, hundreds of Iranian Canadians on Sunday called for "regime change" in Iran. They also raised slogans, condemning Iran's "brutal theocracy" and skewed policies in the region.
The vociferous crowd filled a 389-seat conference room at the North York Civil Centre in northern Toronto, with many attendees proudly carrying the old Iranian flags, reflecting nostalgia for a more secular era. Iran was transformed into an Islamic Republic in 1979 through the Khomeini-led revolution.
The "In Solidarity with the People of Iran" rally was the Iranian diaspora's reaction to the widespread protests across Iran, considered the biggest since the 2009 Green movement, calling for reforms.
Also, unlike previous protests, Iranians took to the streets of one of the most religious and conservative cities such as Qom. They denounced Iranian proxies such as Hezbollah and demanded their government to stop intervening and squandering money and efforts in other conflicts such as Syria, and to focus on their economic and social plight.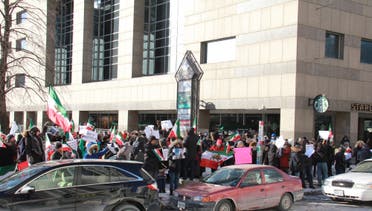 Freezing conditions
Amid below zero freezing temperature in Toronto, both speakers and protesters at the indoor rally explicitly expressed their support to their "courageous" brethren in Iran, who "faced bullets and batons," with at least 20 protesters announced killed on Tuesday.
On Sunday, Iran's Revolutionary Guard said the Iranian people and security forces had defeated the unrest it blamed on foreign enemies as parliament and key security officials met to discuss the boldest challenge to the clerical establishment since 2009.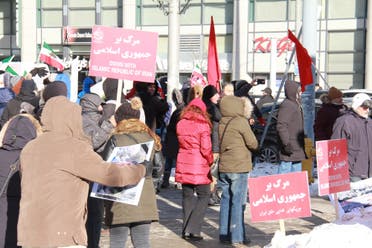 David Zimmer, the Canadian Minister of Indigenous Relations and Reconciliations, was one of the high-profile officials speaking at the rally. A Liberal, Zimmer stirred some emotions with his speech.
"Why is this rally important?" he asked. There is a need to "amplify" voices of the Iranian protesters, he continued. "But what is the message?" he added. "We have the moral obligation - we - as Canadians to stand side by side with the demonstrators till there is regime change," he said with the emotionally-charged crowd soon started echoing "regime change."
Ali Ehsassi, a Canadian Iranian Liberal politician, also lambasted the Iranian government as voices of protests, showing solidarity, were heard at a hall, outside the big conference room.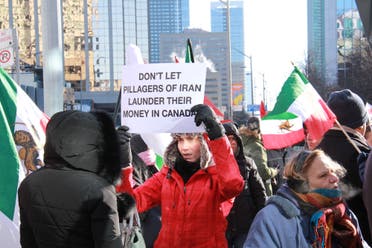 He said there is "no political accountability," and the Iranian government is "morally bankrupt," urging for the need to "acknowledge courage" of the more than 20 protesters, who were killed, and "2,000 of people, who are thrown in jail."
Peter Kent, a member of parliament for Thornhill and former minister of environment, told Al Arabiya English on the sidelines of the conference: "We have to recognize the courage of the protesters to demand democratic change, and to stand in solidarity."
As an official from the Conservative opposition, Kent said he can urge the Canadian government "to speak loudly in international forums encouraging the [Iranian] regime to provide its people some of the rights that were promised centuries ago by King Cyrus."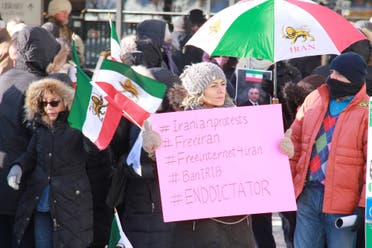 Across Canada
The rally was not the only one happening in Canada nor it was the first time it was taking place following Iran's crackdown on demonstrators across the country last week. Kaveh Shahrooz, a Canadian Iranian lawyer and human rights activists, was the first speaker to open podium.
"There were multiple protests taking place in various locations in Toronto," Kaveh Shahrooz, a Canadian Iranian lawyer and human rights activists, told Al Arabiya English. "There are hundreds of people across the city and the country. I know they have protests in Vancouver, Montreal, and elsewhere."
Shahrooz himself participated in Saturday's protest outside the North York Civic Centre, located in an area with Iranian eateries and shops making a regular occurrence as it is known to having a high concentration of East Asians and Iranians.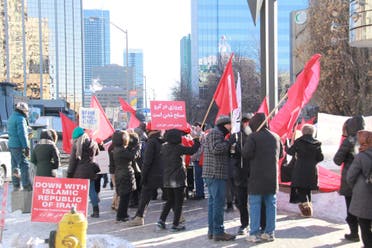 "The one I was part of [on Saturday] was about one hundred of people. I would say in -30 C weather is an impressive turnout." He added: "In Toronto, I know for fact, there were four separate marches [on Saturday], and today, there are two separate events, that is happening, and there others I am not aware."
Shahrooz, who is also one of the organizers of the event he dubbed as "nonpartisan," criticized Canadian Prime Minister Justin Trudeau's lack of a "forceful" reaction to what was happening in Iran.
"I would like to see the Canadian government putting Iranian officials on notice. If they [Iranian government] crackdowns on protests that there will be consequences both under the Canadian law and internationally."
At the rally calls were made to press on the Canadian Senate to pass Bill 219, which enforces the Canadian government to freeze Iranian officials' assets and imposes ravel ban on them.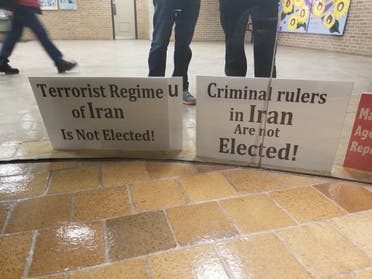 Shahram Tabe, an Iranian Canadian, who left his home of origin almost three decades ago, attended Saturday's outdoor protest and indoor Sunday's rally.
"We need to tell the people of Iran they are not alone in their struggle to democracy," Tabe, who is a professor of chemical engineering at the University of Toronto, told Al Arabiya English. "The Iranian community in the diaspora supports them and feels their pain."
While Tabe wants more of a real Canadian support from its people and government, "I don't want any foreign intervention in Iran that's for sure," he said. "But moral support for Iranians," he said.