India has enacted a revolutionary new green law which empowers citizens to adopt a tree as a child, brother or sister by filling up prescribed government forms to formalize the bond.

There are also provisions for legally taking up a tree and preserving it in remembrance of a departed relative. The new legislation in Sikkim – the picturesque Himalayan province in northeastern India bordering China – for forging familial relationships between trees and humans - which are recognized by the administration – has no parallels anywhere in the world.

The path-breaking Sikkim Forest Tree (Amity & Reverence) Rules, 2017, which has just come into force, is the result of a persistent campaign by the Forests, Environment and Wildlife Management Department of the state government helmed by Chief Minister Pawan Chamling.
Thomas Chandy, an Indian Forest Service officer who is Sikkim's Principal Chief Conservator of Forests, told Al Arabiya that the "inspiration for the new regulations came from none else but the hon'ble CM".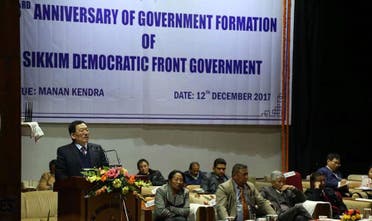 Greenest chief minister
The Keralite official credited Chamling with deep knowledge of Sikkim's traditional reverence for nature and environment and putting the wisdom into practice. Going by Chandy's revelation, Chamling is definitely India's greenest CM!
The rules stipulate that anyone interested in adopting a tree must fill up a form and submit it to the forest department for processing. If authorities are satisfied after scrutinizing the application, permission for adoption will be granted in writing.

Subhas Dutta, one of India's leading ecologists who has fought around a 100 court cases in four decades to save the environment in and around Calcutta, said that Sikkim's praise-worthy step deserves to be emulated across the country.
Sixty-nine-year-old Dutta told Al Arabiya: "Trees are our best friends. So adopting them as our child, brother or sister is a wonderful idea. Trees give us so much – fruits, shade, Oxygen and prevent soil erosion - without asking for anything in return.
Then there are rain trees which the British planted in huge numbers in north Bengal for drainage purpose. So any recognition of trees by man is most welcome." According to Dutta, trees are very powerful cultural icons and are identified with social groups.

"For example, the pine is representative of high altitudes and the banyan is associated with the plains. So at the height of the Gorkhaland agitation (a political movement for carving out autonomous territory centered around Darjeeling in the northern part of West Bengal), I organized a 'marriage' between a pine and banyan in Darjeeling essentially to unite the plains and the hills when they were pulling in two directions and there was unrest and acrimony", said Dutta.

Sikkim has one of the best forest:geographical area ratio in India. As much as 47.8 percent of the state's territory comprises forests. The ratio is bound to improve when trees are treated like family members under the new law.