Parveen Talha, the first Muslim woman to join the Indian civil service and an incisive chronicler of society she experienced first-hand, has published her second anthology entitled A Word Thrice Uttered: Stories on Life's Realities.
The lead story of the new collection has immense relevance today as triple talaq, or instant divorce, is a hot topic of discussion in Parliament, courts and TV studios. The touching, unexpected climax will bring a smile on the face of any reader. There are several gems like Let Sleeping Dogs Lie in the slim volume of 192 pages.
Talha, now 71, held key posts in customs, excise and narcotics wings during her long innings as a highly-rated Indian Revenue Service (IRS) officer. After he retirement in 2004, she held the constitutional post of Member of the Union Public Service Commission (UPSC), which recruits bureaucrats. In 2014, she was conferred with the Padma Shri, India's fourth highest civilian award.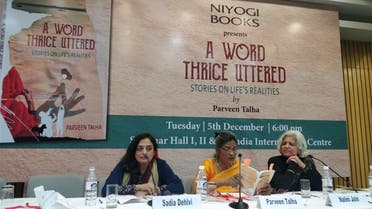 Tales of the city
Talha, who has been drawn to the world of letters from a young age, lives in Lucknow whose heart beats she captured in her first collection of stories - Fida-E-Lucknow: Tales of the city and its people. Both anthologies have been published by New Delhi-based Niyogi Books, which seems to lap up anything penned by Talha.
Muzaffar Ali – one of India's finest film directors who carved a niche for himself with Umrao Jaan – and a contemporary of Talha, says: "In an increasingly materialistic world where everything is for gains, emotions usually take a back seat. But Parveen Talha writes about real people unleashing emotions which sting the reader. Every time you want to be stung, pick up A Word Thrice Uttered."
Talha's debut book won fulsome praise from the late Khushwant Singh, a Sikh historian-turned-magazine editor who became a household name in India. Wrote Singh: "An enchanting set of stories that bring alive Lucknow in all its past glory with characters and events that can make one laugh or cry. A true insider's account of the city's people and culture."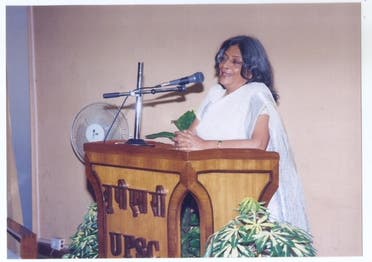 Job security and independence
Talking to Al Arabiya, Talha said that although she was very fond of reading and writing, she didn't take up writing as a profession because job security and independence were a priority.
"I joined the civil service and wrote during my spare time. I was also a stage actress; I appeared on television and dabbled in theatre in Delhi until 1981 when my mother's illness brought me to Lucknow. I write because I want to express myself and it gives me great pleasure", she recalled.
Interestingly, Talha never got married. "I remained single because there were hardly any Muslim men in the civil services in those days who I could possibly marry. But I have no regrets on that score. Literature is a great companion," she says.