The first chants heard in the Iran uprising launching on December 28th focused on skyrocketing prices and unemployment.
The scope and depth of Iran's unemployment is at times unbelievable, especially when you consider the fact that college graduates with Master's degrees are seen as simple workers in construction sites, carrying loads in bazaars and other such means in their desperate effort to make ends meet.
A look into these statistics, from the regime's own state-run media, provides an image and understanding of the power behind this time-bomb awaiting to explode and bring about changes to Iran's political infrastructure.
Doormen, with PhDs
Iranian state TV broadcast a report showing interviews with ordinary workers who actually have PhDs or Master's degrees, and some earning rankings in Olympiad and world-level competitions.
However, considering the lack of employment in Iran for such expertise roles, they are seen working as masons, security guards and even doormen. When asked why, many cite the fact that they lack any "connections" with people in high places to provide them an opportunity others receive despite lacking their education, while enjoying corrupt links.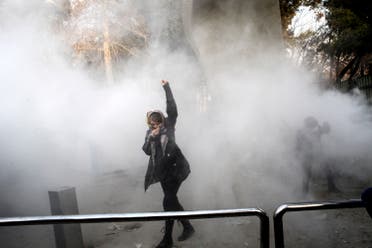 "Aghazadeh," meaning being born to a known family, is the term used in Iran in reference to those few enjoying such privileges without going the necessary distance of earning such a position.
300 individuals called in response to a TV ad seeking an individual with high college education. The show aired a number of phone calls and one specific young man receives a return call informing him the position is a dishwashing job, asking if he is still interested.
The young man, with a Master's degree, answers yes following a meaningful pause. Even after he realizes his words were taped, despite voicing his protest, he asks the reporter, "Can you help me getting hired somewhere? The Foreign Ministry, any embassies, state TV or radio… I have undergone the necessary training but I didn't have any connections."
Statistics
Iran is no normal state obligated to presenting a transparent and organized series of reports on the country's status quo. Unemployment is one such issue.
The Kayhan daily, known as the mouthpiece of Iranian Supreme Leader Ali Khamenei, reported: "Three million people unemployed is the result of neglecting the production lines… The country's unemployment figures raised from 3,203,398 at March 2017 to 3,366,973 in just three months."
Place these numbers alongside those reported by the semi-official Tasnim news agency, said to be affiliated to the Revolutionary Guards (IRGC) Quds Force.
"We have six million people unemployed, according to the government's official statistics," the agency wired. The Abrar daily cited an Iranian MP saying, "The country's unemployment numbers are higher than the existing numbers."
"We have 15 million people unemployed across the country," according to Ibrahim Razaghi, a known economic expert close to the Iranian regime. His remarks were wired by the semi-official Fars news agency, affiliated to the IRGC.
Even more alarming is the circumstances Iran's women face. "Unemployment amongst women in their 20s has increased five-fold," according to Ali Rabei, Iran's Minister of Cooperatives, Labor and Social Welfare quoted by ShomaNews.
For those in need of more acquaintance with the Iranian regime's methods, constantly delivering contradictory and misleading numbers to the public is one such practice.
RT @USUN: We brought the Security Council to DC to see first-hand evidence from the Department of Defense of Iran's illegal weapons program. These violations cannot continue. pic.twitter.com/vdXLGOOUWp

— Nikki Haley (@nikkihaley) January 29, 2018
Importing policies
One of the most important factors behind unemployment in Iran is the regime's policy – or lack thereof – on imports and its devastating impact on domestic industry and agriculture. Kayhan daily provides a significant read that goes beyond the need of any explaining.
"At least 30 of the country's leading economic brands and factories, including Arj, Darugar, Azmayesh, Pars Electric, Isfahan Polyacril, Irana Tiles, Tabriz Car Manufactory, Istake, Isak Bicycle Manufactory, Varamin Sugar Cubes, Ghoo (Swan) Vegetable Oil, Ray Chipping and Iran Wood are no longer active. The end of these brands has led to the unemployment of around one million people in the past four years," the piece read.
"Around 60 percent of Iran's factories closing and the remaining 40 percent working at 30 percent capacity in the past four years on one hand, and the expulsion of 20 to 25 percent of factories working at 50 percent capacity have redoubled the troubles workers face in their daily lives," Kayhan adds.
Setting aside the reality that Kayhan focuses on the past four years to pinpoint its attack against the camp of Iranian President Hassan Rouhani, these numbers provide a startling image of how the economy – and eventually ordinary Iranians – are suffering while a small percentage ruling the country profit from importing cheap goods.
#Humanrights #Iran Iran: 2-year-old earthquake survivor dies due to atrocious living condition - Little 2-year-old Sarina died on January 18, 2018 after catching the flu in the western Iranian province of Kermanshah. More than 70 days after the earthq... https://t.co/UwjCXOHII2

— IRAN HRM (@IranHrm) January 25, 2018
No end in sight
Any ordinary government would realize the stakes at hand and the necessity to adopt urgent action. Again, Iran is not run by your everyday system.
"40 percent of our college graduates remain unemployed. The continuation of this trend, with more people losing their jobs, and the destruction of domestic production lines, has no end in sight," according to the state-run Iran daily citing former presidential candidate Ibrahim Raisi.
"Each hour around 150 individuals are added to the country's unemployment populace. As a result, 3,600 people become unemployed with each passing day, 25,200 each week and 108,000 a month. In other words, each year around 1.3 million more people are seen without jobs," according to the Vatan-e Emrooz daily.
This is merely a gesture to a number of the factors behind Iran's protests, as seen erupted yet again on February 1st. Sky News TV reported there is a fire simmering beneath the ashes.
Of course, we have not discussed this regime's human rights violations, including executions, torture and the intense crackdown imposed on a society rich in culture.
We have not discussed the billions wasted annually in a completely unnecessary and controversial nuclear program, and ballistic missiles. We have not discussed the billions channeled abroad each year to Syria, Lebanon, Iraq and Yemen, while tens of millions of Iranians live in utter poverty.
We have not discussed how Kermanshah's earthquake victims are forced to grip freezing cold temperatures nearly three months after their lives were devastated as paper-thin walls of homes built in state-backed projects came down crumbling.
The list is endless. Undoubted now is the fact that Iran's people have lost any and all hope in the entirety of this regime. The mirage of "reformists" providing a better option in the face of old school conservatives is long gone.
It is now upon the international community to stand alongside the Iranian people, acknowledging their uprising demands an end to the regime's four-decade nightmare. It is time we listen to the people and support their calls for regime change.
Disclaimer - This author is writing under a pseudonym to protect his identity.