The King of Jordan, Abdullah II lands in the Indian capital on February 27 on a state visit here that underlines the new nuances of India's relationship with the Middle East.
Barely two weeks back, Indian Prime Minister Narendra Modi had travelled to Ramallah, the de facto capital of Palestine, in the Royal choppers provided by the Jordanian King himself.
Modi's visit to Ramallah was made possible because of the generous support extended by Jordan. Abdullah II had received Modi personally in Amman and his upcoming visit to Delhi brings to a circle a relationship which showcases the delicate balancing act achieved by India in a tight embrace with Israel at one end and the Middle East at the other.
Ashok Sajjanhar, a former Indian diplomat who also served in Iran believes the government has done this balancing very well.
ALSO READ: Abbas tells India PM he seeks multi-country peace mediation
"Also the fact that the King of Jordan is visiting India just a few weeks after PM Modi's transit in Amman shows a "new bilateral" is in progress. Also, Jordan wants India to be more proactive in the Middle East. On the bilateral front, with this government's outreach to the Middle East, the Indian policy towards the region is progressively vigorous," he said.
While India, under Modi, has been in the headlines for moving closer to Israel, a closer look at the engagements with nations of the Middle East region ranging from Saudi Arabia, the UAE and now Jordan, is a clear example of how a balance has been created.
This policy of renewed engagement with the region has also resulted in another significant gain for India. For decades, India's relationship with countries of the Middle East were based keeping in mind the "Pakistan factor." Traditionally Jordan too was seen closer to Pakistan but that seems to be changing now.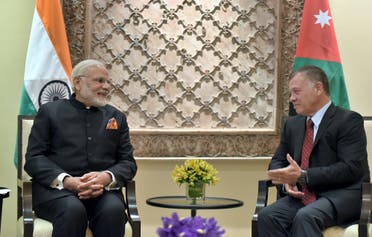 Terror and extremism
Both PM Modi and Abdullah II are expected to address an event in Delhi which will focus on measures needed to check the radicalization of youth. That will spill into measures needed for countering the forces of terrorism and extremism.
And therein lies an important pointer as to why India and the Middle East seem to be in a state of convergence. The fear of terrorism, extremism and radicalism is not a limited Indian cause for concern any longer; nations like Jordan, the UAE and Saudi Arabia also understand that the extremist elements in check.
Divyabh Manchanda, a former Indian diplomat said: "It is a matter of balancing relations with national interest in mind. Our large working populations in the countries in the Middle East on one hand and our defense purchases from Israel and our strategic cooperation with that country on the other hand".
The India-Middle East relationship is also symptomatic of a world where the external factors push for convergence. While the societal functioning of India might be different, a large democracy, population explosion and a country which sometimes seems on the edge of anarchy, the Middle East region in comparison is more homogenous and united by common values. In India, homogeneity is difficult to find even within a particular state.
Then the surprising fact that a nation like Jordan and India are today sharing a common vision on terrorism and extremism tells us to look outside the tried and tested parameters of international relations. For both nations, territorial sovereignty is important and so is security.
That is threatened by external factors and unstable state actors like Pakistan, Afghanistan, to name a few. Hence this renewed urgency to re boot an old relationship, to step up to new challenges and shed old ties that might just suffocate, the pointer here is State-sponsored terrorism.
As India gets ready to roll out the red carpet for the Jordanian King, apart from the usual optics like a slew of agreements between the two nations that are expected to be inked, the deeper message is that while India's engagement with the Middle East is in the forward mode, the region is also now ready to embrace India more firmly.
The differences and points of divergence will stay, and should be welcome in any healthy relationship. But Abdullah II's visit here is a clear indication that the region and India are set to narrow those divergences and seek greater convergence, in a win-win end game for all.