On Saturday, the United Nations Relief and Works Agency hosted its annual New York City five kilometer race to raise money for mental health care in Gaza. UNRWA holds several races across the United States throughout the year.
Each race has the potential to raise hundreds of thousands of dollars; on Saturday, New York City surpassed the $350,000 mark. The race was the most successful one ever held by UNRWA.
"New York has set the bar higher and higher every year," said Laila Mokhiber, UNWRA USA director of communications. The races help the agency raise money and awareness for the Community Mental Health Program.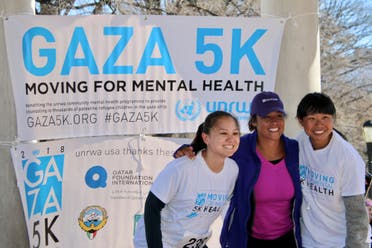 Post-traumatic stress disorder
The goal of the program is to raise enough money to employ 25 counselors in the Gaza Strip to provide mental health care to children and families suffering from post-traumatic stress disorder caused by Israeli military assaults. Funding has been a particularly salient issue for UNRWA under the Trump administration.
"It's absolutely clear from today's results that many Americans do not stand for the historic decision the US government made earlier this year to cut funding to UNRWA by 83 percent," Mokhiber said.
A sea of red, black, green, and white added a splash of patriotic color to the otherwise grey winter day in Brooklyn's Prospect Park. Runners and supporters who braved the morning cold were greeted by enthusiastic UNRWA volunteers, a DJ blasting a mix of American pop and Arab folk music, and a special reading from P Is for Palestine by author Golbarg Bashi.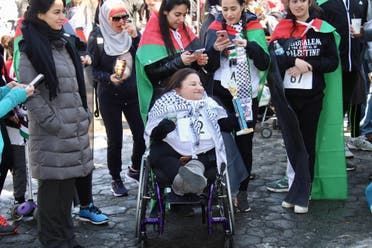 Finishing line
Over a thousand participants crossed the finish line, met by a growing crowd of keffiyeh-wearing activists who cheered and clapped as each runner crossed the finish line. Runners included people from all over New York and the US, of all ages, shapes and sizes.
Several parents pushed strollers along the course, making some of the youngest race participants barely a year old.
The overall winner of the race, however, Sameed Musvee, was hardly a newcomer — he's run in several other Gaza 5K races, in San Francisco and Chicago. On Saturday, he completed the race in just over 18 minutes.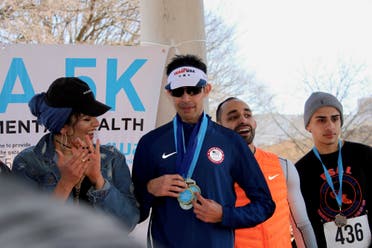 Medals galore
When the race was over, MuslimGirl founder Amani Al-Khatahtbeh took to the stage to hand out medals for not only the quickest runners, but for several other superlatives including "best dressed," "most creative," and "most money raised."
Amani Othman took home the award for best costume; in addition to the traditional keffiyeh around her neck, she had decorated the wheels of her wheelchair with large, glossy, Palestinian flags.
Like any celebration attended by a couple hundred Arabs, the awards ceremony quickly transformed into a dabke circle. Runners turned to dancers, showing absolutely no signs of fatigue whatsoever.
"Rain or snow could never stop us from moving for refugee mental health," Mokhiber told Al Arabiya, "and today's NYC Gaza 5K event proved that."