The brutal gang rape and murder of an eight-year-old girl in India has triggered nationwide outrage, inflamed communal tensions and shone a fresh critical light on the prevalence of sexual crimes.
The killing has sent out the sort of shockwaves that shook the country after the equally horrific gang rape of a Delhi student on a bus in 2012 that made headlines around the world.
That case saw India Gate in New Delhi become the focus of massive public protests, and opposition leader Rahul Gandhi led a candlelight march to the same monument midnight Thursday to highlight what he called the "unimaginable brutality" of the latest killing.
The young girl, whose identity was protected by a court order Friday, was murdered in January in the northern state of Jammu and Kashmir.
These are pics of EIGHT-YEAR OLD #AsifaBano who was given sedatives, gangraped 3 times in a Hindu temple then strangled and hit twice on the head with a stone.

Because she was Muslim, Hindu men have taken to the streets to protest in support of the murder & rape suspects. pic.twitter.com/udVkd9SjJG

— Tommy Shelby (@Blick_Oyinbo) April 12, 2018
According to the police charge sheet, she was abducted by a school dropout, a minor, and an accomplice who forced her to take sedatives while keeping her captive in a shed and then a Hindu temple for five days.
While in captivity, she was repeatedly raped by the juvenile and different men, including a police constable. She was finally strangled and beaten with a stone, and her body was discovered out in the open in a wooded area.
"Like millions of Indians my heart hurts tonight," Gandhi said at the midnight rally. "India simply cannot continue to treat its women the way it does," he said. The victim was from a nomadic Muslim family and all the eight people arrested in the case so far are Hindus.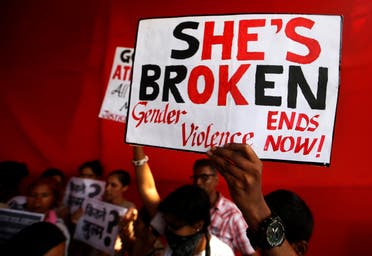 Communal divide
Jammu and Kashmir is India's only Muslim majority state, but the Jammu region in the south, where the murder took place, is Hindu dominated. The case has fueled the sharp communal divide in the region, with Muslim activists condemning what they see as a crime against their community and some Hindu groups arguing that the accused had been unfairly charged.
At one point, a crowd of Hindu lawyers tried to stop police from entering a court to file charges against the accused men. Prime Minister Narendra Modi, head of the Hindu nationalist government, has yet to comment on the case, but the Jammu and Kashmir chief minister, whose party is aligned with Modi's, said the murder had "shamed humanity".
The cruelest form of evil is harming an innocent child. What is happening to the world we live in??? These people should be given the most severe punishment there is! Where are we heading as humanity?
Shaken to my core.#JusticeforAsifa

— Anushka Sharma (@AnushkaSharma) April 12, 2018
High profile names from the world of cinema and cricket have also voiced outrage over the crime in a country were nearly 40,000 rape cases are reported every year, according to official figures. "What is happening to the world we live in???" Bollywood star Anushka Sharma, who is married to Indian cricket captain Virat Kohli, wrote on Twitter.
"These people should be given the most severe punishment there is! Where are we heading as humanity? Shaken to my core," she said. Cricketer Gautam Gambhir blamed India's "stinking systems" for what some have described as a rape epidemic. "Come on 'Mr System', show us if you have the balls to punish the perpetrators, I challenge you," he tweeted.