"Before the Syrian war, hotels like mine were even booked to full capacity".
Recalls Wadih Kanaan, owner of the Aquariam Hotel in Jounieh – a coastal resort once a hotspot of both high rolling Gulf Arabs and middle class tourists from the region.
The Secretary-General of Hotel Owners in Lebanon is upbeat about recent bookings being higher but can't help talking of these golden days before as though they will never return. "What can we do to bring the Gulf Arabs back to Lebanon?" he asks.
It's a question that few have the answer for in Lebanon. The boom years where wealthy people would bring valuable cash to Lebanon may well just around the corner though, if only Lebanon can get its perception changed for the better. Curiously, one sector of tourism in Lebanon may be a driving force to change the country's image in the Gulf: rural tourism.
Since 2005, an initiative to promote rural tourism took root but only since the real effect of the Syrian war was felt in Lebanon in 2013 did the government really throw its weight behind the idea, driven largely by two individuals – the government minister at that time and a private sector promoter of hiking in Lebanon's mountains.
The following year in 2014 the then tourism minister, Michel Pharaon unveiled an action plan despite what many outside of Lebanon would have imagined were dangerous times in the country.
Easing the boycott
"Political problems have been here for decades, what's important is the security situation. After 2014 when we had the new security situation we were able to promote Lebanon and then the Gulf states accepted to ease this boycott. Between 2014 to 2016 we had an increase of 24 percent in tourism receipts", explains Pharoan to Al Arabiya English "but the [Gulf Arab] tourists still didn't come for the last few years and it's a worry".
"The new minister was enjoying a new situation, when he came into office, but then he decided to go for the Gulf tourists" added Pharoan. "But in fact this hasn't worked", he explains.
In reality, three new groups of lower spending Arabs have replaced the Saudis and Qataris in terms of numbers - Iraq, then Egypt and lastly the Lebanese Diaspora. In July 2017, 935,365 tourists came to Lebanon, 44 percent of which were classed as 'Arab' representing a five year high.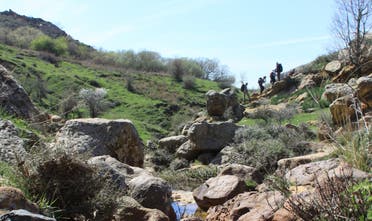 But it's not only the Arabs which are driving the trend in Lebanon. "Rural tourism is working though which can be addressed to European expatriates living in the Middle East. We made a five-year plan and in the last three years there was a growth of rural tourism", says Pharaon.
"It started as $35 a night but now its peaking at $100 a night. Rural tourism is a big success. In Dubai you don't have the mountains and guest houses and you can eat the labne from the sheep, where you can walk in the mountains. It's around 100 guest houses. From May to October it's full" he adds.
This period, he says, is important due to the music festivals in Lebanon, around 60 of them with over 400 activities in the villages, where he argues religious tourism could be promoted.
Hike n Bike
Yet the mainstay of rural tourism is hiking. In 2007, the Lebanese Mountain Trail organisation was formed. It claims to be the "first long-distance hiking trail in Lebanon extending from Andqet Akkar in the north of Lebanon to Marjaayoun in the south, a 470-km path that transects more than 75 towns and villages at altitude ranging from 600 to 2,000 meters".
Martine Btaich, its president speaks of this new sector of tourism – "experiential" – as now a new dynamic in the market of rural tourism.
"I imagine that rural tourism now represents more than 50 percent of the tourism market. Lebanese expatriates are less sensitive to the problems of the region and rural tourism reconnects them to their country. Now there is a diversity of guest houses, from the very cheapest to the highest class".
While praising Mr Pharaon's zeal in launching the "Rural Tourism Strategy" initiative, she is more critical of the current government towards promotion and public relations. "Pharaon did a good job in a very short term...but there needs to have sustainability" she warns.
"We need stability and we need to break this negative image and this is something that we in these small organisations are unable to do through our network and PR. If you look at the Jordan tourism board, they are very active in North America", she says.
Agri tourism, claims Btaich is a way for farms to gain extra income by diversifying to offer accommodation and activities which "revolve around agriculture from apple picking and harvesting" to cooking classes. For outside investors though, the guest houses themselves could be areas of growth in the shorter term, but it pays to chose the area well.
"Guest houses is a good are of investment provided that there are efforts made [by the government] for the promotion of the destination to bring in more people. Some areas didn't get the exposure, so some guest houses don't work as well as other areas which are better organised and better promoted" she warns.
High rollers
Investment in the sector is generally hampered by periods of instability, whether it be guest houses or conventional hotels along the coast. A boost in rural tourism though may help bring back wealthier Gulf Arab tourists, who, in turn could bring the investment capital with them. But the government of Lebanon should rely only on the high rollers, warns Pharaon, but look to new markets around the world.
"International destinations need at least 5 to 10 years of stability. Because the main industrial players in tourism, like the British and German firms, like to build their own hotels. Lebanon is open for that, but they won't do it cos they're afraid of stability. We're never had this period in Lebanon. The hotels I opened when I was tourism minister, were decisions made in 2009", explains Pharaon.
"Investors are waiting for the right signals, which we have now. They were waiting for security to be right and for the politics to be in place". "Arabs love the food heritage of Lebanon in the rural tourism. Now we have an infrastructure for any tourism - so now we have to look to other countries like China and Russia".