Ayatollah Ali Khamenei named this Iranian year as the year of "Support of Iranian prod-ucts". Following his announcement, the government began closing western borders with Turkey and Iraqi Kurdistan. Moreover, it hiked up the tax tariff. Kurdish border cities have gone on a strike against the measures taken by the central government.
In order to have a clear picture about the history, reasons and the consequences of the ongoing strikes that entered its 13th day, Al-Arabiya interviewed Jila Mostajer, a Kurdish civil rights activist who has been covering the news of strikes in Kurdistan.
When asked for an overview of the current strikes in Kurdistan, she said that earlier small strikes were conducted for few days but would usually end following police crackdown and sometimes with military intervention.
"Merchants who are at the heart of strikes call for immediate and unconditional opening of trade borders. They are also calling for the removal of new tariffs because of their inability to pay customs duties," she said.
But have the government officials responded? According to Mostajer, in the early days of the protests, even officials, such as Mr. Lahoni, governor of Javanrud, stated that they would not do anything about it, and that this issue is entirely directed from Tehran.
"But as strikes spread, Saeed Jalili, national security adviser to Iranian Supreme Leader Ayatollah Ali Khamenei made a sudden visit to Baneh to invite protestors to end the strike in Kurdistan," she said. After Jalal's visit at least 18 strikers were arrested in Baneh, Saqqez, Marivan and Ja-vanrud. Only one detainee was released.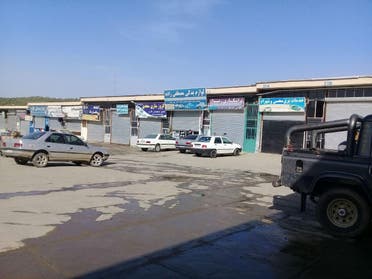 No practical steps
In general, the Iranian government has not taken any practical steps to address striker demands according to reliable reports received by Hengaw Organization for Human Rights. Some storekeepers were forced to open up their stores after being threatened with water and electricity cut and cancellation of their business license.
In a letter to Rouhani 10 Kurdish members of Majles demanded the opening of borders. Explaining how this measure has left the economy of Kurdistan paralyzed.
Among the clerics only Mamostata Muhammad Adib, thanked the people for their solidari-ty and coordination of strikes away from violence. And announced the support of clerics community for the strikes.
Addressing the government, Adib said: "If you accept us as citizens of Iran, you are obliged to respond to our demands. Otherwise, we will resort to other modes of protest." Nonetheless, other clerics called the protestors agents of the foreign countries who at-tempt to bring instability to Kurdistan.
Strikes started 13 days ago following the closing of the Western border regions between the border that straddles Iran, Iraqi Kurdistan and Turkey.
They originated from cities of Baneh and Marivan. Within 3 days other cities such as Pi-ranshahr and parts of Sardasht and Saqqez, Maku, Javanrud, parts of Urmieh and Sarpol Zahab joined in to turn this strike into a general one.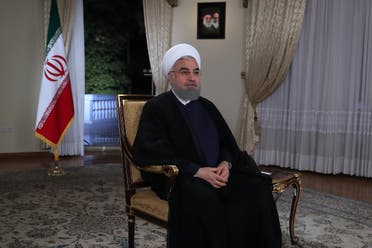 Rouhani in Azerbaijan
President Rouhani visited Azerbaijan recently where he addressed citizens in Tabriz football stadium.
Attendees carried red cards in their hands as a sign of protest against border's closure and border tax increase and general dissatisfaction from Rou-hani's lack of commitment to his promises 5 years after taking the office.
Mostajer said that her and other human rights organizations' task is to deliver the voices of Kurdish people going on strike and make their demands known to the world.
"I believe this time strikes will continue until a change is made. In previous years strikes usually would end under the pressure and intimidation and everything would go back to the way it was. People know if they stop now nothing will change," she said.

The people of Kurdistan in the border region have pursued trade with Iraqi Kurdistan in an effort to create job opportunities. And there is an essential factor that is being ignored, which is there are no investments and development projects from which Kurdish citizens could make their ends meet.
Hence becoming border carriers or kolebars (weight carriers), is the only source of income for thousands of Kurd citizens. Following the increase of border tax, 80,000 kolebars have lost their job.
Kolebar is an extremely dangerous and physically demanding job. They carry merchan-dise as heavy as a refrigerator on their back and cross the border from Iraqi Kurdistan to Iranian Kurdistan. Many of these individuals used to be old men but increasingly, we see young and edu-cated Kurds being forced into this very difficult work.
In its annual report, the Kurdish human rights watch organization Hengaw reports that during the first half of the past year alone, 150 Kurdish porters were killed by Iranian bor-der control.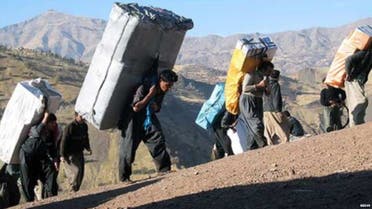 Kurds as Kolebars
Kolebars is a profession that is imposed on the Kurd citizens of Iran and it is by product and a result of poverty and economic exclusion of Kurdish citizens. And it has turned to a profession due to lack of job opportunities and professional choices in Kurdistan.

While Kurdish protests and strikes against worsening economic condition and border crossing are spreading throughout Kurdistan in Northwest and Western provinces, in Ahwazi-Arabs are launching and continuing their mass protests in Al-Ahwaz region against anti-Arab racism, high unemployment and marginalization of Arabs in Iranian so-ciety, and call for the release of 500+ Ahwazi Arab women, men and underage youths .
Also strikes of steel industries and sugar cane industry workers have been natural reac-tions to a collapsing highly centralized economic system that has kept the minorities poor and destitute and on the margins.

Inflation, lack of transparency, billion dollar embezzlements and bankruptcy of financial institutions have led the government to impose higher taxes on Iranian citizens in order to compensate and balance its budget deficit.
Iranian Kurdistan similar to other minority areas is extremely poor and underdeveloped. Closing the borders and increase tax without introducing any alternative or solution will only result in a further impoverishment and economic hardship and consequently more strikes and instability.
As the strikes spread to other underdeveloped minority regions and should the "dots are connected" in solidarity between them a formidable challenge would be facing the lead-ership in Tehran.