A rich Islamic collection, currently showcased in different galleries in the renowned Salar Jung Museum in Indian city of Hyderabad, will be housed in an exclusive Islamic Arts gallery, which is slated to open in the first half of 2019. At present, no museum in India has such a gallery dedicated exclusively to Islamic Arts.
Hyderabad's cultural icon, the Salar Jung Museum is a treasure trove of the artistic achievements of diverse European, Asian, and Far Eastern countries. The museum's Islamic collection is a panorama of historic, geographic, cultural and artistic diversity and has attracted immense attention from all over the world.
Nawab Mir Yousuf Ali Khan, Salar Jung III, fondly called Nawab Saheb, acquired major portion of this collection.
The museum's 46,000 artefacts, of which 15,000 are on display among the 38 galleries transcend space and time. Of these, 2,500 exhibits – which include 365 copies of the Holy Qur'an in Kufi, Naskh, Nasta'liq and Thuluth script – are categorized as Islamic Arts.
These are rare manuscripts and possess great antique, historical, social, cultural and linguistic values. This collection is strong in ceramics, carpets, glass, metalwares, armories, ivories and textiles, jade, porcelain and glass objects containing Quranic inscriptions and valuable manuscripts. All these items are being housed in an exclusive Islamic Arts gallery.
Talking about the idea behind having an exclusive Islamic Arts gallery, Dr. A. Nagender Reddy, Jt. Director, Salar Jung Museum, said the idea is "to bring to focus one of the largest Islamic art collection available at the museum. This will be on lines similar to the British Museum, V & A museums at London and The Met, New York.
"The gallery will attract more visitors from the Middle East. Showcasing Islamic Arts in a separate Gallery will give visitors a sense of history and the magnificent contribution of Islam and Muslims," he said.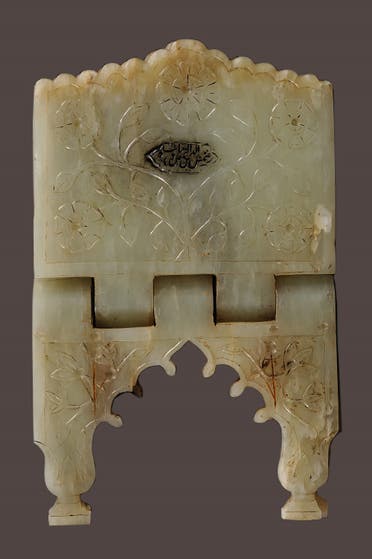 Stunning collection
The Gallery is being set up at an estimated cost of Rs 50 million. Coming up on the 2nd floor of the museum's Eastern block covering 26,000 sq ft are 2,500 objects such as swords, textiles, manuscripts, Persian carpets, Holy Quran, jade, ceramics, porcelain and glass objects with Quranic inscriptions.
Quranic inscriptions come with an emphasis on works from Iran, Turkey and Egypt. The museum has a collection of copies of the Holy Quran in different calligraphic and writing styles, including Kufi and Nastaliq. As many as 365 rare copies of the Quran will be on display. There are also about 200 rosaries.
There are many items which are not yet displayed in Salar Jung Museum and some of these will find a place in the new Islamic Arts gallery. "The objects are being identified and documentation has been undertaken," Nagender said.
Dubbed as the first exclusive Islamic art gallery in India, the collection will give visitors a sense of Islamic history and the magnificent contributions of Muslims.
Precision planning and careful execution by experts since 2012 will give the upcoming gallery an artistic sophistication that is missing in many ancient art galleries in India.
An official note of Salar Jung Museum reads that "the art collection represents an outstanding legacy in terms of its sophistication and stories it narrate about Hyderabad's historical position and links".

Sharjah connection
The idea of an exclusive Islamic Arts gallery in Salar Jung Museum was conceptualized in 2009 when the museum conducted an exhibition, "Glimpses of courtly splendor – Indian Islamic Art" in Sharjah, UAE. However, it took three more years for the project to take off and will need another year before it becomes a reality.
The Salar Jung Museum also boasts one of the oldest folios of the Holy Quran on parchment in the Kufi script belonging to the ninth century representing rare calligraphy work. The miniature Holy Quran measuring 2cm x 3cm printed in 31 folios is simply awe-inspiring. All these will be shifted to the new gallery.
The Egyptian and Syrian collections and the 200-odd rosaries are also being shifted to the new gallery. Also, the archer rings of the Mughal emperor, Shahjahan, which are in dark green jade will find place in the Islamic art gallery.
At present, the museum artefacts are categorized as Indian art, Middle Eastern art, European and Far Eastern collection. "Now we want to present all the Islamic art at one place," Nagender Reddy added.