Will this Pakistani-American businessman buy London's iconic Wembley stadium?
Legendary football player Pele once described the iconic Wembley Stadium in London as the "cathedral of football". Owned by the English Football Association (FA), Wembley Stadium has been hosting footballers and their ardent fans for the last 95 years.
However if the extraordinary bid by a Pakistani-American businessman to buy Wembley for about £800 million is successful, it would transfer the national stadium into foreign ownership for the first time in its history – something British football fans are finding very difficult to stomach.
Shahid Khan, the billionaire who has made the audacious bid, is keen to bring the American football NFL to the UK – a thought that is worrying many traditional football fans.
ALSO READ: Mohamed Salah-inspired Ramadan toy lanterns hit Egyptian stores
Khan, with his handle-bar moustache, is already well-known in the UK sporting world as the man who bought Fulham Football Club (FFC) from the Egyptian business magnate Mohamed Al Fayed for about £150million in 2013. He also owns the Jacksonville Jaguars, an NFL franchise, which has played one regular season game in London each year since he bought FFC.
Owning Fulham is one thing but owning Wembley is a different ball game. British fans fear that their national teams would be thrown out of the stadium that is the considered the "home of English football". "England would be going on the road as turfed-out vagrants rather than touring artists", says Ed Malyon, Sports Editor of the Independent.
"The England team would still stage the majority of their home games at Wembley, but a large portion of their annual schedule, particularly during the autumn (when a lot of football matches are played), would be moved elsewhere" explains Malyon. The fear is that the NFL would take over the stadium.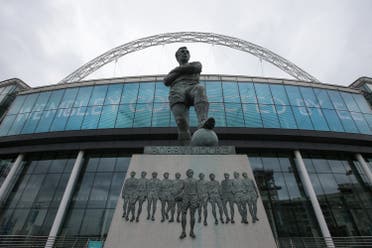 World Cup venue
Wembley Stadium was originally built in 1923 at a cost of £750,000 in North West London. It is the venue for all major football matches like home games for the England team, FA Cup finals and semi-finals and Olympic football events. It was here that England famously lifted the World Cup in 1966.
In 2002 it was decided to knock down the old stadium – identified the world over by its twin-towered façade - expand the area and build a more modern stadium with facilities that were needed for both players and fans.
ALSO READ: Get to know the first Egyptian female referee for men's football
In 2007, the new Wembley Stadium with its huge white arch that can be seen from miles around, was unveiled. Built with a circumference of 1 kilometer and a capacity to hold 90,000 seats, it became the largest stadium in the UK and the second largest in Europe.
The cost of building the new stadium was £798 million (£1.09 billion today), which was partially borne by the Government, thus making taxpayers connect with it even stronger.
"There were huge Government grants to build the stadium so how can they (FA) just sell off the crown jewel they are there to look after" asked one football fan. "If the FA is going to get a billion pounds for something we the taxpayer paid for, then some of the proceeds should come back to us", said another disgruntled fan.
Grass root facilities
The FA is said to be considering the sale so they can invest the money in "grass roots facilities" like building hundreds of new 3G and 4G pitches which would be playable in winter. But fans are not buying the argument. "How much was spent on grass roots in 1966 when we won the World Cup?" asked one soccer fan.
For Khan, the Florida based car tycoon whose net worth in August 2017 was over £6.25 billion, making him the 158th wealthiest person in the world according to Forbes, Wembley is not just a football stadium but an events space with untapped potential.
The Lahore-born, America-educated, 67-year-old industrial engineer has already changed the fortunes of Everbank Field, the current home of Jacksonville Jaguars with non-sporting events and concerts.
ALSO READ: FIFA proposes staging a new mini-World Cup every two years
Khan has tried to allay fears by promising that he will "own and operate Wembley with the care and respect it deserves" mindful that it will continue to be "the home of England's national teams as well as the ultimate destination for the world's top entertainment and sports events". However, traditionalists are not convinced.
Football is Britain's national sport and fans have an emotional connect to both the game and Wembley Stadium. Diehard soccer fans do not consider American football as football, but a poorer version of British Rugby. To lose the place that has been their Mecca for almost a century to a foreigner, and then to American Football, is just too much to bear for some.