Rafiq Hariri, the 'Mr. Lebanon' who dominated political scene
Nine years after his assassination, Rafik Hariri remains a symbol of unity for many Lebanese
A dark page in Lebanon's history opens when the Special Tribunal for Lebanon convenes in The Hague on Thursday to investigate the murder of Rafiq Hariri, five-term prime minister and a dominant force in Lebanese politics for over a decade.
Nine years after his death, Hariri remains a symbol of unity for many Lebanese. Portrayed by many as a compromiser capable of navigating around the mines of Lebanon's political landscape.
"He was not politically dogmatic. He always saw that a deal could be cut," said Nicholas Blanford, author of "Killing Mr. Lebanon."
But he was also determined. With what Blanford describes as a "bulldozing" character, Hariri made his way to the top of Lebanese politics.
"Everything had to be done in his way. He was basically in charge of everything," added the author.
Among his strengths, Blanford mentions Hariri's vision, determination, and focus. But his major weakness was his willingness to sacrifice allies to achieve political ends.
Internationally, he earned a reputation of being a pragmatic man and created influential allies, among them not least the United States.
Those who met Hariri speak of a charismatic man. Perceived as sympathetic also among many of his political opponents.
"He was a statesman and a unifying force; you have to give him that. Someone being able to unify at least portions of the country is an achievement in itself and will not be repeated. I criticize his son, but I don't criticize the father," said Beirut-based political analyst Kamel Wazne, a supporter of the March 8 alliance.
A resurgence of nationalism
As Hariri was growing up in the southern Lebanese city of Sidon, Arab nationalism was experiencing resurgence across the Middle East. Not least in Hariri's hometown where Palestinians were flooding in. The son of a farmer, some speculate that Harir's upbringing motivated the many charity efforts he later started, which played an important role in his political career.
Though a political animal from a young age, it wasn't until he in his 40s that he formally entered Lebanon's political scene.
Instead of finishing his degree in accounting at the Arab Lebanese University of Beirut, Hariri went in search of prosperity in the Gulf, a mission that would soon prove successful. In the late 70s, he established a construction company, and a hotel contract from the Saudi royal family, opened up for opportunities for him that would make him one of the richest men in the world five years later.
Infographic: Assassination of Hariri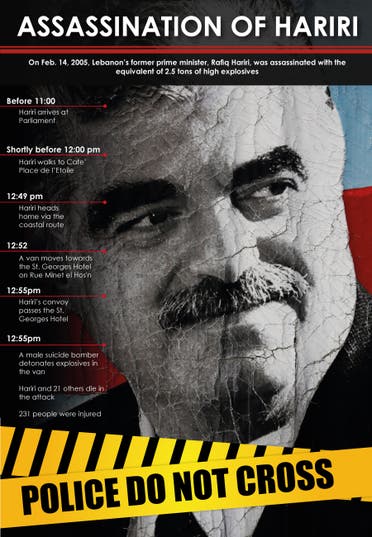 Climbing up the ladder
With his personal wealth accumulating, Hariri turned his attention back home and founded the Hariri foundation, a charity many believe was crucial in his later ascendance to power.
"I know the impact it had on his political career. In times of inflation he gave grants to thousands of families," recalls Hilal Khashan, an American University of Beirut professor who previously worked for the Hariri foundation.
In the 1990s, Hariri quickly climbed Lebanon's political ladder; his deep pockets, determination and close relationship with the Saudi royal family were portrayed as being his most important assets.
"The Saudis were essentially the engine that drove Hariri, and money the tool he used," said Blanford.
During the Lebanese civil war, he mediated on behalf of King Fahd of Saudi Arabia.
In 1992, 48 years old, he was appointed prime minister of Lebanon. A title he would bear five terms, longer than no other prime minister. Upon assuming office at the end of the war, Hariri faced the daunting task of rebuilding the country.
Infographic: Special Tribunal for Lebanon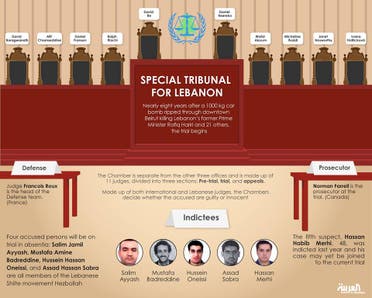 Post-war reconstruction
Downtown Beirut, the neighborhood in which he was killed, is one of his most visible legacies: the post-war reconstruction of the city center.
While celebrated by some for bringing central Beirut back from ruins, his construction projects are also widely criticized for stealing ground from people less fortunate, and allowing for corruption to flourish. Hariri himself was the largest shareholder in the company in charge of the reconstruction, Solidere.
"He blurred the lines between what was public and private in a way that had never been done before," said Karim Makdisi, professor of political Science at American University of Beirut.
The booming years left massive public debt and an insurmountable budget deficit that are shaping the Lebanese economy to this day.
"Many of his economical policies were failures. It made some people rich and a lot of people poor," Wazne said.
After long-having held a cause supported by Syria, Hariri eventually challenged Syrian tutelage over Lebanon. In 2004, Hariri resigned as prime minister after a stormy meeting with Syrian president Bashar al-Assad. A year later he was dead.
His life ended behind the wheels of a black Mercedes on Feb. 14, 2005 when a bomb struck his well-secured convoy as it drove through central Beirut.
"It was a real shock in the country. It was not just the person being killed, but also the manner of the killing," remembers Blanford.
The massive explosion outside St. George's hotel was the latest in a string of political assassinations, but one of unprecedented scale. Weeks later, thousands of people filled Martyr's square in Central Beirut, not just protesting his death, but also the Syrian presence in Lebanon. Demonstrations that would eventually prompt the last Syrian troops to leave the country after almost three decades on Lebanese soil, and produce two rival political blocks, March 14 and March 8, which have polarized Lebanese politics ever since.
Opponents and supporters have created competing myths about Lebanon's longest serving prime minister, concludes Professor Hannes Baumann who has written his dissertation on Hariri. He was lauded by his supporters as a philanthropist and honoured for his opposition towards Syria, but branded by opponents a greedy capitalist governed by Saudi Arabia.
Those on trial for his assassination have been described as "Hezbollah supporters" by the Tribunal. Hariri's relationship was initially confrontational with the Shiite movement, but gradually improved. During the final months before his death, Hariri met with Hezbollah's leader Sayyed Hassan Nasrallah on a regular basis.
The assassination took place against the backdrop of worsening relations between Hariri and the Damascus government, but also in the midst of a changing political, regional and international landscape. The U.S. invasion of Iraq, the second Palestinian intifada and the Sept. 11 attacks strained U.S., Saudi and Syrian relations.
"The pact that brought Hariri to power just didn't exist anymore," said Makdisi.