Iraq's Sadr: cleric, militia chief and kingmaker
Shiite cleric Moqtada al-Sadr, who has bowed out of Iraqi politics, was a fierce critic of the U.S.-led invasion
Shiite cleric Moqtada al-Sadr, who has bowed out of Iraqi politics, was a fierce critic of the U.S.-led invasion, chief of a once-feared militia and political kingmaker.

Sadr, who has a grey-streaked, bushy black beard and wears the black turban of a "sayyid," or descendant of the Prophet Mohammad, gained widespread popularity in the months after the 2003 invasion of Iraq.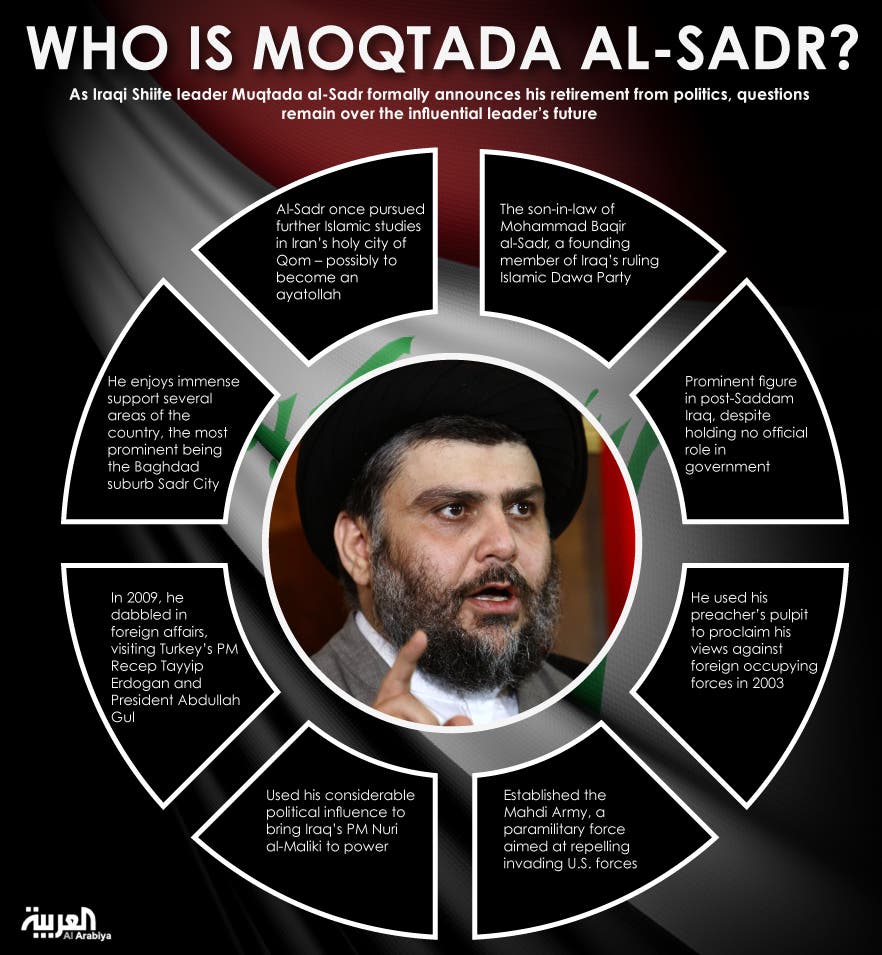 His rise, aided by the reputations of two famed relatives - including his father, Grand Ayatollah Mohammad Mohammad Sadiq al-Sadr - killed during Saddam Hussein's rule, eventually translated into political power.

Cabinet posts and parliamentary seats followed for his movement, despite his relative youth, having been born in the 1970s.

But with just two months to go before parliamentary polls, his political career, which has spanned more than a decade, may now be at an end.

"I announce my non-intervention in all political affairs and that there is no bloc that represents us from now on, nor any position inside or outside the government nor parliament," Sadr said in a written statement received by AFP on Sunday.

Officials from his movement, surprised by the announcement, were unable to confirm if the withdrawal was permanent or temporary.

After the invasion which toppled Saddam, Sadr commanded the Mahdi Army militia, which fought fierce battles with American and Iraqi government forces, and he was identified by the Pentagon in 2006 as the biggest threat to stability in Iraq.

The Mahdi Army - estimated to have had up to 60,000 members - was once the most active and feared armed Shiite group in the country, and was blamed by Washington for death-squad killings of thousands of Sunnis.

But in August 2008, Sadr suspended the activities of the Mahdi Army after major U.S. and Iraqi assaults on its strongholds in Baghdad and southern Iraq.

Following the ceasefire, U.S. military commanders said Sadr's action had been instrumental in helping bring about a significant decrease in the levels of violence across Iraq.

He nonetheless continued his vocal opposition to the U.S. military presence in Iraq.

Sadr repeatedly called for a total U.S. pullout and threatened attacks if it was not carried out, as Washington and Baghdad held negotiations on a possible post-2011 U.S. training mission that was ultimately not approved.

He left the country at the end of 2006 or the beginning of 2007, according to U.S. and Iraqi officials, and reportedly pursued religious studies in the Iranian holy city of Qom.

Sadr returned in early 2011, and then shuttled between Qom and Najaf, his base south of Baghdad. But he showed he could still pull powerful political strings even during his self-imposed exile.

After throwing his weight behind Shiite politician Nouri al-Maliki in 2006, ensuring he became prime minister, Sadr then ordered his followers to pull out of the premier's cabinet the next year, almost bringing down the government.

Sadr's bloc contested the 2010 legislative election in an alliance with the Supreme Iraqi Islamic Council, another Shiite group with links to Iran.

The Sadrists were widely seen as kingmakers after the inconclusive polls.

Sadr said after the vote that he had "tried not to have a veto against anyone, but the masses had a veto against Maliki," though he ultimately backed him when the premier finally formed a post-election government in December 2010.

He has been a sharp and frequent critic of Maliki, both before and after the departure of American forces in late 2011.

In 2012, Sadr was among Iraqi politicians who urged Maliki to resign, referring to the premier as a "dictator" hungry for acclaim, and accusing him of wanting to postpone or cancel elections.

Sadr's attention has since increasingly turned to his religious studies, and away from politics. But despite only making rare appearances in public, the cleric is idolized by millions of Shiites.