Sama al-Masri: Egypt's sassy, sexy satirist… should we take her seriously?
She's hit the headlines over the past three years for venting her frustrations to the Egyptian public in the most provoking of ways
She's been described as sassy, racy, controversial and badmouthed. A barrage of other descriptions has also been hurled at her by local and international press, but many still can't suss her out.
Egyptian belly dancer Sama al-Masri is currently in jail, detained for four days pending investigation into the television channel she owns, named Felool, which is Arabic for the word "remnants" – usually associated with officials from the era of former Egyptian President Hosni Mubarak.
But even her TV offering has left many confused. Padding her schedules with talk shows and satirical sketches that flaunt her political rants, Masri has hit the headlines over the past three years for venting her frustrations to the Egyptian public in the most provoking of ways.
But does her outrageous satire have a profound political point? Should Sama al-Masri be taken seriously?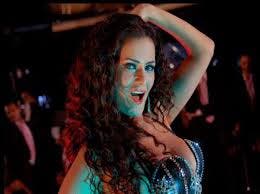 "Sama al-Masri is a part of what the Egyptian public has had to battle with since the January 2011 uprising; a decline in moral and ethical progression in society," Abdel Latif el-Menawy, Egyptian political analyst and former head of Egypt's News Center, told Al Arabiya News on Monday.
"In politics, we witnessed a change in the ethical language of dialogue, and Sama al-Masri is a product of this," he added.
When the Muslim Brotherhood rose to power in 2012, celebrity and entertainment circles were abuzz with murmurs that the Islamists would impose new limits on censorship. Following this, the June 30, 2013 protests against Mursi famously featured prominent female celebrities, coming out to publicly oppose Muslim Brotherhood rule.
"Masri came out to defend herself against this, using her own approach to tackle the issue and at the time, society was becoming increasingly flawed with the change in the country's political landscape," Menawy added.
So what has Masry done to become one of Egypt's most-talked about personalities?
A certain 'nose job MP'
One of her most prominent claims to fame was back in 2012, when she was involved with an Egyptian political figure dubbed the "Nose job MP."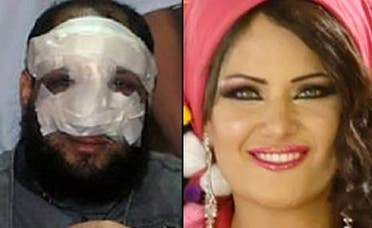 Anwar al-Balkimi, a Salafist MP from the ultraconservative Nour Party who rose to fame after it was revealed that he had undergone plastic surgery on his nose and was subsequently expelled from parliament, denied reports in 2012 that he was secretly married to the belly dancer.
According to reports back then, the state-linked al-Joumhouria newspaper initially reported she was married to the Salafist former member of the People's Assembly. Masri had told the paper that she filed for a divorce from Balkimi after she found out that he was married to another woman.
Balkimi had been battling with both Masri's allegations and the nose job incident, which he at first explained by claiming he had been mugged, with his party following a strict line of Islam that forbids cosmetic surgery as meddling in God's work.
When that scandal blew over, the Egyptian public was left with Masri's incessant, plucky videos that spewed hate at the Muslim Brotherhood and former Islamist President Mohammad Mursi.
Googly-eyed Sama
A quick YouTube search of the star's name, and users are drowned in a salvo of seductive videos, which many don't view as particularly seductive judging by comments that are endlessly ridiculing her.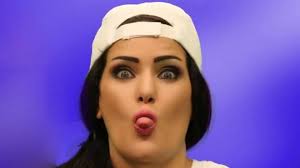 She dances and sings to lyrics packed with political innuendos, accompanied with googly eyes for that extra comic punch that has knocked out the targets of her rants.
In one of her 2012 sketches, she attacked the then President Mursi for a failed "Renaissance Project" he and his Brotherhood group had promised Egypt during campaigns for presidency.
Her attacks come in the form of witty Egyptian slang, particularly when she is shown in part of the clip holding up mangoes, mocking comments Mursi recently made about the cost of the fruit, among other foods, becoming inexpensive since he took office.
In the same video, she also uses blades in part of the dance, while singing that she is not afraid of thugs, in reference to the rising tide of thuggery and general lack of security in the country since the anti-Mubarak uprising in 2011.
'Fighting Egyptians' battles'?
More recently, Masri has ridden the anti-America wave which has crashed across Egypt after Mursi was ousted by the military. She released a sketch titled "Obama, your father, your mother," which in the Egyptian dialect is like swearing at the U.S. president.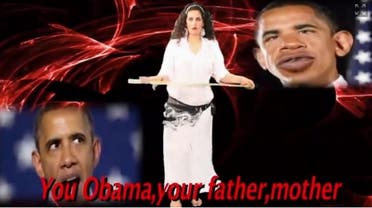 In the video, which is sung in Arabic with Egyptian subtitles, she plasters Obama's face to a baby's body, telling him to "behave yourself," while also dishing out criticism at the then U.S. Ambassador to Egypt Anne Patterson.
Singing in Arabic, with English subtitles, she claimed Obama has supported terrorists and the footage includes a picture of Obama's face superimposed on the head of Osama bin Laden.
Last September, Masri also made the headlines after she celebrated the departure of Patterson by dancing outside the U.S. embassy in Cairo while burning an American flag. The American ambassador's term had ended a month earlier.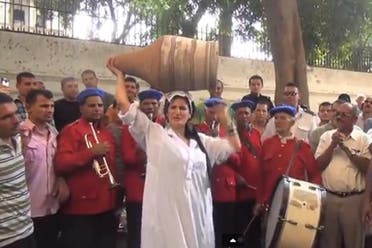 Masri was accompanied by a troop of Folkloric musicians dancing and singing along, as she broke a clay pot outside the U.S. embassy in Cairo, a traditional Egyptian act, which can send a message implying "good riddance."
"Many Egyptians may not approve of what she says, but she is admired by many for fighting our battles; like when she criticized the Muslim Brotherhood and the Islamists became the target of her sketches," said Menawy.
"We may not like what she does, but a lot of people in Egypt share her views," he added.
After the U.S. embassy stunt, Masri appeared to attract some supporters who were also disappointed with the U.S. stance on Mursi's overthrow and aid cuts to Egypt.
"Sama has become just another member of the Egyptian public who believes they have the authority to talk poltics," popular short-story writer and political commentator Farida al-Shoubashy told Al Arabiya News.
Sama's 'shaabi' music appeal
"Sama builds on the shaabi (populist) music genre that resonates with a working class Egyptian population," Doha-based media analyst Joe Khalil told Al Arabiya News.
"In the traditions of Shaabi music, the looks are as important as the music and lyrics. Just like Shaaban Abdul Rahim, Sama brings a strong partisan political message and colorful performances."
Shaaban Abdul Rahim is a popular singer of populist tunes that have also shocked many in Egypt and the wider Arab world. In 2000, Shaaan's breakthrough song "Ana Bakrah Israel" (I Hate Israel) accompanied by the catchy refrain "But I Love Amr Moussa [the former Arab League chief]," was seen as highly controversy, but became a regional hit.
A media guru?
"Unlike other Shaabi artists, Sama is a woman and a dancer who does not shy away from using what many considers profane language. Also unlike the Shaabi singers, she has managed to capitalize on social media to promote and distribute her music videos," added Khalil.
As an example of this, Sama's video on Obama was posted online in late July and amassed over 200,000 views in a month, according to a New York Daily News report last August.
But since then, Masri focused more on her new channel, creating satirical sketches which have mocked Qatari-owned news network Al Jazeera and the Qatari royal family after the country condemned the crackdown on Muslim Brotherhood members and was opposed to the military overthrow of Mursi.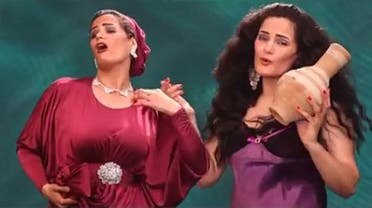 These sketches, which include one of her dressing up as Qatar's Sheikha Mozah, are replayed frequently on her TV channel.
"While she can be considered as a 'post-revolution' shaabi singer, Sama has obviously proven to be a good media guru. Her choice of themes, timing, distribution, and her engagement in various forms of media makes her stand out," said Khalil.
As a "good media guru" and a figure that resonates with the country's working class, it's quite probable that Sama al-Masri may have a serious side after all.