Egypt: Meet the key players in Sisi's campaign team
Observers say General Sisi has a specialized team driving his presidential campaign
Egyptian presidential frontrunner Abdel Fattah al-Sisi officially launched his presidential campaign last week, 10 months after leading the overthrow of Egypt's first freely elected President Mohammad Mursi.
The campaign "tries to be as representative of [as many] Egyptians as possible," Mohammad Badr, professor of political science at the University of Germany, told Al Arabiya News.
Sisi is backed by a specialized team, according to observers.
"There are a lot of players in Sisi's campaign team, [who] have all already contributed in their own ways to the vision he is currently formulating," Badr said.
Days before Egypt's presidential elections, Al Arabiya News sheds light on four of the key individuals behind Sisi's campaign.
Farouk al-Baz
Farouk al-Baz is "the key player for the development of Egypt in Sisi's campaign team," Osama Saraya, former editor-in-chief of the state-run newspaper Al-Ahram, told Al Arabiya News.
"Sisi needed a man like him in his campaign… Baz is the brain of the team," Saraya said.
The "Path of Development and Reconstruction" project, over which Baz has been brainstorming for more than two decades, aims to build a second Nile Valley parallel to the current one in order to extend living space into the desert and use more of Egypt's countryside.
Sisi has said he is willing to implement the project and rely on Baz's expertise.
Baz is a scientist who previously worked with NASA on a project to explore the moon.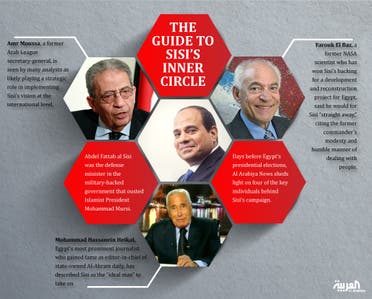 Amr Moussa
Amr Moussa, a public figurehead, pledged his support to Sisi in an exclusive interview with Al Arabiya News in January, before he officially announced his decision to run for president.
Analysts say Moussa has a strategic role in Sisi's vision of the international scene.
"He's definitely a key player in Sisi's campaign team, especially given his reputation on the international scene," Saraya said. "There's no one comparable to Moussa on an international level."
Some analysts have criticized Moussa for being part of the government of Hosni Mubarak, who was ousted in a popular revolution in 2011.
"Moussa can be considered as a figure of the old regime," so his inclusion in Sisi's campaign team may tarnish its image, professor Badr said.
A presidential candidate during the 2012 elections, Moussa was a former foreign minister and Arab League secretary-general.
Mohammad Hassanein Heikal
Mohammad Hassanein Heikal is one of Egypt's most prominent journalists.
"He's used by Sisi for a specific target [audience]," and for his understanding of former President Gamal Abdel Nasser's ideas, Badr said.
Heikal is most famous for his close relationship with the iconic Abdel Nasser, with whom Sisi is frequently compared.
Sisi has said he wishes to be like Abdel Nasser.
It is widely reported that Heikal wrote Sisi's speech giving Mursi a 48-hour ultimatum to step down, and his post-ouster announcement.
Tamarod
Tamarod, meaning in Arabic "rebellion," was a youth movement that mobilized what it claims was more than 20 people around the country to protest against ousted Islamist President Mohammad Mursi during on July 3, 2013.
Saraya, the former Al-Ahram editor-in-chief tells Al Arabiya News how Tamraod plays "an important role" in Sisi's grassroots campaign.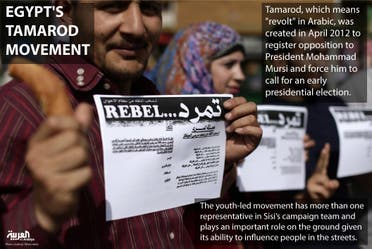 "Tamarod's role consists in reaching out to Egyptian citizens from normal social classes and explaining Sisi's program to them," Saraya said.
The youth movement has pledged support for Sisi, saying the former military chief's political platforms "corresponds exactly" the movement's demands, said Mohammad Nabawi, the official spokesman for Tamarod.
The movement has more than one representative within Sisi's campaign team, the representative said.
Some analysts argue that the role of Tamarod in Egypt's political arena will end shortly after the presidential elections.
"Tamarod, just like other members of the campaign team, are simply role players … their role in Egypt's political life has a specific time that is likely to end within the next year," Badr said.
"Their role within the campaign is more for the appearance and the representation of everyone in Egypt," he said.
However, the movement seems more optimistic about its future as it plans to "found a legal party through which it will be able to take part in the parliamentary elections," Nabawi said.