Would 'PM Boris' be a friend to the Arab world?
PROFILE: Boris Johnson – who is said to seek the top job in British politics – has been open to investment from the Arab world
Boris Johnson has faced controversy at almost every turn during his colorful career in British politics.

He's been Boris the buffoon, Boris the liar and Boris the adulterer. Yet none of that has stopped the 50-year-old being voted in twice as Mayor of London – an office he still holds – or being named Britain's most popular politician.

Instantly recognizable by his mop of dishevelled blond hair, the charismatic Boris divides opinion like few others.

To many he is the lovable lawmaker who injected the fun back into British politics. Others say his comic manner is just a calculated act to ruthlessly advance his political ambitions. Some just think he's more suited to pantomime than parliament.

And so many Brits had an opinion on Boris's announcement this month that he intends to stand as a member of parliament in the 2015 general election. Some interpret Johnson's move as part of a wider plan: to become Boris the Prime Minister.
First-name terms
Few British public figures are known simply by their first names, but Boris is one of them. That is probably a blessing, given his full name – Alexander Boris de Pfeffel Johnson – is something of a mouthful.

Born in 1964 in New York, Boris still holds dual citizenship, leading him to claim – jokingly, probably – that he could legally become President of the United States as much as he could the UK Prime Minister.

His childhood back in the UK was hardly a humble one. He attended the super-elite Eton school, where the future Prime Minister David Cameron was two years his junior – something that now forms a secret source of resentment for Boris, according to some.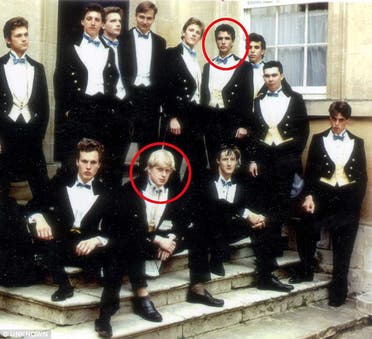 After completing his studies in Classics at Balliol College, Oxford, Boris started out his career in management consulting – but only lasted a week in that profession. And so he turned to journalism, landing a job as a trainee reporter with The Times newspaper.

But Boris was sacked by The Times after less than a year for making up a quote. He later described the incident as the "biggest cock-up" of his career – yet there were to be many more of those to come.

In 1995, Boris was implicated in an alleged plot to physically assault another journalist five years previously. Although the alleged plot was not acted out, the incident has not been forgotten – with BBC journalist Eddie Mair, after recalling the incident in a TV interview last year, memorably saying to Johnson: "You are a nasty piece of work, aren't you?"
Gaffes aplenty

Despite that incident, Boris kept his job at the time at the Daily Telegraph, where he worked as Brussels correspondent before being promoted to assistant editor.

In 1999, he was appointed editor of The Spectator magazine, a post he held until 2005. During his editorship, Boris also entered politics, and was elected MP for Henley in 2001, a seat he held for seven years.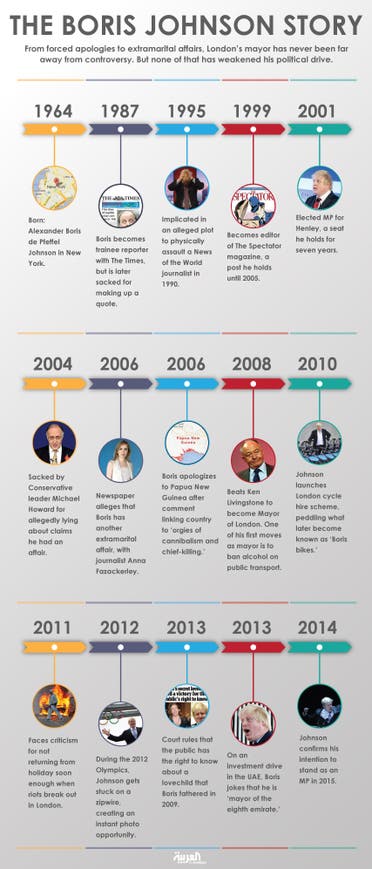 It was during this time that Boris truly cemented his gaffe-prone, adulterous – but, somehow, still affable – image.

In 2004, he was forced to apologise to the people of Liverpool over an article in the Spectator that criticized the people of the city for their reactions to the death of Ken Bigley, the British contractor taken hostage and killed in Iraq.

It was to be a bad year for Boris. A few months later, he was sacked by the then Conservative leader Michael Howard for allegedly lying about claims he had an affair.

Accusations of extramarital affairs did not go away: in 2006, Boris was linked to a liaison with journalist Anna Fazackerley. The gaffes didn't go away either – instead, they grew ever more bizarre. Later that year, Boris was compelled to apologize to the people of Papua New Guinea after making a comment linking them to "orgies of cannibalism and chief-killing".
London mayor
None of this deterred voters from electing Boris as Mayor of London in both 2008 and 2012. He launched the city's cycle hire scheme – he is a passionate cyclist himself – with so-called 'Boris bikes' now widespread across the capital.

And he thrived during the 2012 Olympics in London, which was generally deemed a success. In one memorable moment, the London mayor got stuck on a zipwire, creating an instant photo opportunity for the eagerly assembled media. Boris's legendary knack for self-publicity led some to suggest that the 'accident' was in fact a carefully planned stunt.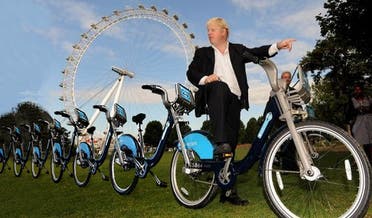 But Boris's declaration that he plans to return to parliament – after years of dithering and denials over the matter – now poses the question of whether he can pull off the biggest 'stunt' of all. Can Boris return to parliament as an MP, then claim the top job in the Conservative Party and become Prime Minister?
Appealing implausibility

One of Boris's biographers believes that the Mayor of London would be a "strong contender" for PM.

"Even those who disapprove of him enjoy disapproving of him," said Andrew Gimson, author of Boris: The Rise of Boris Johnson and contributing editor to the influential ConservativeHome website.

"The general public rather like the implausibility of Boris, just like the Americans liked the idea of Reagan, or Arnold Schwarzenegger as governor of California."

Professor Tony Travers, of the London School of Economics School of Government, pointed out that it was seen as something of a joke when Boris first stood for Mayor of London.

"It was widely said that it would be inconceivable he could ever be Mayor of London – absolutely impossible – and that if he did it would all be a joke and a disaster," said Travers.

"Could he be Prime Minister? I think it would be a very brave person who said it was impossible," he added.

Boris has steadfastly refused to admit he wants to become Prime Minister. But one signal of that is Boris's efforts to express his 'Eurosceptic' stance, Travers said. "That suggests that he probably does have further ambitions – otherwise, why do it?," he said.
Prime ministerial?
Boris certainly has a chequered history and likes playing the fool – but does that preclude him from becoming Prime Minister?

Travers said Boris is an unusual case because his affairs, forced public apologies and dismissals from office have somehow worked in his favor.

"His mistakes are taken as evidence of authenticity. For most politicians, their mistakes are simply evidence of mistakes," he said.

But shedding the joker image could be prove more challenging.

Travers pointed to the 2012 mayoral elections, where the incumbent Boris seemed to take on a more serious persona as he fought off former mayor Ken Livingstone at the polls.

"It did look at bit strained on occasion. He's more at home turning up to things and making a speech that makes people laugh; it is in his nature," Travers said.

"Would he look serious enough to convince people – including Conservative MPs – that he could negotiate in Europe or with world leaders at the G7? He'd have to work on that. But on the other hand, he's ambitious."

John Curtice, Professor of Politics at the University of Strathclyde, agreed that this could be an issue should Boris seek a bigger job in politics.

"Being a bit of an upper-class buffoon is fine when you're Mayor of London. It's a bit different when you're Prime Minister," he said.

Tim Montgomerie, columnist for The Times and former editor of ConservativeHome, said selecting Boris as party leader would always be a risk. He may appeal to voters across the political spectrum – including the right-leaning rival party UKIP – but some doubt his suitability to be PM.

"He can reach voters on the left, as well as UKIP voters that David Cameron cannot," Montgomerie said. "But Boris Johnson is a gamble: Although he is charismatic and he won in London, people wonder whether he's prime ministerial."

Arab world
Boris has been no stranger to the Arab world – or, at least, the rich Gulf states – during his time as Mayor of London.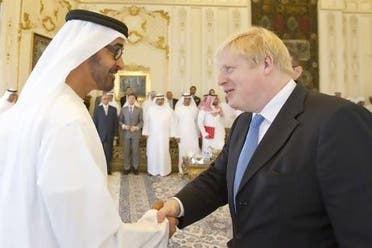 On a trip to the UAE in 2013, where he met Sheikh Mohammed bin Zayed, Crown Prince of Abu Dhabi, Boris quipped that he is "mayor of the eighth emirate" due to the number of Emiratis in London over summer.

Jonathan Macpherson, director of Communications for the British Business Group in Dubai and the Northern Emirates, said that Boris had been "a great supporter" of British trade and export.

"Boris is an enigmatic character and his enthusiasm for Britain and British business is undeniable. His passion in promoting British business is infectious," Macpherson said.

Later in 2013, Boris even claimed to be the first London Mayor of "Muslim extraction", as he urged wealthy Arab nations to invest in London.

He had previously described himself as a "one-man melting pot", with Turkish, French and German ancestors. And he told the Ninth World Islamic Economic Forum in London that his great-great grandfather was a Muslim entrepreneur called Ahmed Hamdi.

Foreign policy
Boris's time as Mayor of London provides a few more clues as to his approach to the Arab world.

With several prominent London landmarks such as The Shard skyscraper owned by Arab states, Boris has clearly had an open stance on investment from the region.

"You can't be Mayor of London without having a reasonably relaxed attitude to investment from the Middle East," said Travers.

"As Mayor of London, you've got Qataris and Kuwaitis heavily invested in the city. And they are very important to its development."

Montgomerie said Boris is likely to take a similar stance to investment from the Arab world should he ever become head of the Conservative Party. "If he was ever to stand as Tory leader, he'd want to do for Britain what he did for London," he said.

Yet there is no sign that Boris – who also has Jewish ancestors – is likely to deviate from key foreign policy issues were he to become PM.

"He's a friend of Israel – there won't be big departures in terms of foreign policy. But he's certainly not a neo-con," said Montgomerie.